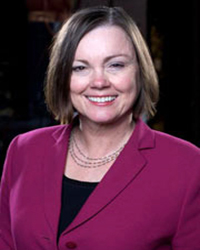 Florida State University President John Thrasher announced today the selection of Sally McRorie as the university's provost and executive vice president for academic affairs following a rigorous national search.
McRorie has served as Florida State's interim provost since Dec. 5, 2014, leading up to her permanent appointment to the position. During that time, she worked with deans, chairs and faculty across campus to lead Florida State in meeting all 12 of the state's preeminence metrics for the first time.
"Sally has an excellent record of accomplishments as a scholar and administrator at Florida State and other universities," Thrasher said. "Her knowledge and passion for FSU run deep. Over the past 21 years, she has served as a professor, dean, vice president and interim provost."
McRorie was one of four finalists chosen by the 21-member Provost Search Committee led by Professor of Music Theory and Dean Emeritus Don Gibson. The committee interviewed nine candidates before inviting four finalists to campus for open forums with students, faculty and staff.
"It is truly an honor to be chosen as the provost for Florida State, a university that I know well," McRorie said. "My academic home for 21 years is on a great trajectory of success and recognition. I am very grateful for the opportunity."
As provost, McRorie will serve as Florida State's chief academic officer and will work with the university's deans, faculty and administrators to promote academic excellence and advance the institution's national and international reputation.
"I will work closely with President Thrasher and will be laser-focused on student success, faculty success and increasing public and private funding and revenue sources," McRorie said. "These interdependent areas of emphasis will improve our national ranking and offer the level of experiences every member of the FSU family deserves."
Throughout the past year, McRorie has worked on several major initiatives at FSU. She introduced the "Think 15" campaign, which encourages undergraduate students to increase their credit hours per semester; she worked with President Thrasher to expand FSU's CARE program and increase the opportunities for traditionally underrepresented students; and she is co-chair of the University Strategic Planning Committee, which began work in August 2015.
"As an administrator, Sally offers great vision and experience in addressing today's higher education policy challenges including metrics, governance, inclusion and funding," Thrasher said. "She is an esteemed colleague to administrators, faculty and staff and a champion of students."
McRorie also stepped into the role of interim provost from April 2014 through November 2014 while Garnett S. Stokes served as interim president.
Before her appointment as interim provost in December 2014, McRorie had served as vice president for Faculty Development and Advancement since July 2012. In that role, McRorie led the implementation of improved faculty promotion and tenure processes including specialized faculty promotions; started semester-long development classes for new and aspiring administrators; and helped craft memorable events recognizing faculty achievements and awards.
Previously, she served as FSU's inaugural dean of the College of Visual Arts, Theatre and Dance for nearly a decade, guiding the college's School of Art and Design (Departments of Art, Art History, Art Education and Interior Design), School of Dance, and School of Theatre and the FSU Museum of Fine Arts, as well as the 66-acre John and Mable Ringling Museum of Art complex and the FSU/Asolo Conservatory for Actor Training, both located in Sarasota, Fla.
McRorie's prior administrative experiences include service as chair of Art & Design at Purdue University, chair of the Department of Art Education at FSU, co-director of the Florida Institute for Art Education and national co-chair of the Getty and Annenberg Foundations' $36 million project "Transforming Education through the Arts." She is a graduate of the Institute for Women in Higher Education Administration at Bryn Mawr and the University of Kansas, where she earned her doctorate.
She served two terms as president of the National Association of Arts Administrators, is on the commission of the National Association of Schools of Art and Design and served as senior editor of Studies in Art Education. She has received the Manuel Barkan Award, Mary J. Rouse Award, FSU Teaching Award, and Indiana and Florida Higher Education Art Educator of the Year awards.