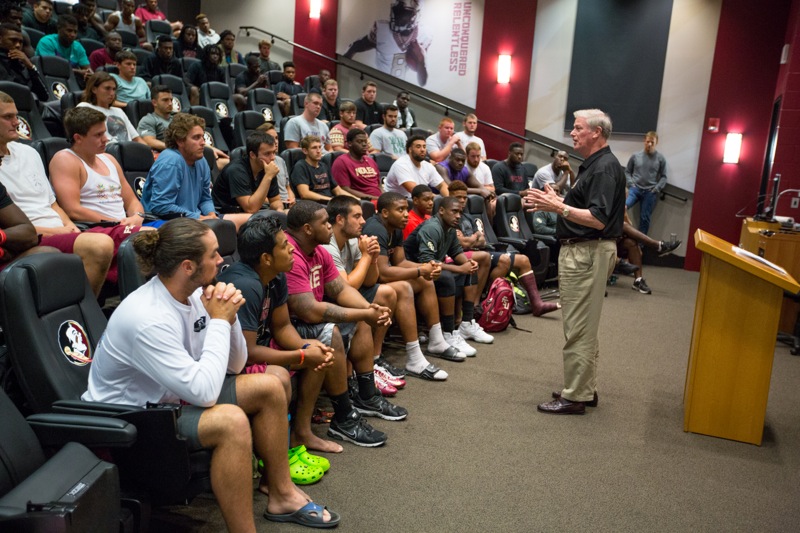 Dear Friends,
I want to report to you that I met with Head Football Coach Jimbo Fisher, the assistant coaches and the Florida State University football team this afternoon.
In light of recent off-field incidents, I reiterated to our players that they simply cannot put themselves in situations that reflect poor behavior or cause harm to others. They must remember that playing football for FSU is a privilege, not a right. The actions of a few have the capacity to do serious damage to the reputation of our entire university. I told them their coaches, the Athletics administration and I will do all we can to support them and help them learn the values we expect them to uphold. But they will be held accountable for their actions.
I also told the coaches what is expected of them. The administration will support them in their efforts to provide mentors, teach life skills and do whatever is needed to help our student-athletes be good students and good citizens. Coach Fisher and Athletics Director Stan Wilcox are developing a strong plan to help our student-athletes understand the consequences of poor behavior. As they move forward with that plan, I will continue to communicate with you regarding steps that will be taken. I will also invite professionals who deal with these matters to visit the team soon.
As I've said before, the vast majority of our student-athletes are good students and positive role models who contribute to their university and their communities. But the actions of a very few are tarnishing the reputation of our outstanding institution. We need to do better, and I want to assure you changes will be made to address these concerns.
There are so many incredible things happening at Florida State University in academics and athletics. That's a headline we'd all like to see.
Sincerely,
John Thrasher