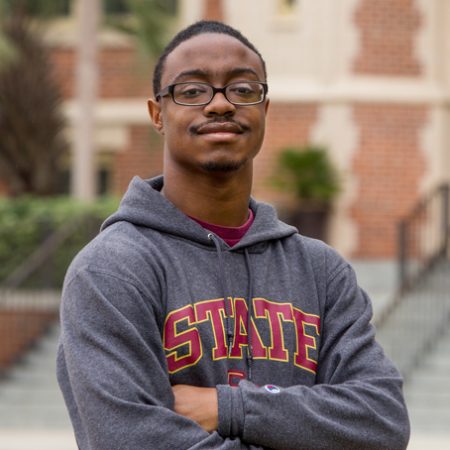 With one of the top selling license plates in the state of Florida, Florida State University's license plate program is a major benefactor of student scholarships. However, that is just one way the FSU tag revenue impacts the campus community.
The FSU license plate program also supports the community by sponsoring events such as the university's Flying High Circus and the Opening Nights Performing Arts series.
The Flying High Circus, one of only two student circuses in the nation, performs annual fall and spring home shows for Tallahassee locals, as well as road shows. Its dazzling aerial and stage acts range from the classic swinging trapeze to the "mighty acro-jump rope," where students do all kinds of tricks with a simple rope.
Lorenzo Bright, who is on track to graduate in spring 2018, benefits from the FSU tag in two ways —as a member of the circus and as a university scholarship recipient. He truly understands how revenue from the license plate helps him attend school, while pursuing one of his true passions.
"It is really interesting to know that the FSU tag contributes to both my scholarships and my extracurricular activity," Bright said. "I love that it plays such a big role in my life both academically and personally."
The Opening Nights Performing Arts series engages Florida State students and the Tallahassee community through performances, fine arts and guest speakers. This year's Opening Nights included iconic cellist Yo-Yo Ma and Piper Kerman, creator of the hit Netflix series "Orange is the New Black." In addition, there was a screening of the Sundance Film Festival entry "Racing Extinction," from Academy Award-winning filmmaker Louie Psihoyos.
Events like the Flying High Circus and Opening Nights are part of what puts Tallahassee and Florida State University on the map. They demonstrate Tallahassee is not only Florida's capitol, but also a growing hub of arts, music, passion and creativity.
The FSU license plate program proudly supports these programs that enrich the university and the community. Be sure to check out both of these great events and consider purchasing the FSU license plate today.
For more information, visit http://www.fsu.edu/mytag.