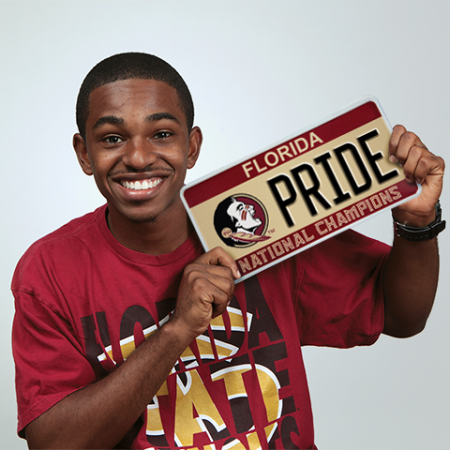 When Seminole fans buy the newly redesigned Florida State University license plate — available in Florida tax collectors' offices in February — they will be showing school spirit and funding scholarships to help deserving students attend Florida State.
The FSU license plate program, which is the second-most successful specialty plate program in Florida, generated more than $1.8 million in scholarships to FSU students in 2013-2014. Since July 1992, the figure tops $25 million.
"Florida State has built a strong tradition of championship athletics, and our recent football and women's soccer national titles demonstrate this," said FSU President John Thrasher. "While the FSU license plate is one way to celebrate a winning athletics program, it also represents a win for academics through support for scholarships."
FSU student Yakiara Gonzales, who plans on graduating this spring, said receiving the license tag-funded scholarship alleviated some of her financial burdens, which were her greatest concern upon enrolling.
"Thanks to the scholarship, I am reminded of how FSU gave me the opportunity to succeed while being the first in my family to attend a university," Gonzales said. "This scholarship gave me the ability to become a part of the university, motivating me toward greatness."
For FSU student Derrick Scott, who is on track to graduate in spring 2016, the license tag-funded scholarship allowed him to connect with the university's vast academic opportunities and resources, preparing him for success in every aspect of life.
"Florida State has helped me build a solid academic foundation and develop personal relationships that will be sure to follow me for a lifetime," Scott said."As a first-generation college student, this scholarship has allowed me to ascend to levels that I once thought to be out of reach."
The new FSU license plate features the newly redesigned Seminole logo with "Florida" across the top and "National Champions" across the bottom.