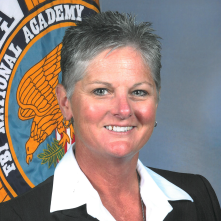 Florida State University Police Capt. Terri S. Brown graduated from the prestigious FBI National Academy, Class 257, on Sept. 19, 2014.
Senior law enforcement officials from around the world attend the Quantico, Va.-based program, which is an intensive, 10-week school focusing on command-level development, senior leadership, cutting-edge law enforcement techniques and the latest response to national criminal trends.
"It was some of the most focused, challenging and rewarding training I have ever had in my 23-year career in law enforcement," Brown said. "It was incredible. The time went by too fast."
Brown's training and expertise will be immediately integrated into the operations of the FSU Police Department to further its effectiveness as criminal cases and trends continue to become ever more complex.
"We are all very proud of Captain Brown's accomplishment, but we are not surprised.She has been a solid leader at FSUPD for years, and this training will serve to provide her additional tools to do even more," said David L. Perry, police chief and assistant vice president for safety at FSU.
Brown is currently the department's division commander for support services, which oversees investigations, crime prevention, training, evidence and accreditation.