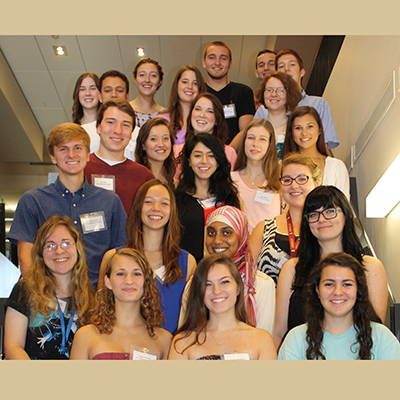 Florida State University this fall welcomed the first class of 25 Presidential Scholars, all freshmen, who will benefit from unprecedented support and educational experiences through the university's new premier undergraduate merit scholarship program.
The Presidential Scholars Program provides four years of support to critical and innovative thinkers who use their talents to make meaningful contributions to society. The scholars receive additional funding for educational enrichment opportunities including international experiences, research and creative projects, service learning projects or public service, internships and entrepreneurial development.
In addition, the scholars will benefit from faculty mentoring, leadership training and regular group meetings. The students also will be among the first to use the new Honors, Scholars and Fellows House, a learning center for the best and brightest students.
"We are thrilled to begin working with the first class of Presidential Scholars," said Dean of Undergraduate Studies Karen Laughlin. "The program clearly demonstrates Florida State's commitment to recruiting and supporting some of the most talented students in the country."
Along with their hometowns and academic majors, the Presidential Scholars are:
Athens, Ga.
Shannon Hodgson, human resource management
Abbey Pylant, biology
Cedar Park, Texas
Lindsey Stawowy, biology
Clemson, S.C.
Julia Jensen, political science and international affairs
Fort Myers, Fla.
Siera Condon, music therapy and psychology
Fort Wayne, Ind.
Leah Rumancik, actuarial science
Huntsville, Ala.
Taylor Foor, meteorology
Indian Harbour Beach, Fla.
Aleyna Brown, music
Jacksonville, Fla.
Inam Sakinah, biology
Lakeland, Fla.
Amanda Schell, actuarial science, international affairs
Miami, Fla.
Jorge Gonzalez, physics
Naples, Fla.
Will Boose, history (major), Spanish (minor)
Navarre, Fla.
Taylor Davis, mechanical engineering
Ocala, Fla.
Sabrina Abboud, international affairs, political science (major), Spanish (minor)
Pensacola, Fla.
Taylor Merritt, biology
Sarasota, Fla.
Olivia Bockler, neuroscience and English (majors), Spanish (minor)
Sarah Wagler, engineering
Sebring, Fla.
Brian Westergom, business
Tallahassee, Fla.
Natalie Jones, biochemistry and art history
Tampa, Fla.
Jordan Singletary, exploratory
Sophie Rottenberg, biology and criminology
Toledo, Ohio
Benjamin Pifer, biology
Venice, Fla.
Samantha Chianese, creative writing (major), psychology (minor)
West Jefferson, N.C.
Laura Blank, psychology and human resource management
Winter Park, Fla.
Gregory Seel, physics
The scholarships are made possible by a generous gift from Linda (B.S. '65, English) and Philip Lewis. For more information about the Presidential Scholars Program, visit presidentialscholars.fsu.edu.