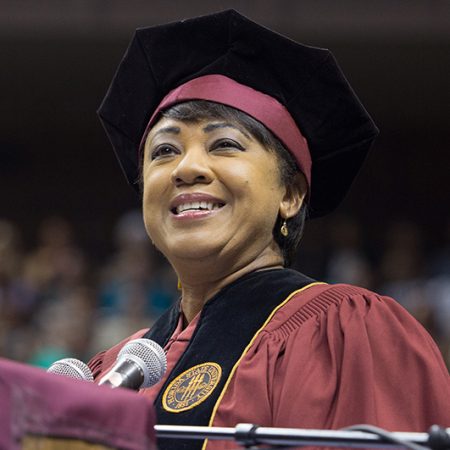 Though Janice Huff's career is replete with special days and special honors, such as the day she spent at the White House interviewing President Obama about climate change, she nevertheless called her opportunity to address Florida State University's summer 2014 graduates an "extreme honor."
"I can't believe I'm standing here," said Huff, the chief meteorologist of NBC 4 New York who earned a Bachelor of Science in meteorology from Florida State in 1982 and was named a "Grad Made Good" by the university in 2002. "I spent four of the most amazing years here, and I know in my heart that this is home for me."
Speaking to a packed house Aug. 2 at the Donald L. Tucker Civic Center, Huff saluted the graduates' dedication, tenacity and commitment and recounted the beginning of her own journey as a student at Florida State in September 1978.
"When my mom dropped me off, she encouraged me to study hard, focus on my goals, strive for excellence and perform at my best," Huff said.
"It was my mother's desire to see her little girl from Columbia, S.C., become the first person in our family to not just attend college but graduate and pursue my passion for the weather," she said. "My mother's support always meant the world to me, I wish she could see me standing here today in full regalia, delivering a forecast of sage wisdom for your future. I can feel her smiling on me right now and saying, 'You did it.' And I'm saying, 'Yep, we did it!'"
In addition to reminiscing about her own graduation day — her class was the first to hold commencement in the newly opened Tucker Center in 1982 — Huff remembered the ups and downs of life as a meteorology student.
"Nothing could tear me away from the James J. Love Building," she said. "From the age of 8 or 9, I knew I wanted to study the weather. Sure there were days when I wanted to tear my hair out, but there were other days when I actually enjoyed class and enjoyed listening to my professors. There were days when I would go out on the roof of the Love Building and watch the ever-changing sky. These were good days."
Huff offered the words of Maya Angelou as a recipe for success in life.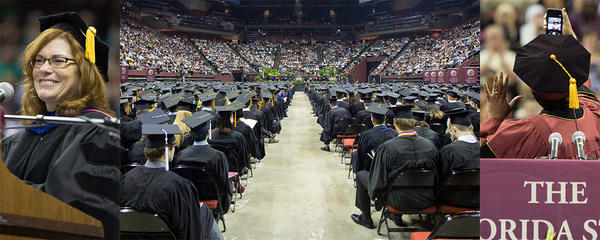 "You can only become truly accomplished at something you love. Don't make money your goal. Instead, pursue the things you love doing, and then do them so well that people can't keep their eyes off you."
She also quoted 1980s movie icon Ferris Bueller as a reminder to make the effort to live life with purpose.
"Life moves pretty fast. If you don't stop and look around once in a while, you could miss it."
And Huff encouraged the graduates that they leave Florida State with a breath of knowledge that no one can take away.
"May you always have a sense of how important and unique you are," she said. "And never doubt how much you have to give. Give it all you've got, and then give it some more."
Prior to the start of the ceremony, Jacksonville, Fla.-native Tresa Maples, 35, who earned an online master's degree in social work, said she felt a sense of relief and accomplishment.
"I worked while I went to Florida State," Maples said. "It was difficult because I'm also a single mom. My 15-year-old son, who is a freshman in high school, got to see that there is something to accomplish after high school. He got to see me studying late, writing papers, and I would even have him read some of my papers.
"He has seen me working minimum-wage jobs, and now I'm getting a real job. I've made it! I've done it," she said.
Maples plans on working at Wolfson Children's Hospital in Jacksonville.
Shamoy Shaquille Crabb, 23, who earned a bachelor's degree in hospitality management, said his biggest struggle at Florida State was getting through his accounting classes.
"Each class was very challenging, but I feel like if it doesn't challenge you, it won't change you," said Crabb, a native of St. Thomas, U.S. Virgin Islands, who grew up in Tallahassee.
Crabb also expressed excitement to be the first person in his immediate family to graduate with a bachelor's degree.
"Throughout my years at Florida State, I always wanted to make my mom proud," he said. "Tears came to my eyes this morning when I was driving here with my family, with them telling me they were so proud of me."
Crabb plans to work for Marriott in Atlanta.
Approximately 1,200 Florida State students — of the 2,458 graduating this summer — participated in the ceremony. Of the students graduating, 1,677 received bachelor's degrees, 624 received master's degrees and 157 were awarded doctorates.