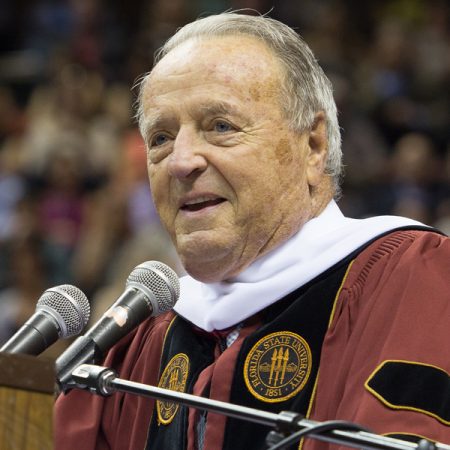 After a lifetime of being called "coach," people now can call him "doctor."
Florida State University conferred an Honorary Doctor of Humane Letters degree on beloved coaching legend Robert C. "Bobby" Bowden during its morning spring commencement ceremony May 3.
In reading the doctoral citation that enumerated his professional achievements, including football national championships in 1993 and 1999, Interim Provost and Executive Vice President for Academic Affairs Sally McRorie praised Bowden for his sterling character, honesty, deep personal faith, charisma, humor and compassion for others.
Interim President Garnett S. Stokes conferred the degree by hooding Bowden to the boisterous approval of the audience at the Donald L. Tucker Civic Center.
Bowden then addressed the graduates, suggesting that the barriers they will face in life are largely in the mind and can be overcome.
"The mind unlocks all barriers," he said, giving the example of Roger Bannister, a 25-year-old British medical student who, in 1954, became the first person to run a mile in less than four minutes.
"He had to convince himself that he could do it," said Bowden, encouraging the graduates to learn how to solve problems and not let barriers stand in their way.
Turning from the mind to the heart, Bowden encouraged the graduates to seek wisdom from the Bible, quoting Proverbs 4:23: "Guard your heart above all else, for it determines the course of your life."
"Everything I say and everything I do comes from my heart, so I want to keep it clean," he said.
Bowden reminded the graduates that character is more important than reputation.
"Your reputation is what you have when you come to Florida State, but your character is what you have when you leave Florida State. Your reputation is what people know about you, but your character is what God knows about you," he said.
During the afternoon ceremony May 3, Florida State alumnus John Thiel, head of Merrill Lynch Wealth Management, discussed the foundations of his success over the past 31 years since graduating with a Bachelor of Science in accounting in 1983.
"Thirty-two years ago, I was sitting right where you are," Thiel said. "Yes, the civic center is that old."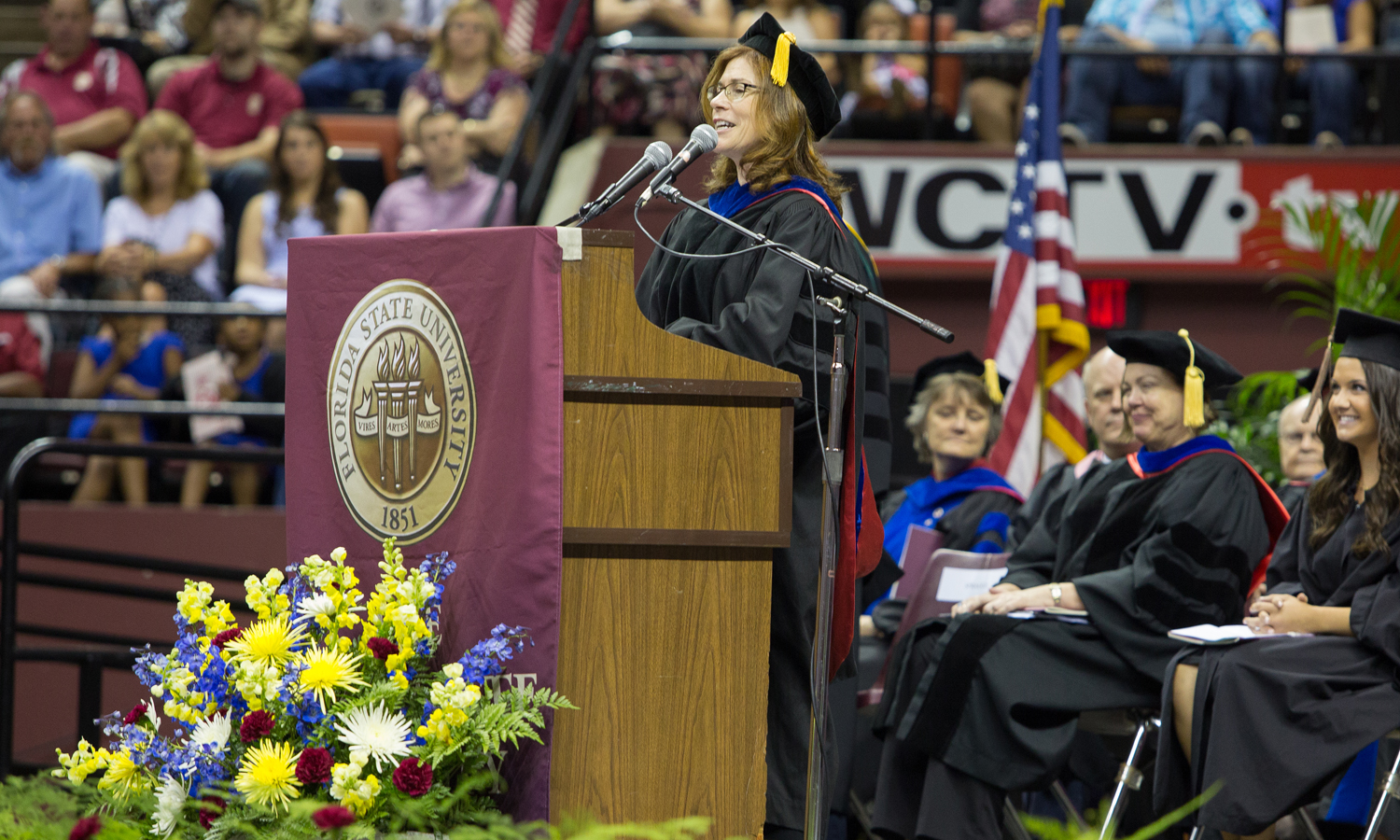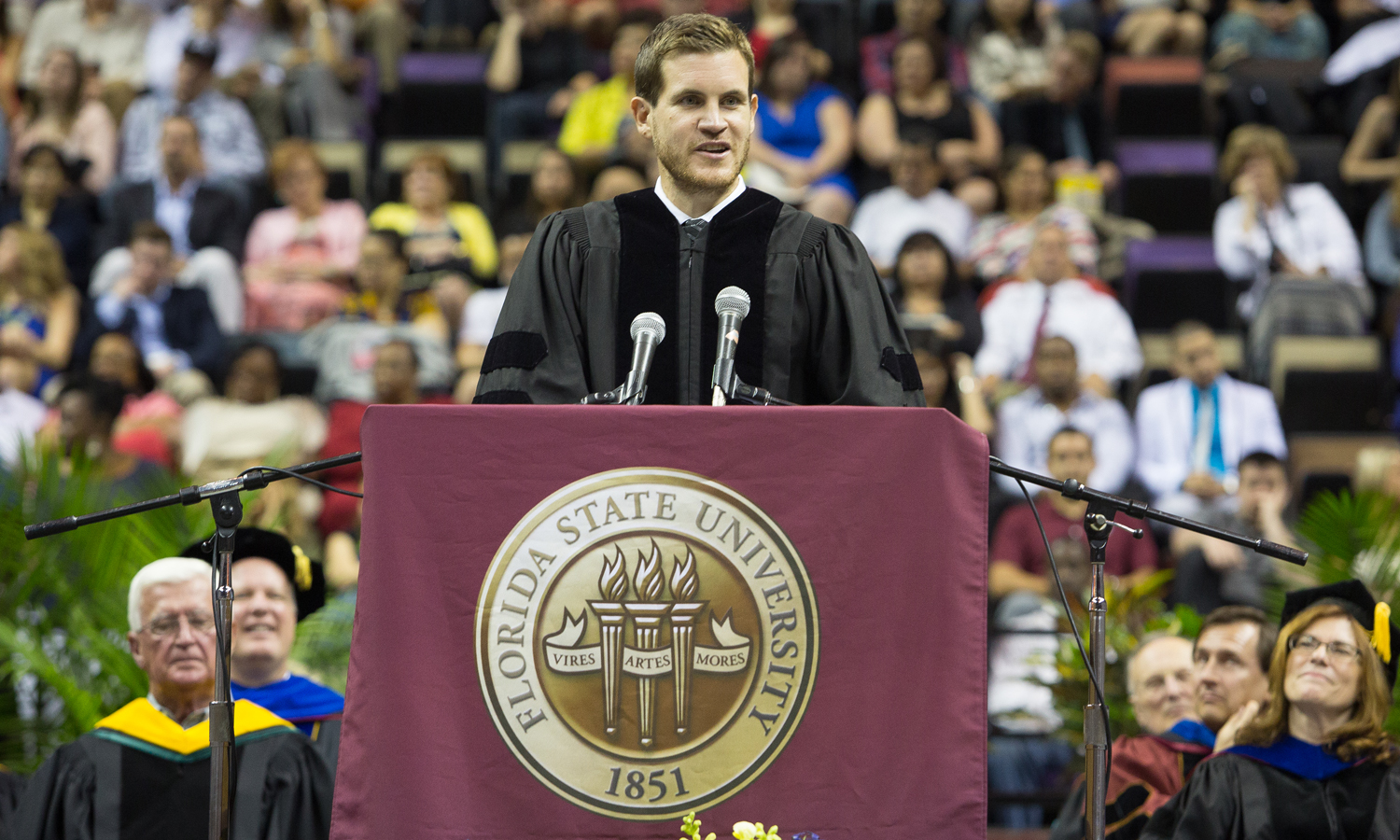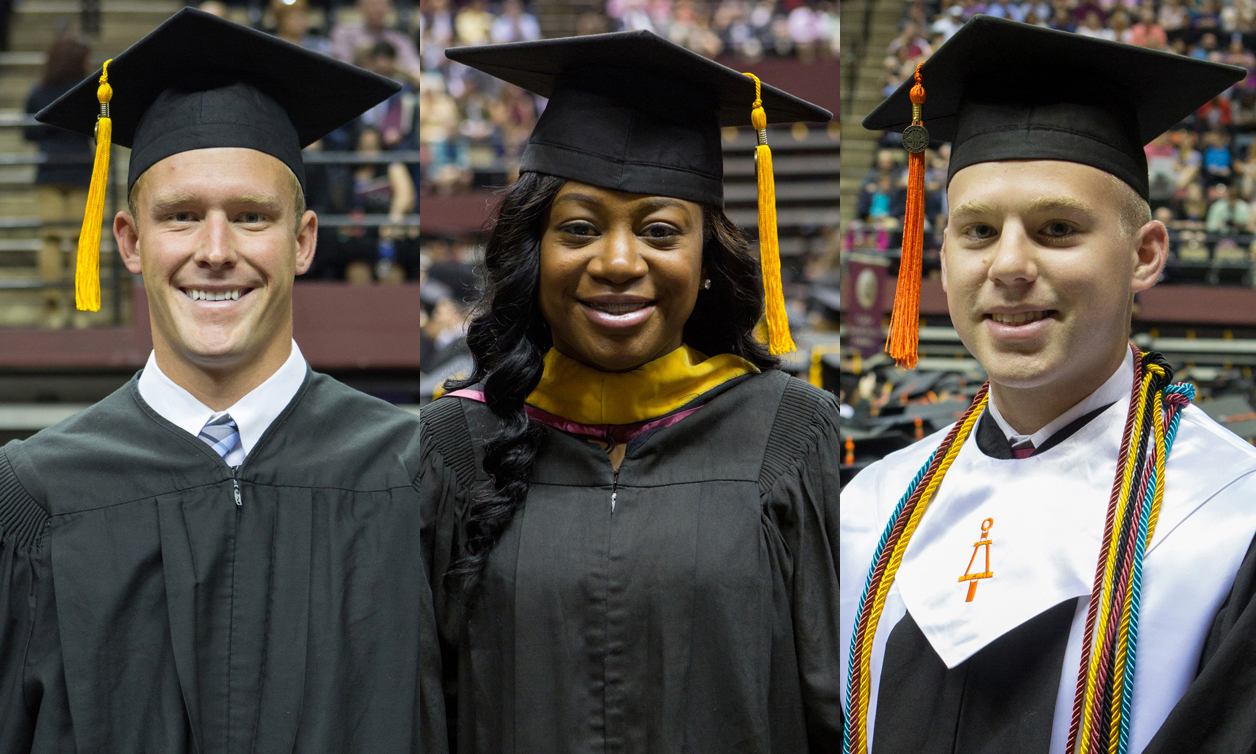 He emphasized three keys for successful living, beginning with the building of relationships.
"People matter most," Thiel said. "Try to become genuinely interested in people and try to see things from the other person's point of view. Work at your relationships. Nurture your relationships. This is practical advice. I've only had four jobs, and every job I've ever had came from someone I knew at Florida State University."
Thiel, a professional investor, told the graduates the best investment they can ever make is in themselves, and to never stop developing their potential. He also encouraged them to do the right thing every day of their lives.
---