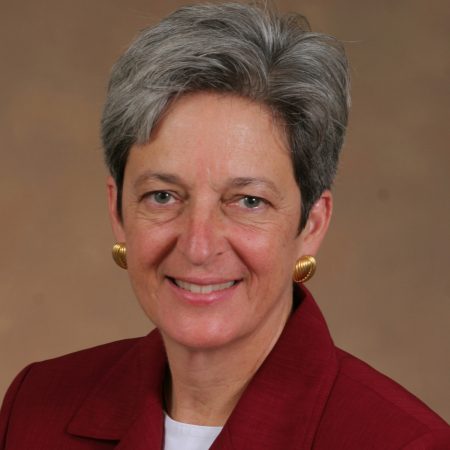 Graduate students were recognized for their achievements in teaching, research and creativity, and leadership at the annual Celebration of Graduate Student Excellence April 9, an event co-sponsored by The Graduate School, Office of Research and the Congress of Graduate Students.
English Professor Anne Coldiron, who served as guest speaker, encouraged the graduate students to integrate into their lives and work "not the labels of excellence, which are trinkets, toys and shadows, but rather a daily, lived excellence, actualized in every part of the research, which brings deep and lasting joy."
"Coldiron's insightful and lively presentation challenged and empowered audience members to chart their future endeavors of excellence on their own terms as they contribute to the advancement of knowledge and society," said Graduate School Dean Nancy Marcus, who hosted the event.
•Recipients of the Outstanding Teaching Assistant Award, which recognizes excellence in teaching and substantial contributions to student learning at Florida State, were: Reema Habib (Classics), Lauren Holland (Psychology), Jessica Martinez (Biological Science), Cara Pounds (Modern Languages and Linguistics), Zhiqiang Shu (Biological Science) and Alexa Warwick (Biological Science). Faculty, staff and students nominated the recipients.
•Kathleen Callahan (Educational Leadership and Policy Studies) received the distinguished Graduate Student Leadership Award.
•The Research and Creativity Award recipients were recognized for outstanding research and creativity in the academic community at Florida State. They were: Lauren Trujillo (Interior Design), Rachel Johnson (Communication Sciences and Disorders), Annelise Mennicke (Social Work), Brian Gold (Chemistry and Biochemistry), Mark Margres (Biological Science) and Qian Xie (Statistics).
•Seven graduate students were recognized for completing either the Preparing Future Faculty Certificate or the Preparing Future Professionals Certificate in 2013-2014: Jessica Alquist (Social Psychology), Hackyoung Bae (Political Science), Hillary Conley (Classics), Min Sook Park (Information Studies), Urska Dobersek (Sport Psychology), Jesse Klein (Sociology) and Linda Lyons (Interior Design). Both of these academic graduate certificates are nationally recognized programs that are housed in The Graduate School.
•Program for Instructional Excellence teaching associates also were recognized for serving the teaching and learning community of the university over past year: Amy Bustin (Modern Languages and Linguistics), Urska Dobersek (Sport Psychology), Mia Gormandy (Musicology), Young Do Kim (Sport Management), Amanda Krueger (Interior Design), Amanda Kubes (Geography), Young Sun Lee (School of Communication), Tarah Luke (History), David Moody (English), Katherine Pierson (Theatre), Joy Post (Nutrition, Food, and Exercise Sciences), Rebecca Redmond (Sociology); Alison Rutkowski (Urban and Regional Planning) and Robert White (Economics).
During the ceremony, 57 graduate students were praised for receiving or earning nationally competitive honors, grants and fellowships. In addition, five students were selected at random to receive a $1,200 gift card from the Sony Corporation's partnership with the FSU Computer Store and The Graduate School.
COVER PHOTO:Graduate School Dean Nancy Marcus, far left, with PIE teaching associates, from left, Rebecca Redmond, Mia Gormandy, Tarah Luke, Amy Bustin, Katherine Pierson, Urska Dobersek, Young Sun Lee, Young Do Kim, Zhaihuan Dai.