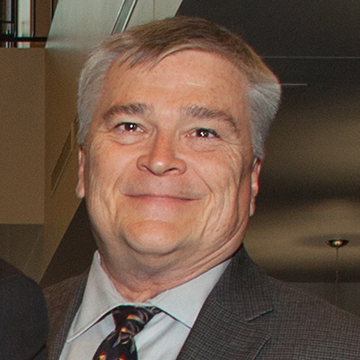 Florida State University President Eric J. Barron addressed the university's Faculty Senate in Dodd Hall Auditorium on Wednesday, March 19, and began with these words:
"This might be a little bit corny. We'll see how it goes."
Barron's last day at Florida State is April 2. He is leaving to become president of Penn State University.
He chose a musical metaphor when speaking to the Faculty Senate for the last time, saying his experiences at FSU had all the characteristics of a great piece of classical music: there have been repeating themes, variations on the themes and excitement building to an ending that then softens and continues.
"I want you to know that in my head I hear one of Verdi's masterpieces when I think of Florida State," Barron said.
Like Verdi's music, Florida State has so many voices and instruments, so much vigor and power, he said.
"It's my musical image of a great university."
He thanked faculty members for their commitment to excellence.
"The metrics belong to you. Student engagement belongs to you. The big ideas belong to you."
Barron ended his remarks with a plea: "If this is the strangest thing you've ever heard, forgive me," he said. "It's been my pleasure to listen to my favorite piece of music for four years."
Just before the room rose to give Barron a standing ovation, he said: "Don't stop playing."
It was perhaps fitting then, that the College of Music's Robert O. Lawton Distinguished Professor of Music Clifford Madsen read a resolution, adopted with no objections, officially thanking Barron for his service to the university.
Among Barron's achievements mentioned in the resolution were his support of veterans and minority students; his ability to develop strong ties with the Tallahassee community and with Tallahassee Community College and Florida A&M University; and his "good sense to marry Molly."
Florida State University's Board of Trustees selected Provost and Executive Vice President for Academic Affairs Garnett S. Stokes to serve as interim president of the university, pending approval by the Florida Board of Governors. Her appointment would begin at close of business April 2.
The Board of Governors is set to vote on Stokes' appointment at its meeting Thursday, March 20.
A presidential search advisory committee will hold its first meeting Friday, March 21, from 11 a.m. to 5 p.m. in Room 269 of FSU Foundation Building B, 2010 Levy Ave.
The university has launched awebsite, http://presidentialsearch.fsu.edu, dedicated to the presidential search to provide updates and a place to leave comments and questions.