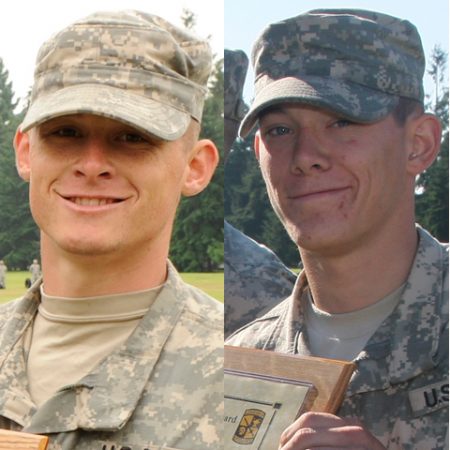 Two Florida State University ROTC cadets — Cameron Mathewson and Zachary Sheffield — have distinguished themselves this summer by earning separate honors during the 2013 Leader Development and Assessment Course at Joint Base Lewis-McChord in Washington state.
Mathewson earned the Sinclair L. Melner Award as the 5th Regiment Honor Graduate. Mathewson was one of two top overall cadets from the 5th Regiment. At Florida State, Mathewson is majoring in economics and political science.
Sheffield earned the top score among men in the 13th Regiment who competed in the Army physical fitness test. Sheffield's score of 373 was based on his performance in a two-mile run, the two-minute push up and the two-minute sit up. To pass, cadets must receive at least 60 points in each event. Sheffield is a history major at Florida State.
Lt. Col. Gregory D. Allen, a professor of military science at Florida State and commander of the university's Army ROTC program, praised Mathewson and Sheffield as part of a proud Florida State University tradition of top cadet performers at the Leader Development and Assessment Course.
"Cadet Mathewson is one of our best overall cadets, so it does not surprise me that he placed in the top two of his regiment," Allen said. "This is a great honor and extremely competitive process since all of the best cadets outof 270 ROTC programs across the nation compete at LDAC. Cadet Mathewson is one of the best in this program and we look for him to do great things once he commissions as an active duty officer with the United States Army.
"Cadet Sheffield is one of our most physical and in-shape cadets," Allen said. "It is extremely tough to place No. 1 out of 550 cadets in the Army physical fitness test. Cadet Sheffield is the type who never quits and always pushes himself to go the distance no matter how tough it gets. We look forward to him coming back to campus and pushing the junior cadets to achieve the level of physical fitness he has achieved."
The Leader Development and Assessment Course is a 29-day program of leadership-infused training designed to develop each cadet's leadership abilities through a sequentially organized training schedule that incorporates the basic necessary skills to become an effective military leader.
Mathewson and Sheffield were among approximately 899 cadets from the 5th and 6th Regiments and approximately 446 cadets from the 13th Regiment to graduate from the leadership course this summer. The course is one of the final steps for cadets prior to completing the ROTC program and entering the Army as commissioned officers.