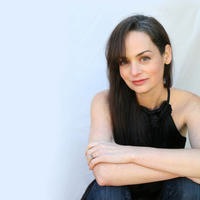 You might say that Florida State University will have three speakers in one during its summer 2013 commencement ceremony.
Novelist, essayist and poet Julianna Baggott, who writes under her real name as well as pseudonyms Bridget Asher and N.E. Bode, will deliver the commencement address at the summer ceremony, which will be held at 9 a.m. Saturday, Aug. 3, at the Donald L. Tucker Civic Center, 505 W. Pensacola St. President Eric J. Barron will preside at the ceremony, which will be webcast at http://campus.fsu.edu/graduation.
Approximately 1,100 Florida State students — of the 2,315 graduating this summer — will participate in the ceremony. Of the students graduating, 1,480 will receive bachelor's degrees, 660 will receive master's degrees and 175 will be awarded doctorates.
Baggott, an associate professor in Florida State's College of Motion Picture Arts, has written 18 books, most of which are novels.
Among her many titles, the prolific Baggott has penned "The Prince of Fenway Park" (HarperCollins, 2009) for younger readers, as well as "Pure" (Grand Central Publishing, 2012) and its follow up "Fuse" (Grand Central Publishing, 2013), the second of a planned trilogy about a post-apocalyptic world. "Pure," which is being developed into a feature film by Fox2000, was named a Notable Book of the Year for 2012 by The New York Times.
As Bridget Asher, Baggott wrote the romantic "The Provence Cure for the Brokenhearted" (Random House, 2011). As N.E. Bode, Baggott wrote The Anybodies Trilogy (HarperCollins, 2004, 2006 and 2011) for younger readers and appeared over a span of two years as a recurring personality on XM Sirius Radio.
In addition, Baggott's work has appeared in The New York Times, The Boston Globe, The Washington Post and The International Herald Tribune, as well as on NPR's "All Things Considered," "Here & Now" and "Talk of the Nation."
A highly acclaimed poet, Baggott has published three collections of poetry, "This Country of Mothers" (Southern Illinois University Press, 2001), "Compulsions of Silkworms and Bees" (Louisiana State University Press, 2007) and "Lizzie Borden in Love" (Southern Illinois University Press, 2006).
During a separate ceremony, Florida State's Army ROTC will commission three new second lieutenants at 2 p.m. Saturday, Aug. 3, in the Broad Auditorium of the Claude Pepper Center, 636 W. Call St.