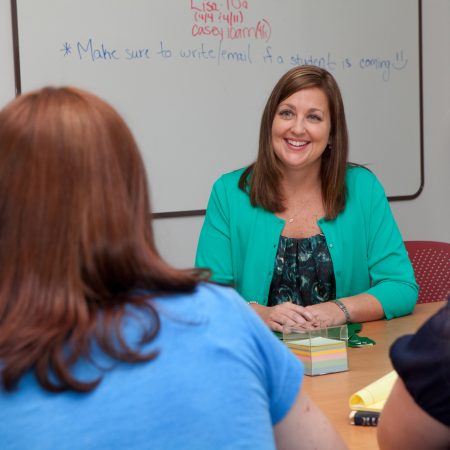 Lauded by her students as a teacher who creates a welcoming and engaging classroom environment with a contagious passion for her subject matter, one of Florida State University's most consummate faculty members has been selected to receive the university's top teaching honor.
Lenore McWey, an associate professor of family and child sciences in the College of Human Sciences, received the 2012 University Distinguished Teacher Award during the Faculty Awards Ceremony April 9. She received a $7,500 stipend along with the award.
"Dr. McWey enjoys a great following among her students," said Billie J. Collier, dean of the College of Human Sciences. "She establishes instant rapport with them and brings a wealth of knowledge to her teaching."
"Dr. McWey is an outstanding teacher and so deserving of this award," said Kay Pasley, chair of the Department of Family and Child Sciences. "She is known for engendering mutual respect among students, challenging them to think critically about the discipline, engaging them from day one in the research process, and mentoring graduate students for the rigors of academic life. I particularly value her intentional approach to teaching, which is evident the careful planning and creative strategies she uses."
Students who nominated McWey complimented her ability to be "hilarious at 8 a.m." and said they would take a class on any subject as long as she was the one teaching it. One described her as being "more than a teacher, but a mentor whose thoughtful, conscientious and sincere manner I can only hope to emulate when I teach others."
With a self-deprecating charm about her teaching style, McWey claims to sometimes fumble over her words, create a mishap with classroom technology or be the only one laughing at her own bad puns. Yet, she maintains that she loves the experience. She prides herself on using different instructional techniques so that both auditory and visual learners will have opportunities to understand course content in a format that is best suited for their needs.
"I emphasize active learning, integrating activities into classes so students learn by experiencing the material," McWey said.
As part of building a solid framework for her courses, McWey makes sure that her students know that she has high expectations of them.
"I believe students perform their best if they trust that I expect the best from them," McWey said.
McWey earned a doctorate in marriage and family therapy from Florida State in 2002, a Master of Education degree in mental health counseling from the University of North Florida in 1997, and a bachelor's in psychology from Florida State in 1993.
Other outstanding Florida State faculty members were recognized in the following categories during the Faculty Awards Ceremony:
Distinguished University Scholars
This award is designed to recognize outstanding performance by Florida State employees who are non-tenured or non-tenure-seeking, have longstanding track records of research and/or creative activity at the university, and occupy more senior levels in their respective positions. Examples of such positions include the titles of curator, scholar/scientist or research associate. This year's recipients will receive one-time awards of $10,000 and framed certificates.
The Distinguished University Scholars are: Lloyd Engel(National High Magnetic Field Laboratory) and Scott Hannahs(National High Magnetic Field Laboratory).
Developing Scholar Awards
Developing Scholars are mid-career associate professors who have been singled out by their peers for recognition. Each receives a $10,000 award to be used in their research program, following specific guidelines, along with a framed certificate.
The Developing Scholars are: Alexander Volya(Physics), Carlos Bolanos (Psychology), Kathleen McCullough(Risk/Insurance, Real Estate and Legal Studies), Hengli Tang (Biological Science), Chad Van Iddekinge (Management) and Svetla Slaveva-Griffin (Classics).
Distinguished Research Professor Awards
The title of Distinguished Research Professor is the third highest faculty award at Florida State, following the Robert O. Lawton and Daisy Parker Flory awards. A select panel of current Distinguished Research Professors vets the nominations, submitted by faculty peers, for presentation to the university president. Each recipient will receive a one-time award of $10,000, along with a framed certificate.
The Distinguished Research Professors are: Bernd Berg(Physics), Zuoxin Wang(Psychology), Eric Chassignet(Earth, Ocean and Atmospheric Science) and Gary Taylor (English).
Graduate Faculty Mentor Awards
The Graduate Faculty Mentor Award honors faculty mentors whose dedication to graduate students and mentoring have made a significant contribution to the quality of life and professional development of graduate students. The honor comes with a $3,000 award.
The honorees are: Reb Braddock (Motion Picture Arts), Michael Brady (Marketing), Stanley Gontarski (English), Richard Hyson (Psychology) and Valerie Scoon (Motion Picture Arts).
Undergraduate Advising Awards
Recipients of the University Undergraduate Advising Award have been nominated by students who have been beneficiaries of their services. These individuals dedicate their time to ensuring that students receive the best possible advice related to their courses and their career choices. Recipients also receive a $2,000 award.
The honorees are: Eric Crosier (Undergraduate Studies, Center for Exploratory Students), Brandy Haddock (English) and Sean Hawkeswood (Advising First, English).
Honors Thesis Mentor Awards
The Honors Thesis Mentor Award was established to recognize and honor faculty members whose direction and advisement of honors thesis research or creative activity has significantly contributed to the enhancement and quality of education of undergraduate students at The Florida State University. Faculty are nominated by students in the Honors in the Major program for this award. It comes with a $2,000 stipend.
The honorees are: Walter Boot (Psychology) and Ingo Wiedenhöver (Physics).
Undergraduate Teaching Awards
The Undergraduate Teaching Award recognizes faculty for excellence in undergraduate teaching. Recipients must be outstanding in the many aspects of teaching that contribute to successful teaching and learning. This is a student-oriented award with nominations submitted by students and alumni. Each recipient also receives a $2,000 award.
The honorees are: Alexander Aviña(History), Jason Barabas (Political Science), Joab Corey (Economics), Barbara Cottrell (Nursing), John Dorsey (Chemistry and Biochemistry), Patrick Dunnigan(Music), Gregory Erickson(Biological Science), Kevin Fenton(Music), Gerrie Houlihan (Dance), Neil Jumonville (History), David Kirby (English), Okenwa Okoli (Industrial and Manufacturing Engineering), Timothy Parrish (English), Pamela Robbins(History), Robert Romanchuk (Modern Languages and Linguistics), Holly Sudano(Accounting), Lisa Waxman (Interior Design), Lisa Weinberg (Sociology) and Eric Wiedegreen (Interior Design).
Graduate Teaching Awards
The Graduate Teaching Award recognizes faculty for excellence in graduate teaching. Recipients must make outstanding contributions to successful teaching and learning. This is a student-oriented award with nominations submitted by students and alumni. Each recipient also receives a $2,000 award.
The honorees are: Rhonda Blackwell Flanagan(Educational Leadership and Policy Studies), Reb Braddock (Motion Picture Arts), Timothy Glenn(Dance), Kristine Harper (History) and Lisa Scott (Communication Science and Disorders).