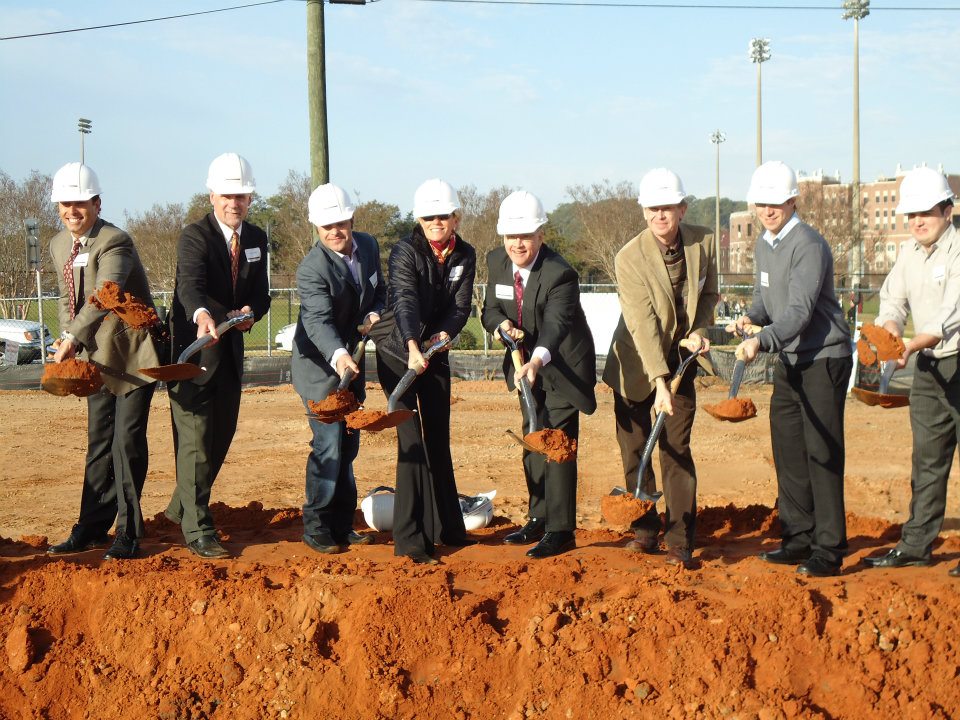 As more than a dozen people wielding ceremonial shovels tossed clods of orange construction clay, ground was broken on Jan. 17 for College Town, a planned residential, dining, shopping and entertainment district to be located just south of the Florida State University campus.
Administrators from Florida State were joined by officials from the city of Tallahassee and Leon County, representatives from Seminole Boosters and Hooper Construction Inc., and private investors at the morning ceremony, which launched the first phase of College Town. The project, scheduled for completion in fall 2013, is intended to link downtown Tallahassee to the FSU campus while creating an urban-renewal community that is casual, eclectic and safe.
"We are thrilled to officially mark the construction of this much-anticipated project, which will have a wide-reaching impact upon the surrounding area," said Seminole Boosters President and CEO Andy Miller. "This fantastic project will help tie the university to the community and will be an excellent complement to Florida State University, enhancing our athletic program offerings and campus environment while creating a new 'south gate' for the area."
The blocks between Gaines Street, West Madison Street, Woodward Avenue and Collier Street are the planned site of College Town, which will feature sophisticated three- to five-story, urban-designed buildings surrounded by tree-lined, cobblestone pedestrian streets. The community will also offer sophisticated restaurants, entertainment, shopping and living options that are clean, safe and vibrant. As envisioned, College Town will be a center where education, business and people come together in a lively and imaginative environment.
With 136,000 square feet of residential and commercial space planned, College Town will feature 71 loft apartments designed for upscale student housing and season ticket-holders. In addition, the new community's entertainment complex will feature a mix of retail, dining and shopping space. Confirmed commercial tenants thus far include Brooklyn Water Bagel, Pizza and Coffee, Samba Cantina, Rise Music Club, and Recess Rooftop Pool and Lounge.
The main entertainment space, America's Backyard, is a 14,000-square-foot venue bringing food, dancing, drinks and live music to the area. The venue will patrons anall-American menu, lively bar, stage/DJ area and backyard party lawn where national live music acts will perform.
"This kind of project is exactly what will help the university move forward and attract students and faculty, and will be a place where students and alumni can interact in meaningful ways," said FSU Vice President for Advancement Thomas W. Jennings.
Also speaking at the groundbreaking ceremony was Leon County Commissioner John Dailey, who called College Town "the logical next step in the Gaines Street redevelopment."
"This is going to completely change not only this area but the downtown area and the connection between the two," Dailey said.
For more information on College Town, visit www.FSUCollegeTown.net.
ABOUT SEMINOLE BOOSTERS INC.
As the athletics fundraising arm of Florida State University, Seminole Boostersis charged with generating current and deferred contributions for the purposes of enriching the overall educational environment of the university's athletic program. The organization provides financial security, which contributes to the athletic program's long-term growth and prosperity. The contributions made to Seminole Boosters provide the framework of Florida State University athletics, supporting scholarships, facilities and championship-caliber coaches.