Florida State University remains one of the top 50 public universities and continues to offer some of the best undergraduate business programs in the nation, according to rankings released today by U.S. News and World Report for its 2012 edition of "America's Best Colleges."
Florida State is ranked 46th this year among public "national" universities, moving up from last year's ranking of 47th. FSU shares the No. 46 slot with seven other institutions.
"Florida State University is home to exceptional faculty and students, ranking among the very best in the United States and beyond," said FSU Provost and Executive Vice President for Academic Affairs Garnett S. Stokes. "Although there are economic factors affecting our rankings that are out of our control, we are pleased to see an upward trajectory that reflects our stature as a unique, student-centered campus with national impact."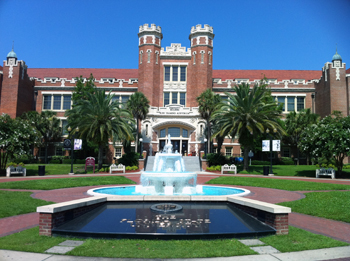 FSU's College of Business has been recognized for its undergraduate specialty areas in insurance and risk management and in real estate. The insurance and risk management program is ranked No. 7 overall and 6th among public universities, while the real estate program is ranked 11th overall and 8th among public institutions.
"The College of Business strives for excellence and that is reflected in the U.S. News and World Report rankings," said Caryn Beck-Dudley, dean of the college. "We are pleased that our distinguished faculty and programs continue to garner national recognition."