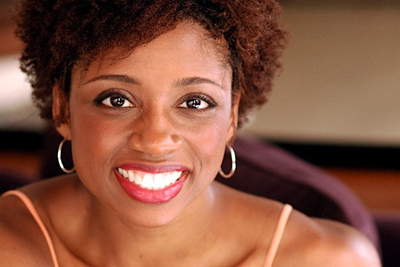 Florida State University alumna and award-winning actress Montego Glover, who currently stars in the Tony Award-winning musical "Memphis," will be the speaker at FSU's summer commencement ceremony.
About 1,200 of more than 2,500 graduating students will participate in the ceremony, which will be held at 9 a.m. on Saturday, Aug. 6. Florida State President Eric J. Barron will preside at the ceremony at the Tallahassee-Leon County Civic Center.
Glover, a 1996 honors graduate of FSU's internationally acclaimed music theater program, was nominated for a Tony Award for Lead Actress in a Musical for her role in the Broadway musical powerhouse "Memphis," which won four Tony Awards, including Best Musical, in 2010. The same year, Glover won the prestigious Drama Desk Award and the Outer Critics Circle Award for Outstanding Actress in a Musical.
She has previously starred on Broadway in "The Color Purple" as well as in leading roles in numerous musicals, including "Aida," "Ragtime" and "Dreamgirls." Glover also has performed for President Barack Obama and first lady Michelle Obama and has performed in concert with the New York Pops at Carnegie Hall, the Library of Congress, the Chicago Humanities Council, and Jazz at Lincoln Center.
Born in Macon, Ga., and raised in Chattanooga, Tenn., she attended the Chattanooga School for the Arts and Sciences. After graduating from Florida State, Glover worked a successful performing arts stint at Walt Disney World in Orlando before heading to New York, where she made her debut in "The Color Purple."
She has done commercials and voiceovers for numerous companies, including Verizon, Nickelodeon, Charmin Bath Tissue, Wishbone Salad Dressing and McDonald's. In addition, Glover has appeared in the television series "The Good Wife," "Guiding Light" and "Law and Order." (Fans of the shows can check out her performances on her official website, www.montegoglover.com.)
Attending this year's commencement ceremonies will be another internationally acclaimed performing artist: Florida State University Artist-in-Residence Jawole Willa Jo Zollar, a respected choreographer and the founding and artistic director of New York dance company Urban Bush Women.
Zollar, who has been named Florida State's 2011-2012 Robert O. Lawton Distinguished Professor, will be formally introduced at the graduation ceremony. The Robert O. Lawton Distinguished Professorship is the highest honor bestowed by the FSU faculty on one of its own. In its 30-year history at Florida State, the award has gone to two dancers, including Zollar. (Nancy Smith Fichter of the Department of Dance was the 1991-1992 Robert O. Lawton Distinguished Professor.)
"Being honored by your peers is just thrilling," Zollar said. "Because I am in the performing arts, the research that we do in this field looks different. I don't present papers at conferences; my work is in the community and on the stage. To be recognized for that is really, really wonderful. I'm honored beyond belief."
For more information on Florida State's summer commencement, contact Dianne Skinner of the Office of the Registrar at (850) 644-5850 or dskinner@admin.fsu.edu.