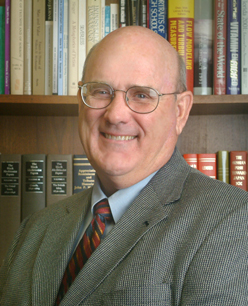 Lawrence G. Abele has announced that he will step down from the position of provost and executive vice president for Academic Affairs at The Florida State University at the end of the fall semester. At that time he will devote his full attention to the Institute for Academic Leadership, a statewide program for new academic administrators.
Abele, a marine biologist, is among the longest-serving provosts and academic vice presidents in the United States and has the longest tenure among provosts in the State University System of Florida.
"In my view, Larry Abele is one of the most respected and knowledgeable provosts in the country," said Florida State President Eric J. Barron. "What he has accomplished in his 16 years as provost and executive vice president is truly remarkable.
"When I came aboard as president, Larry informed me that it was his intent to devote himself full time to the Institute for Academic Leadership. I asked him to give me as much time as possible as our provost, so that we could have as smooth a leadership transition as possible. There is no doubt that he was instrumental in working to maintain our budgets in the face of state deficits during the last legislative cycle. His advice and knowledge have been invaluable, and I am indebted to him for the extra year of service as provost that he has provided."
Barron said the university will begin the process of setting up a national search for its next provost immediately.
The provost is the senior academic administrator at FSU, a position of singular importance. As the second-ranking officer at the university, who acts for the president, Abele has held the position under three presidents: Talbot "Sandy" D'Alemberte, Thomas Kent "T.K." Wetherell and Barron.
Early in the last decade, Abele worked tirelessly and with considerable foresight to successfully insulate the university from potentially disastrous budget reductions that were experienced by most institutions in the state. He dedicated himself to improving the recruitment, advising and retention of students; tracking and improving the satisfaction of students; improving teaching quality and quantity; and growing the research contracts and grants that faculty receive.
"There is no academic measure that hasn't improved substantially during Dr. Abele's term as provost," said Vice President for Research Kirby Kemper. "The publication rate for faculty has doubled, for example. Meanwhile, retention and graduate rates for students are at the highest levels we've ever had. By virtually any measure, Florida State is a stronger academic institution thanks to the many contributions of Larry Abele."
"Florida State University is a remarkably different and profoundly better university as a result of the dedicated service of Larry Abele," said Sally McRorie, dean of the College of Visual Arts, Theatre & Dance. "During his tenure as provost, every important marker of success by students, faculty, and the institution itself has improved dramatically. Larry Abele deserves the deepest gratitude from everyone who loves Florida State University."
Robert Bradley, vice president for Planning and Programs, said Abele exerted an enormous influence on the quality and diversity of the university: "His actions have improved the quality of both our students and our faculty. Faculty scholarship is at an all-time high."
Abele is responsible for all operations of the university involving instruction, research, academic quality and external programs. The deans of Florida State's 15 colleges report to him.
He was appointed to his current position on Nov. 8, 1994, having served as interim provost and vice president for Academic Affairs from July 11, 1994, and currently also serves as director of the Institute for Academic Leadership. From 1991 to 1994, he served as dean of the College of Arts and Sciences at Florida State. Prior to serving as dean he was chair of the Department of Biological Science for an eight-year period (1983-91).
Abele received his associate degree from Miami-Dade College; bachelor's (1968) and master's (1970) degrees in biology from Florida State, his doctorate in biological oceanography from the Rosenstiel School of Marine and Atmospheric Science of the University of Miami (1972), and was a postdoctoral fellow with the Smithsonian Tropical Research Institute in the Republic of Panama (1973).
In addition to being recognized as an outstanding teacher, he has received more than $1.25 million in research funding. His primary research interests include the biology of crustaceans (crabs and shrimps), and since 1987 he has been working on molecular evolution of this group. He has published more than 75 scientific articles and, with one of his students, has twice received the Outstanding Paper Award from The Crustacean Society. He has conducted field research in Central America, West Indies, Australia, Bermuda, Ascension Island, and Mexico.
Abele served as chair of the Council of Academic Affairs for the National Association of State Universities and Land Grant Colleges (NASULGC), the national group representing chief academic officers of public institutions, in 1999-2000. While serving on this council, he played an important role in the development of the Voluntary System of Accountability, which is designed to identify and assess effective practices in higher education and to present accessible, understandable information to the public. He has served on the NASULGC Executive Board and been a frequent counselor to state and congressional legislators and committees. In 2009, he received the highest national award in support of academic advising, the Pacesetter Award.
His efforts are not limited to campus. Abele has long been an active scientist. He only recently gave up his laboratory and surrendered his long-time scholarly lines of inquiry. Over the years, he has offered services to numerous groups. He has chaired the Smithsonian Tropical Research Institute Board of Visitors and served on its Professional Accomplishments and Evaluation Committee. He served on several advisory committees for the National Science Foundation and other governmental agencies. He was associate editor of Paleobiology and the Journal of Crustacean Biology, as well as president of The Crustacean Society. He was recognized as Distinguished Alumnus in the 2003 Hall of Fame at Miami-Dade Community College. In 1988, he was elected a Fellow of the American Association for the Advancement of Science. He has also been recognized by the Florida State Alumni Association with its Circle of Gold award for his vision and energy in support of higher education and the university.