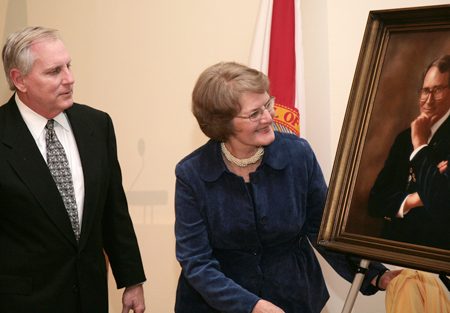 Florida State University officials have dedicated the new Augustus B. Turnbull III Florida State Conference Center, a 47,000-square-foot facility that is open to both the university community and the general public for academic events, government meetings and corporate seminars.
The three-story center, located on the corner of Copeland and Pensacola streets, features three video walls, LCD screens, webcasting, wireless Internet, e-media services and a staff that provides professional event management. Meeting space includes a 400-seat auditorium, 320-seat dining room, executive boardroom and eight meeting rooms that can accommodate between 10 and 100 people.
"The Turnbull Conference Center is now prepared to deliver the next generation of customized event solutions to Florida's capital city," said Bill Lindner, director of Florida State's Academic and Professional Program Services (APPS), which oversees the center and its professional conference planning and services. "By integrating the latest technology, the center's meeting professionals can design events with maximum impact whether they are small meetings or large regional conferences."
Construction of the new facility began in June 2008 to replace an aging structure of the same name that was demolished. An attached five-story parking garage was completed in August 2008. The center is named for Turnbull, who served as provost from 1986 until his death in 1991.
Among those who participated in the Jan 14 dedication ceremony were Florida State President T.K. Wetherell; Marjorie Turnbull, a former Leon County commissioner and Florida state representative and the wife of the late Gus Turnbull; and Lindner.
The center is now booking events to be held beginning in February. For more information, visit this link or call (850) 644-3801.