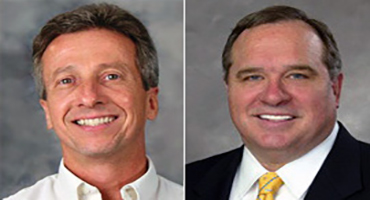 Out of nearly 3,000 fall 2009 graduates of The Florida State University, approximately 1,800 will participate in two commencement ceremonies scheduled for 9 a.m. and 2 p.m. on Saturday, Dec. 12, at the Tallahassee-Leon County Civic Center, 505 W. Pensacola St. Graduates will represent all 15 of the university's colleges. Florida State President T.K. Wetherell will preside at both events.
The university's 2009-2010 Robert O. Lawton Distinguished Professor, Richard K. Wagner, will speak at the morning commencement ceremony for graduates of the colleges of Arts and Sciences; Communication and Information; Criminology and Criminal Justice; Law; Medicine; Social Sciences; and Visual Arts, Theatre and Dance. The guest speaker for the afternoon ceremony will be James M. "Jim" Seneff Jr., chairman and chief executive officer of CNL Financial Group Inc. He will address graduates from the colleges of Business; Education; Engineering; Human Sciences; Motion Picture Arts; Music; Nursing; and Social Work.
Wagner, who also holds the title of Distinguished Research Professor and occupies the W. Russell and Eugenia Morcom Endowed Chair in the Department of Psychology at Florida State, is one of the nation's foremost authorities on the subject of dyslexia, a learning disorder marked by impairment of the ability to recognize and comprehend written words.
Led by Wagner, a team of nearly two dozen Florida State researchers, as well as four from Yale University, are in the third year of a five-year research project funded through a $6 million grant from the National Institutes of Health (NIH). The grant has allowed for the creation of a prestigious NIH Multidisciplinary Learning Disabilities Center at Florida State — one of only four such centers in the nation. Through the center, Wagner and other researchers have been conducting behavioral and genetic studies involving thousands of Florida children with dyslexia.
In addition to his current research, Wagner has won the admiration of peers for his high levels of scholarship over the course of a 25-year career at Florida State. Among his many accomplishments, he has been awarded more than $17.5 million in research funding as a principal or co-principal investigator; and has published 125 peer-reviewed articles, book chapters or books.
Seneff, of Winter Park, Fla., founded CNL Financial Group in 1973 and has built it into one of the nation's largest private real-estate investment and development companies. He also serves as chairman of the board of CNLBancshares Inc. and CNL Lifestyle Properties Inc. Seneff is the former chairman of National Retail Properties Inc., Trustreet Properties Inc., CNL Retirement Properties Inc. and CNL Hotels & Resorts Inc.
A Florida State alumnus, Seneff graduated in 1968 with a Bachelor of Science degree in marketing. He has served in leadership roles for a number of corporate and nonprofit boards, including the Florida State University Foundation Board of Directors, and was inducted into the Florida State University College of Business Hall of Fame in 2006. Seneff also has been recognized for his many philanthropic and economic development activities in the Orlando area.
In addition to the Dec. 12 commencement ceremonies, Florida State's College of Nursing and its Army and Air Force ROTC programs will host the following events:
The College of Nursing's Academic Convocation will be held in Tully Gym, 139 Chieftan Way, at 3 p.m. on Friday, Dec. 11. Degrees awarded will include 31 Master of Science in Nursing degrees, three Post-Master's Nurse Practitioner Certificates, 44 Registered Nurse to Bachelor of Science in Nursing degrees, and 72 traditional Bachelor of Science in Nursing degrees. Nanna Cuchens, a faculty member in the College of Nursing, will provide the faculty address.
Florida State's Army ROTC will commission five officers on Saturday, Dec. 12, at 5:30 p.m. in Broad Auditorium, located within Florida State's Claude Pepper Center, 636 W. Call St. Command Sgt. Maj. John D. Sparks will be the guest speaker.
Florida State's Air Force ROTC will commission three cadets in the President's Box at Doak Campbell Stadium on Saturday, Dec. 12, at 7 p.m. Col. Billy Francis, the Detachment 145 commander and a professor of aerospace studies, will preside.
Finally, on Sunday, Dec. 13, Florida State's Panama City Campus will honor its graduates at a convocation ceremony at 2:30 p.m. CDT in the St. Joe Community Foundation Lecture Hall, located at Holley Academic Center on the FSU-Panama City campus. The speaker will be Ray Dubuque, AT&T Florida's area director of legislative and external affairs. Florida State Panama City Dean Ken Shaw will preside.