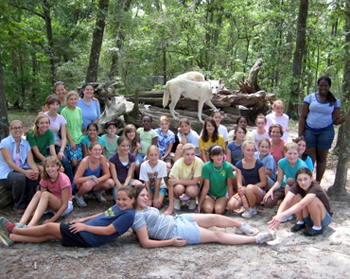 WFSU-TV, Tallahassee's public television affiliate, will be recognized in Washington, D.C., in March for its commitment to education within the community.
The Corporation for Public Broadcasting will present WFSU-TV with the My Source Community Impact Award for the station's participation in "WFSU SciGirls," a summer camp that is designed to get middle school girls interested in science. The awards ceremony will take place as part of the Corporation for Public Broadcasting/PBS-hosted Council of Chief State School Officers Legislative Conference.
"WFSU SciGirls" was created by WFSU-TV and the National High Magnetic Field Laboratory at The Florida State University. Middle school-age girls in the camp travel to a variety of area sites, engaging in hands-on activities that underscore important science principles. In the past, camp participants have conducted an invasive-species survey at Wakulla Springs State Park, explored the caverns at Florida Caverns State Park in Marianna, Fla., and spent a day at the magnet lab learning about water under the Earth's mantle, as well as water from outer space. They also have snorkeled in the Gulf of Mexico to explore sea life.
"We are honored to be recognized by the Corporation for Public Broadcasting for one of our most popular community efforts," said Kim Kelling-Engstrom, director of educational outreach at WFSU-TV.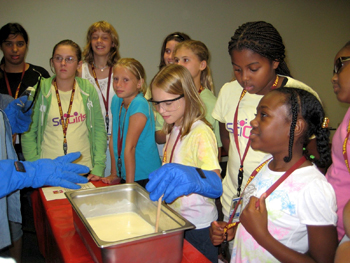 The My Source Community Impact Awards for Education were created by the Corporation for Public Broadcasting to give recognition to public television stations for their commitment to providing educational services to preschoolers, senior citizens, teachers and caregivers; for those with learning disabilities; for those with physical challenges; and for lifelong learners of all races and heritage, with measurable results. For more than four decades, public-service media has delivered content and services that advance learning — on-air, online, at home and in the classroom — providing a safe place where children can learn and a source of lifelong learning for all Americans.
Participants in WFSU-TV's "SciGirls" science camp conduct experiments at the National High Magnetic Field Laboratory at The Florida State University.[/caption]The March 7 awards dinner will begin with the Corporation for Public Broadcasting's presentation of the prestigious Fred Rogers Award for Excellence in Children's Educational Media. The Fred Rogers Award, followed by the My Source awards, provides an educational arc of commitment and achievement through public television stations benefiting the American people.
WFSU-TV is part of the Communications Group at The Florida State University in the University Relations Division. WFSU-TV is the PBS affiliate serving 20 counties in North Florida, southern Georgia and southeastern Alabama.
About the Corporation for Public Broadcasting
The Corporation for Public Broadcasting is a private, nonprofit corporation created by Congress in 1967 and is steward of the federal government's investment in public broadcasting. It helps support the operations of more than 1,100 locally owned and operated public television and radio stations nationwide, and is the largest single source of funding for research, technology and program development for public radio, television and related online services.