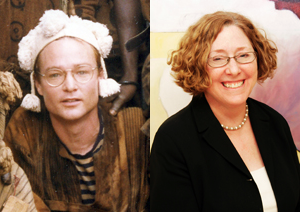 Florida State University professors are doing their part to promote leadership, learning and understanding between cultures, thanks to Fulbright Scholar grants that are allowing them to study abroad this year.
The Fulbright Scholars are Joseph Hellweg, assistant professor of religion, and Marcia Rosal, professor and director of the art therapy program in the art education department.
"Fulbrights are among the most prestigious academic awards given to scholars, and I am very pleased that these faculty members were selected," said Dean of the Faculties Anne Rowe. "Their contributions will have a global impact, and their students also will benefit significantly from this experience upon their return to FSU."
Hellweg is teaching a two-semester course in anthropological field methods at the University of Kankan in Guinea, West Africa. As part of the course, Hellweg and his students will interview Kankan residents in the local Malinke language about their thoughts on the causes, symptoms and treatment of various diseases including HIV/AIDS, with an eye toward improving understanding and communication between Kankan residents and public officials.
"Too often, public health personnel see widely held ideas about disease as 'cultural obstacles' to good public health education," Hellweg said. "My purpose in learning more about these ideas will be to think of them as bridges to dialogue about how best to approach public health education."
Rosal is spending three months at the Taipei Municipal University of Education (TMUE) in Taiwan where she will conduct an ethnographic study on the career
decisions of art therapists in Taiwan. As part of her study, she will travel across the country interviewing art therapists and observing their work. She also will deliver lectures at TMUE and other venues about her areas of expertise, which include group art therapy; art therapy research; the use of art museums as a tool in art therapy; and the use of art therapy in the aftermath of Hurricane Katrina.
"I am interested in art therapy as a career choice here in Taiwan," Rosal said. "This is a collectivist culture and art therapy is a singular, individualistic profession. In addition, the work I do in Taiwan will assist me when I return to Florida State. I will be more informed about multicultural issues in art therapy and will bring new ideas back to the FSU art therapy program."
Hellweg and Rosal are among approximately 800 U.S. faculty and professionals who will travel abroad during the 2008-09 academic year through the Fulbright Scholar Program. Fulbright Scholars are selected on the basis of academic or professional achievement and because they have demonstrated extraordinary leadership potential in their fields.