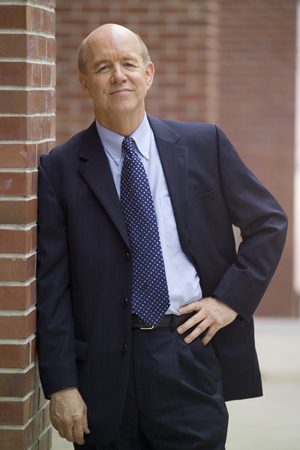 A Florida State University business professor recently selected to lead a new center that will promote research and service activities related to banking and finance has been named the recipient of FSU's 2007-2008 Distinguished Teacher Award. William A. Christiansen, who chairs the Department of Finance in the College of Business, received the award at the annual Faculty Teaching Awards Ceremony.
William Christiansen (photo: Ray Stanyard)
"William Christiansen joins a long line of Florida State University faculty who have received our highest award for teaching excellence," said Anne Rowe, dean of the faculties at FSU. "We congratulate him today as we recognize this outstanding achievement."
Nominations for the Distinguished Teacher Award are submitted by students who seek to honor professors who have made a great impact on them. Those nominations then are reviewed by a faculty committee, which makes the final selection.
"With so many outstanding instructors at Florida State University, it is a real honor to receive this award," Christiansen said. "I place a very high value on teaching and working with my students at all levels. It is nice to be rewarded for something that I enjoy so much."
Christiansen, who holds the title of Bank of America Professor, has been a member of the FSU faculty since 1983. His teaching and research interests include commercial bank management, pension funds, real estate finance, and bank runs and failures.
As chairman of the finance department, Christiansen has overseen several major initiatives that have significantly improved the educational experience for the university's 1,000-plus finance majors. These include the establishment of the department's SunTrust Visiting Speaker Series, the reorganization of the department's Web site (www.cob.fsu.edu/fin), a restructuring of the Ph.D. program in finance, and the development of a new Master of Science in Finance program. (The master's program will start in summer 2009, while the restructured Ph.D. program will be implemented in fall 2009.)
Also, earlier this year, the College of Business announced its receipt of a $2-million gift from the Bank of America Charitable Foundation to establish the Gene Taylor/Bank of America Center for Banking and Financial Studies. Christiansen was named the director of the new center, which will be used to encourage excellence in education as well as fund research and service activities related to banking and finance.
Dean Caryn L. Beck-Dudley of the College of Business praised Christiansen's selection for the Distinguished Teaching Award as "well deserved."
"In the classroom, he displays a passionate attitude toward teaching and learning, and he has a genuine interest in motivating students to discover their own potential," Beck-Dudley said. "He has received the University Outstanding Teaching Award three times and the Outstanding MBA Program Professor Award six times during his tenure with the College of Business. This latest award is another example of his dedication in producing top graduates for our college."
Christiansen will receive a $7,500 stipend along with the Distinguished Teacher Award.
Forty-six other outstanding FSU faculty members also were recognized in other categories during the Faculty Awards Ceremony:
Developing Scholar Awards: Igor Alabugin, Chemistry and Biochemistry; Paul Eugenio, Physics; Laurel Fulkerson, Classics; Xiuwen Liu, Computer Science; and Teng Ma, Chemical and Biomedical Engineering
Distinguished Research Professor Awards: Nancy de Grummond, Classics; Efstratios Manousakis, Physics; and Joseph Schlenoff, Chemistry and Biochemistry
Graduate Faculty Mentor Awards: Henry Fuelberg, Meteorology; Don Levitan, Biological Science; Pam Perrewé, Management; and Anuj Srivastava, Statistics
Undergraduate Advising Awards: D. Craig Filar, Biological Science; Henry Fuelberg, Meteorology; Susan Glaser, Education; Robbin Hand, Social Sciences; Janice Lindsley, Business; and Betty Stanton, Computer Science
Honors Thesis Mentor Awards: Susanne Cappendijk, Biomedical Sciences; and Cathy Levenson, Nutrition, Food and Exercise Sciences
Distinguished University Scholars: Sharon Hagopian, Physics; and William Denis Markiewicz, National High Magnetic Field Laboratory
Undergraduate Teaching Awards: Paolo Aluffi, Mathematics; Cheryl Beeler, Sport Management, Recreation Management and Physical Education; Radha Bose, Statistics; Joseph Calhoun, Economics; Billy Close, Criminology and Criminal Justice; Jerome Cronin, Marketing; Nanna Cuchens, Nursing; Norma "Jeanne" Dexter, Panama City Campus—Management; Donna Fletcher, Sport Management, Recreation Management and Physical Education; Larry Gerber, Music; Frank Gunderson, Music; Sandra Halvorson, Panama City Campus—Communication; Monica Hurdal, Mathematics; Alexander Jimenez, Music; Jeff Paterson, Accounting; Steven Ramsier, Statistics; Denise Tucker, Nursing; and William Woodyard, Risk Management/Insurance, Real Estate and Business Law
Graduate Teaching Awards: Andrew Epstein, English; Steven Gey, Law; Darrin McMahon, History; Carolyn Piazza, Childhood Education, Reading and Disability Services; and Nat Stern, Law