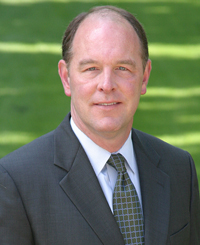 An advancement executive with more than 25 years of experience in development, marketing and alumni and public relations has been named the new president of the Florida State University Foundation, Inc.
Charles J. Rasberry will succeed Marilyn Spores, who has served as interim president of the Foundation since the resignation of Jeffrey Robison last year. Rasberry, the vice president for college advancement at Harvey Mudd College in Claremont, Calif., will assume
his duties at FSU on Oct. 18.
"We are extremely fortunate that Charles Rasberry will be coming to FSU," said Vice President for University Relations Lee Hinkle. "He is recognized as an effective and productive leader with a proven track record in leading organizations to achieve their goals. We look forward to him guiding the FSU Foundation to the next level of excellence."
Bill Smith, president and CEO of Capital City Bank Group and chairman of the FSU Foundation Board of Trustees, said the search committee had an impressive pool of candidates for the position, but Rasberry quickly emerged as the frontrunner because of his breadth of experience.
"Charles' experience will allow him to hit the ground running as FSU prepares itself for the next capital campaign and continues its very successful Pathways of Excellence initiative," Smith said. "We are delighted Charles and his wife, Helen, will be members of the FSU family."
As president of the Foundation, Rasberry will serve as the university's chief academic fund-raising officer with responsibility for planning, executing and managing all fund-raising activities. He will oversee the Foundation's more than $390 million endowment, $10 million annual budget and a staff of 80.
"Institutions become great when they are being led by great people dedicated to realizing an ambitious vision," Rasberry said. "It was clear to both my wife and me from our first moment on campus that Florida State University is being led by outstanding people who, through the implementation of the Pathways of Excellence initiative, are skillfully pursuing a vision for Florida State to become recognized as one of the most prestigious universities in the country. I look forward to building on the success that the Foundation has already experienced to help achieve that goal."
Rasberry said he will focus his efforts at FSU on refreshing the donor prospect pool and preparing for the university's third capital campaign. FSU's first capital campaign, "Investment in Learning," was launched in 1991 and raised $301.4 million. In 2000, the Foundation embarked on "FSU Connect," a campaign that raised $630 million by its conclusion in December 2005.
In his position at Harvey Mudd College, one of the most prominent undergraduate engineering and science colleges in the United States, Rasberry manages the offices of development, alumni relations, public relations and college affairs and supervises a staff of 30. Under his direction, gift giving at the college totaled $20.4 million last
year, a record-breaker for the college.
He came to Harvey Mudd in 2005 after serving as vice president for university relations at Loyola Marymount University in Los Angeles where he prepared the university for a $300 million comprehensive campaign. Prior to that, he served as assistant vice president for
development at Georgetown University from 1996 to 2000; as executive director of development at the School of Public Health Foundation at the University of North Carolina at Chapel Hill from 1989 to 1996; and as director of development and external affairs for the North Carolina Symphony Foundation from 1982 to 1989. He began his career in 1981 as assistant director of development and alumni affairs at Louisburg College in Louisburg, N.C.
Rasberry earned a bachelor's degree from the University of North Carolina at Chapel Hill in 1976 and a Master of Divinity degree from Princeton Seminary in 1980.