Ten Florida State University doctoral students translated their advanced research into public presentations at the annual Three Minute Thesis (3MT™) competition on Wednesday at the College of Medicine Auditorium.
Developed at The University of Queensland, in Australia, 3MT is a research communication competition for doctoral students that boosts their abilities to effectively explain their research to an intelligent but non-specialist audience.
"This competition is an opportunity for our doctoral students to showcase their research and work in action," said Adrienne Stephenson, associate dean of The Graduate School. "They only have three minutes and one static slide to convince the audience and the judges about the importance and the impact of their research."
The judges look for engagement, communication, content and comprehension. Competitors should present their research free of jargon and in a way that is accessible for everyone to understand.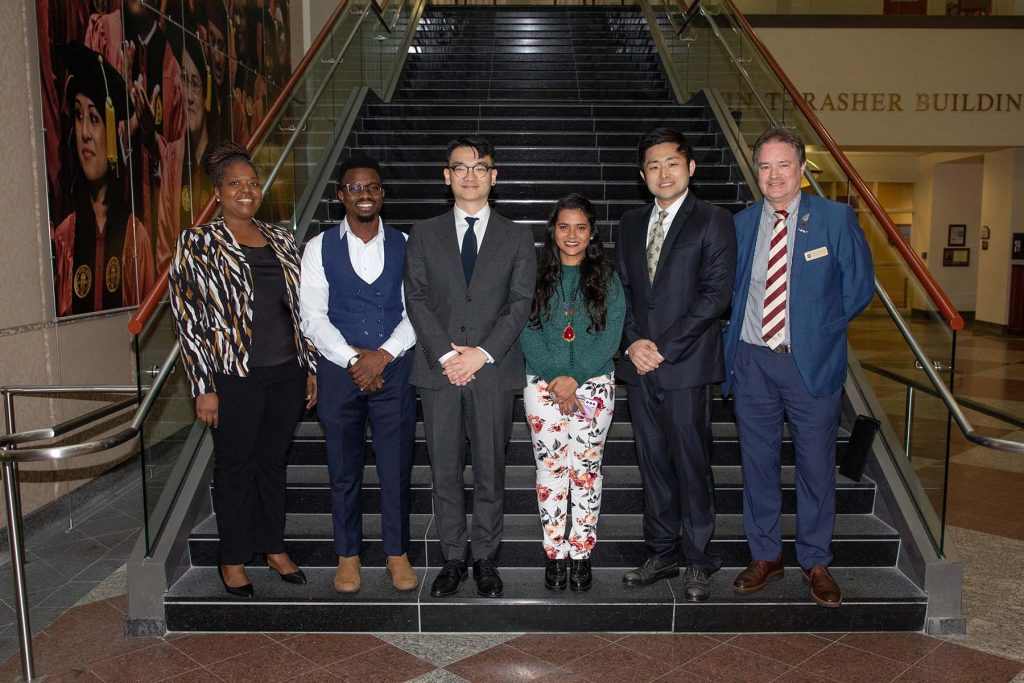 Hyosoon Yim, a doctoral student in the College of Education, Health, and Human Sciences' Sport Management program, claimed the top prize of $1,000 for his dissertation research "Social Media Intervention for Promoting Sport Participation among Older Adults: Application of the Socioemotional Selectivity Theory."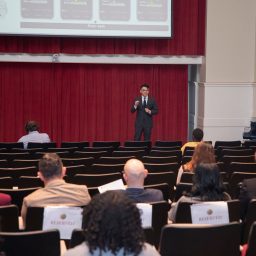 Yim's research explores the promising potential to promote older adults' psychological, social well-being and physical health through sport on social media.
"This is a great honor, I did not expect it," Yim said. "There were so many great competitors and colleagues whose presentations I really enjoyed. It's really tough to present your research in such a short amount of time. I really want to thank my advisor, Amy Chan Hyung Kim."
The second-place award of $750 went to Tania Sultana (Biomedical Sciences) for her dissertation research "ZIKV NS3 Drives Assembly of a Viroplasm-Like Structure (VLS)." Sultana's research aims to not only enhance the understanding of ZIKV replication but also shed light on similar mechanisms at play in other related flaviviruses, which is crucial in advancing preventative measures against these diseases.
"It's very significant for us because definitely in the future, not everyone I am going to communicate with is going to be a scientist," Sultana said. "I should know how to communicate in a general way so that from my mom and dad or anyone outside of the science world can understand my project."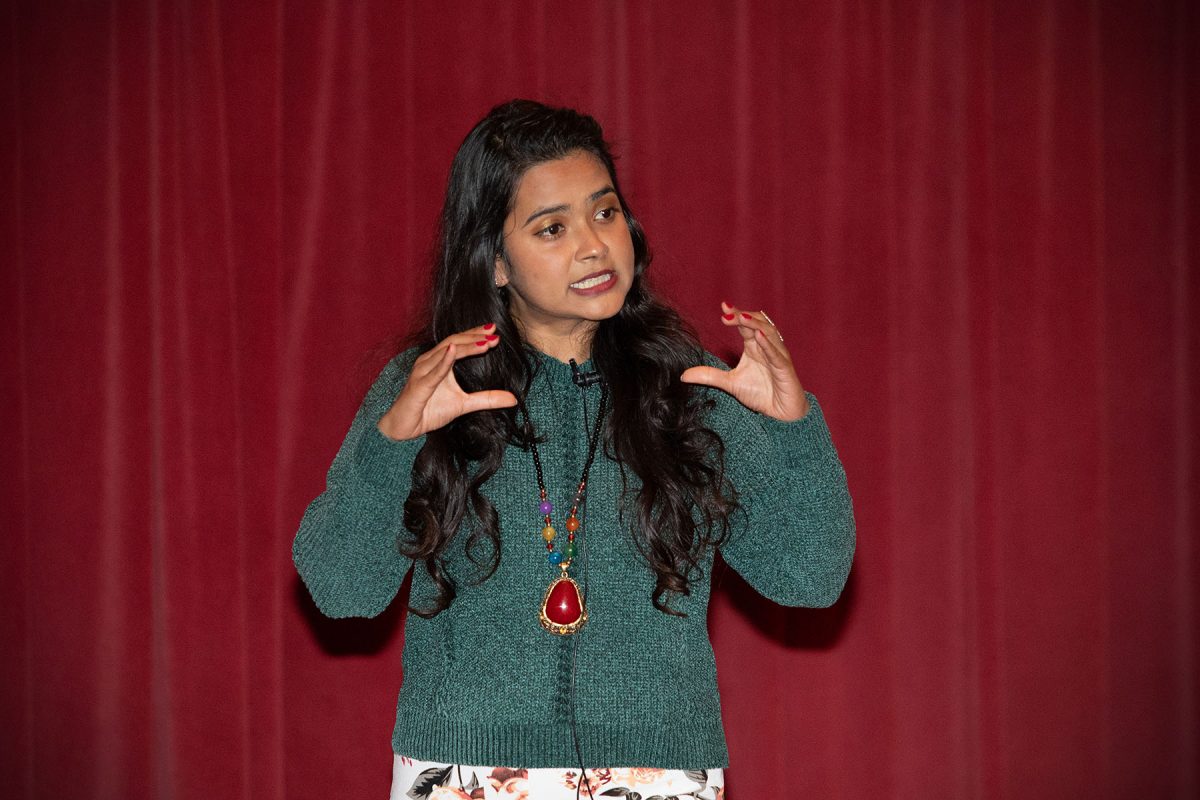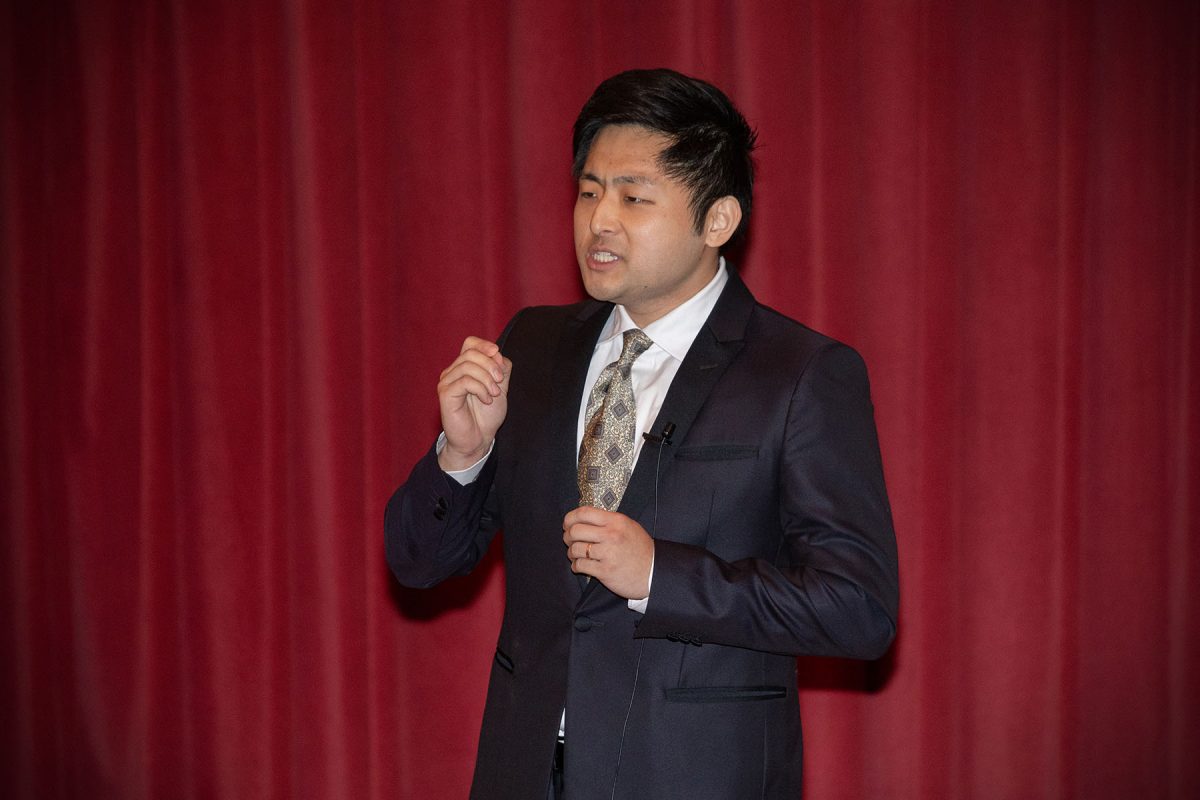 Meng Tian (Communication) earned the third-place prize of $500 for his dissertation research "The Stereotypes of Female eSports Players." His research examines how the voice detection of female gamers by other players leads to a negative stereotype and reduced perceived competence of the female gamer by those other players.
"This competition helped me realize what words I should use and the best way to explain my research to someone who is not in the communication field," Tian said.
For the People's Choice Award, the audience selected John Akintola (Chemistry and Biochemistry) to be awarded the $250 prize. His dissertation research, "Functioning Polyelectrolyte Complexes," focuses on the novel applications of these complexes that are possible because of their versatility, such as antifouling coatings on the hulls of ships to prevent algae and other sea life growth.
The brief time limit in which to explain complex work to a non-specialized audience encourages participants to consolidate and crystallize their research ideas.
"This is a skillset that will stay with them for the rest of their lives," Stephenson said. "Talking about who they are, what they do and why that's important is very valuable in early career preparation."
The other competition finalists were:
Hemant Goswami, Molecular Biophysics, "Development of an Ultrasensitive and Rapid Virus Detection Method Based on CRISPR-Cas Enzyme"
Cui Jing, Art Education, "Beginning an Exploration: Expressing Chinese International Students' Alienation Through Art"
Andre Juliao, Physics, "Nb3Sn for Axion Detection"
Toshiaki Kanai, Physics, Quantum Computer on Solid Neon
Qiushan Liu, Developmental Psychology, "Investigating Strategy Flexibility in Algebra" 
Sima Sabbagh, Neuroscience (Biomedical Sciences), "Unmasking the Architects of the Brain: Marvelous FMRP"
This year's judging panel included Renisha Gibbs, associate vice president for Human Resources and chief of staff for Finance and Administration; Mike Mitchell, senior director of funding and incentives for GNA Clean Transportation & Energy Consultants, a TRC Company; Jason Pappas, associate teaching professor in the Department of Sport Management; Cecile Reynaud, retired FSU volleyball coach, retired faculty member, former chair of the USA Volleyball Board of Directors and vice president of operations for the Pro Volleyball Federation; and Susannah Wesley-Ahlschwede, FSU's chief marketing officer.
To learn more about The Graduate School and the 3MT competition, visit gradschool.fsu.edu/3MT.