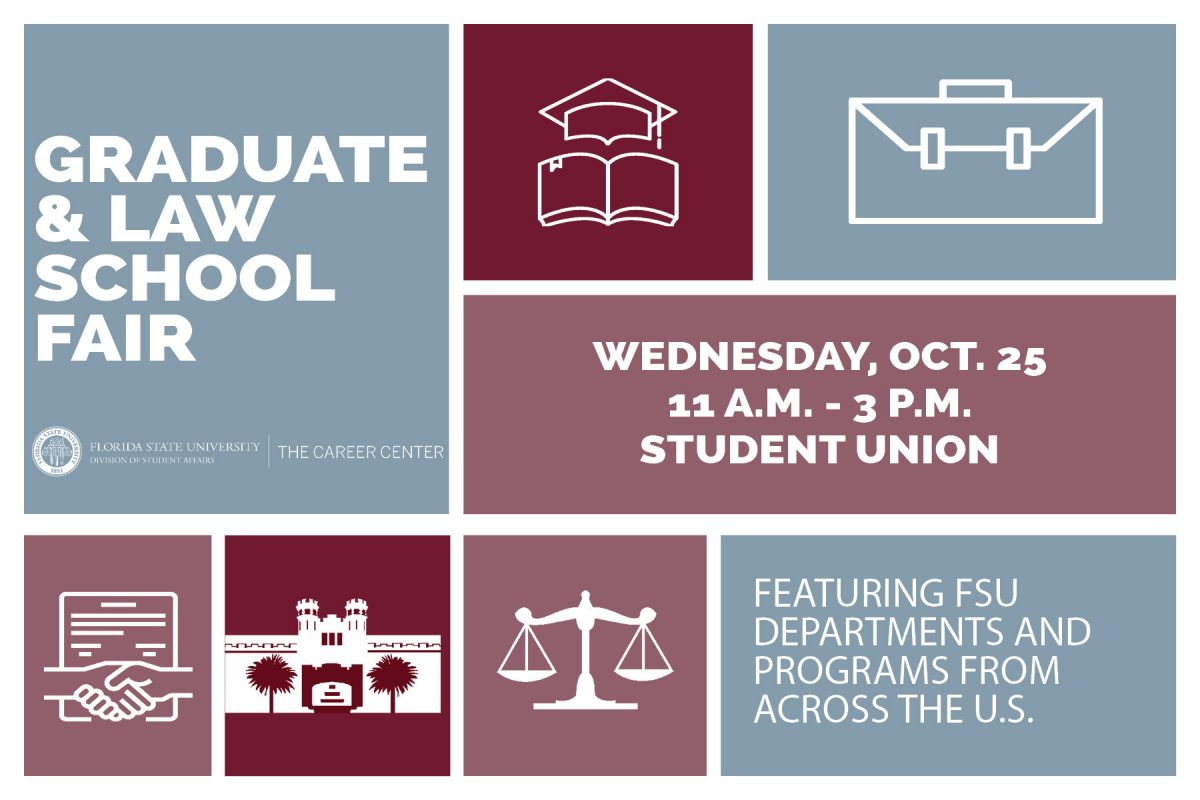 Florida State University's Career Center will help set students up for success with its Graduate and Law School Fair from 11 a.m. to 3 p.m. Oct. 25, at the FSU Student Union.
Students will have the opportunity to meet with more than 100 graduate and law schools from across the country, as well as organizations and companies representing test preparation services.
"At the FSU Career Center's Graduate Law School Fair, students will gain direct access to representatives from prestigious institutions, offering insight into the wide array of advanced degree programs available," said Christy Mantzanas, program director of employer relations at the Career Center. "This fair is a unique platform to discover the perfect educational program to achieve your professional goals. Students will network with experts who can offer invaluable guidance, explore career advancement and receive personalized advice on navigating applications in the competitive landscape of graduate and law programs."
Applications for graduate and law programs typically open during the fall semester and require students to prepare by researching programs, writing personal statements, receiving letters of recommendation from professors or employers and showcasing the achievements that make them a competitive applicant.
"There is so much that goes into applying for graduate and law programs," said Tori Andrews, assistant director for career events at the Career Center. "It can be an overwhelming process, but this fair can help our students learn what it takes to be an outstanding candidate. We ultimately want them to leave feeling knowledgeable about their options and the steps to take next in advancing their education."
In addition to the Graduate and Law School Fair, the FSU Career Center is also hosting its Grad School Boot Camp through October. This series of panels and workshops allows undergraduates to ask questions and gain insights about graduate school, including the benefits of attending, financial options and how to perfect application materials.
Students can also attend drop-in advising hours each week at the Dunlap Success Center, as well as advising with their career liaison.
To see the list of attending organizations or find more information about the fair, visit bit.ly/48TMSnY.
For more information about advising services, visit career.fsu.edu/careeradvising.