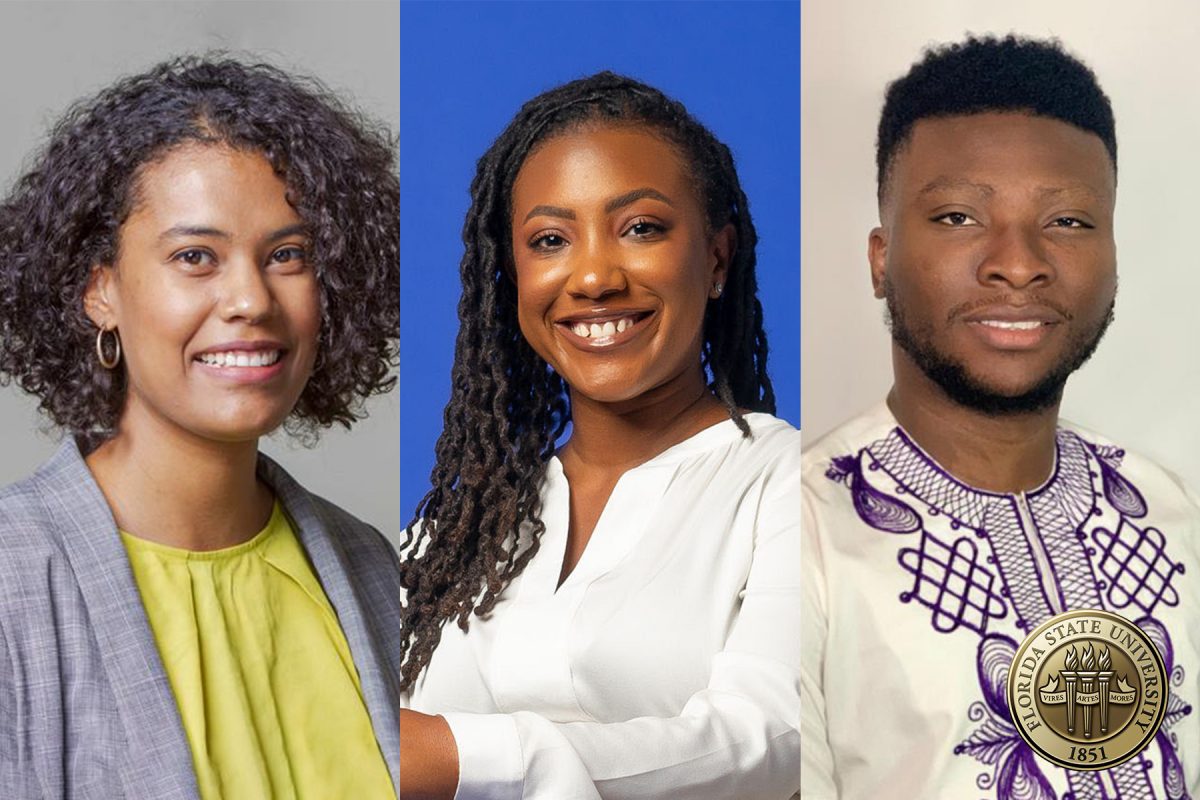 Three Florida State University doctoral students have received a national fellowship designed to support emerging scholars as they pursue bold and innovative research in the humanities and interpretive social sciences.
Carine Schermann, a doctoral candidate studying French and Francophone Studies in the Department of Modern Languages and Linguistics, part of the College of Arts and Sciences, and two doctoral musicology students in the College of Music, Alaba Ilesanmi and Danielle Davis, were awarded the 2023 Mellon/ACLS Dissertation Innovation Fellowships from the American Council of Learned Societies, or ACLS.
"Having three students in the inaugural cohort is an amazing accomplishment as FSU continues to climb to national prominence. It is a testament to the strength of FSU's humanities programs and the competitiveness of our graduate students in national award competitions," said Keith McCall, assistant director for the Office of Graduate Fellowships and Awards. "Alaba, Carine and Danielle proposed compelling projects that are interdisciplinary, theoretically rigorous and exactly the sort of innovative research Mellon/ACLS aims to support."
Schermann, Ilesanmi and Davis are among a cohort of 45 fellows selected from a pool of more than 700 applicants through a multi-stage peer review process that drew on the expertise of 170 scholars from institutions of higher education across the country.
Schermann is part of the inaugural cohort for this new category of fellowship created to support the most current and innovative movements in humanities fields.
"I feel incredibly proud and grateful to the ACLS, the FSU Office of Graduate Fellowships and Awards and everyone who has helped me with my research," Schermann said. "I'm ecstatic to receive such a prestigious award and reminded of how lucky I am to be surrounded by such a positive and caring community of professors, peers and friends."
Schermann's project, "Under the Skin: Monstrosity, Myth-Making, and Resistance Across and Beyond the Haitian-Dominican Border," focuses on beasts, monsters and supra-human beings in Haitian and Dominican social imaginaries and folklores. Her work touches on different sets of mostly contemporary objects and artifacts, ranging from literature and visual arts to music and editorial practices.
One scholarly shortcoming Schermann aims to counter with her dissertation project is the segmentation of Haitian and Dominican Republic studies. Haiti and the Dominican Republic are two Caribbean countries that share the island of Hispaniola, with Haiti occupying the western half of the island and the Dominican Republic in the eastern half. Scholarship often separates the countries along borderlines with a focus on conflict.
"I want to participate in the scholarly effort to rewrite the island's narrative away from tropes of essential enmity and mutual hatred," she said.
Davis's research, "Virginian Hip-hop in Hampton Roads: Investigating the Production of Place in the Tidewater Trio's Music From 1990-2005," sheds light on the Afro-Filipino musical collaboration of Chad Hugo, Shay Haley and Pharrell Williams, revealing interracial intimacies in historical narratives that play out in the interpersonal politics of Southern hip-hop.
"I appreciate the art of a well-crafted story," Davis said. "As a musicologist, I get to tell all kinds of stories about the nature of humans and the sounds they make and encounter in everyday life. When we as humans play music, we can remember who we are and who we were, while working towards the future of who we wish to be collectively."
Davis said she has wished for the opportunity to push the boundaries of scholarship beyond text-bound, print-based media.
"Winning this award helped me better understand who I am as an artist-scholar," she said. "I am excited about the ways in which my thinking will mature after this year."
Born and raised in Lagos, Nigeria, Ilesanmi was drawn to musicology at an early age.
"I did not only want to know how to play or sing — I tried to understand why people make music," Ilesanmi said. "I wondered why music was important in people's lives within my community and beyond."
Ilesanmi's research topic draws upon this same curiosity. "The Sound of Black Solidarity: (Re)Incarnations of Fela Anikulapo-Kuti in the Global Black Politics and Soundscapes" explores the enduring fascination with Fela Anikulapo-Kuti, the Nigerian musician and pioneer of the Afrobeat genre. The project explores the enduring fascination with Kuti for the Black world, what it reveals about global Black experiences and solidarity, the conceptualization of Afro-musical aesthetics in the twenty-first century and the understanding of contemporary global Black soundscapes.
"Receiving this award means so much to me," said Ilesanmi. "Of course, my project and research will be well-funded. However, on a much deeper level, this award marks and reflects the immense support and the quality mentorship I continue to receive at FSU, the College of Music and our Musicology program."
The program is made possible by a grant from the Mellon Foundation and administered by the American Council of Learned Societies (ACLS), the leading representative of American scholarship in the humanities and interpretive social sciences.
"ACLS is thrilled to partner with the Mellon Foundation to support these exceptional emerging scholars as they pursue pathbreaking research," said Joy Connolly, ACLS president. "By expanding the range of research methodologies, formats and areas of inquiry traditionally considered acceptable for the dissertation, we can forge pathways toward a more diverse and inclusive academy."
To learn more about how FSU graduate students can fund their academic endeavors, visit FSU's Office of Graduate Fellowships and Awards at ogfa.fsu.edu.