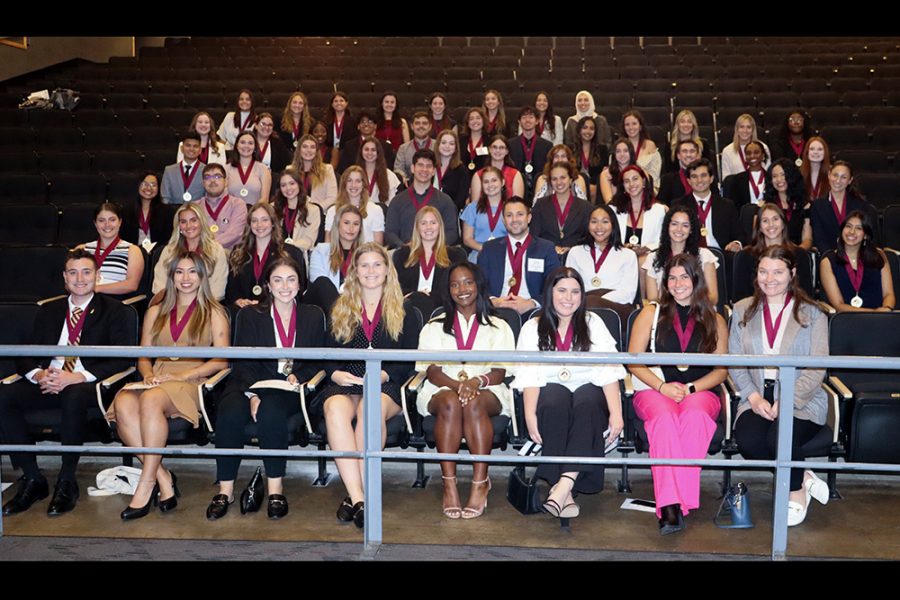 Florida State University welcomed 113 new inductees into its prestigious Garnet & Gold Scholar Society this spring during a special ceremony on Tuesday, April 25. 
Established in 2010, the Garnet & Gold Scholar Society facilitates student involvement and recognizes undergraduate students who excel within and beyond the classroom in at least three of five areas: international experience, internship, leadership, research and service. 
To become an inductee of the Garnet & Gold Scholar Society, students must meet the engagement criteria and submit a synthesis reflection project in their final semester before graduation. Participants are recognized during graduation and receive a designation on their official university transcript, both of which make the students more marketable to potential employers or graduate programs.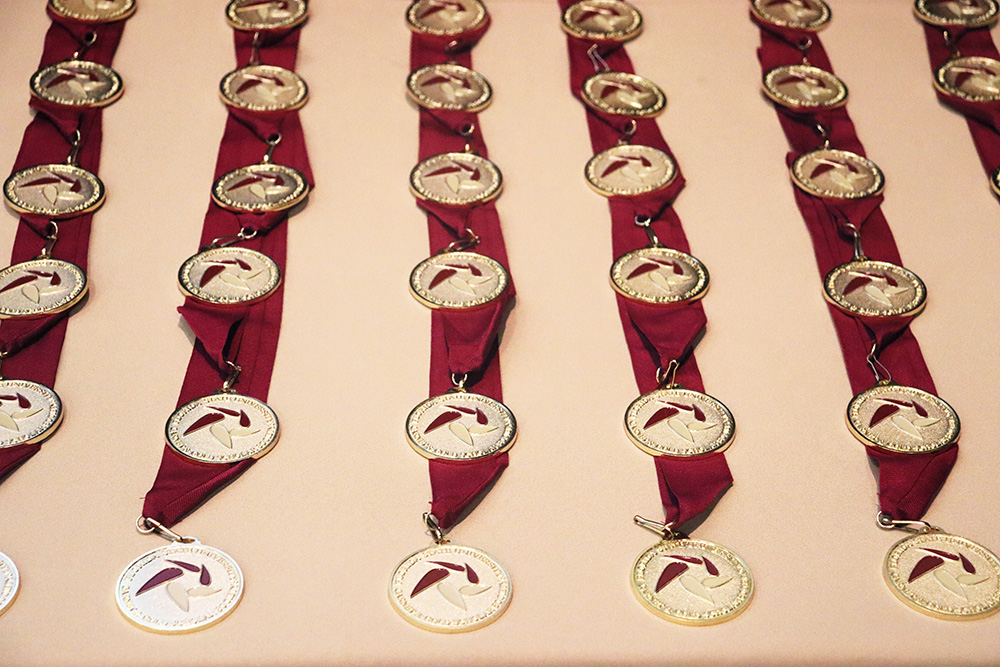 The inductees, along with their state, hometown, and academic major(s), are: 
ARIZONA 
Anthem 
Ollie LeClerc, Criminology 
FLORIDA 
Apopka 
Marvin Suarez-Pimienta, Information Technology 
Ave Maria 
Kenneth Northerner, Psychology 
Boca Raton 
Karolina Lehel, Management Information Systems 
Boynton Beach 
Zachary Schindler, Finance  
Canonsburg 
Morgan Marisa, Digital Media Production 
Coconut Creek 
Ally Columbus, Media Communication Studies 
Cooper City 
Vanessa Grimaldo, Exercise Physiology  
Coral Springs 
Matthew Fantini, Psychology 
Payton Spran, Biological Science 
Crystal River 
Madison Messer, Exercise Physiology 
Tristen King, Interdisciplinary Social Sciences 
Davenport 
Victoria Cardoso, Editing, Writing, & Media 
Davie 
Alexis M'Sadoques, Biological Science 
DeFuniak Springs 
Jared Heady, Political Science 
Flower Mound 
Kendall Doty, Sacred Music 
Fort Lauderdale 
Melissa Pearson, International Affairs
Carla Santiago Labonte, Biological Science
Stephanie Turque, Biological Science 
Fort Walton Beach 
Jenna Hunt, Psychology 
Gainesville 
Alyssia Price, Music Liberal Arts 
Jacksonville 
Evelynn Alfonso, Clinical Professions
Megan Dalton, Management, Media Communication Studies
Jaelynn Florence, Exercise Physiology
Laina Perry, Clinical Professions
Tamera Sonera, Social Work 
Jacksonville Beach 
Skylar Davis, Communication/Public Relations 
Jupiter 
Julia Teri, Marketing 
Lakeland 
Samiyah Wilson, Social Work 
Land O Lakes 
Laura Escher, International Affairs 
Caroline Henk, Behavioral Neuroscience 
Lauderhill 
Roshelle Thompson, Psychology 
Mascotte 
Ezekiel Faulknor, Information, Communication and Technology 
Miami 
Sage Aleman, Media Communication Studies
Jazmine Arocha, Behavioral Neuroscience
Ethan Corey, Imaging and Signal Processing Engineering
Djaina-Shae Dervil, Behavioral Neuroscience
Bianca Garcia-Rivera, Marketing
Javier Mariscal, Biological Science
Louisena Osias, Cell and Molecular Neuroscience
Kaelyn Poessy, Psychology
Xiomara Romero, Psychology
Emily Sanudo, Clinical Professions
Ervin Vasquez, Nursing
Rafael Vergara, Biological Science 
Miami Lakes 
Andres Gancedo, Exercise Physiology 
Milton 
Trinity Nguyen, Clinical Professions 
Naples 
Megan Artega, Interdisciplinary Social Sciences
Hunter McLaughlin, Clinical Professions
Fernanda Ramirez, Media Communication Studies 
Navarre 
Kanoka Palmer, Clinical Professions 
Northbrook 
Lindsey Winer, Nursing 
Orlando 
Kathleen Fillenwarth, Hospitality & Tourism Management
Vir Hirani, Psychology
Christopher Jafet, Commercial Entrepreneurship
Lauren Johnson, Communication Science and Disorders
Jess Moorefield, Computer Science
Jennae Williams, Music Liberal Arts
Katelyn Wix, Chemistry 
Ormond Beach 
Tia Kearney, Professional Sales 
Oviedo 
Catherine Jackson, Cell and Molecular Neuroscience 
Palm Bay 
Ethan Dubroff, History
Noah Dubroff, History 
Panama City 
Heba Albibi, Human Development and Family Sciences 
Parkland 
Zachary Miller, Criminology 
Ponte Vedra Beach 
Leah Dantin, Management Information Systems 
Port Orange 
Maria Guidubaldi, Behavioral Neuroscience
Brenna Miller, Woodwind Performance  
Randolph 
Hannah Shortino, Political Science 
Sarasota 
Kyla Cacoilo, Information Technology
Paula Rodriguez-Saenz, Creative Writing & Political Science
St. Augustine  
Rebecca Campos, Finance
Cara Gillespie, Clinical Professions
Sarah Schemer, Exercise Physiology 
St. Petersburg 
Jessica Moser, Behavioral Neuroscience
Lindsay Wilson, Communication Science and Disorders 
Sunrise 
Sarah Birchall, Industrial Engineering 
Tallahassee 
Kimberly Greenwood, History/International Affairs
Morgan Ling, Clinical Professions
Dhenu Patel, Exercise Physiology
Daylen Sponholtz, Nursing 
Tampa 
Alissa Goytia, Psychology
Sarah Helgeson, Human Development and Family Sciences
Alexandera Schaffer, Public Relations
Makayla Sydejko, Psychology 
Tequesta 
Madeline Murray, Psychology 
Wellington 
Gillian Gouveia, Psychology 
West Palm Beach 
Madelyn Perera, Psychology 
Windermere 
Renzo DeCarlo, Woodwind Performance 
GEORGIA 
Atlanta 
Maya Topiwala, International Affairs 
Decatur 
Sawyer Prichard, Music Liberal Arts 
Lawrenceville 
Sophia Claymore, Commercial Music 
MISSOURI 
Arnold 
Rawan Abhari, Economics 
NEVADA 
Las Vegas 
Cathrina Gagni, Nursing 
NEW YORK 
Brewster 
Kristen D'Onofrio, Criminology 
Oneonta 
Danielle Basdekis, Political Science 
NORTH CAROLINA 
Charlotte 
Jordan Meewes, Nursing 
Elon 
Holland Whitaker, Behavioral Neuroscience 
Hayesville 
Kara Dudley, International Affairs 
Raleigh 
Sarah Campbell, Accounting 
OHIO 
Cincinnati 
Hannah Linenkugel, Communication Science and Disorders 
PUERTO RICO 
Bayamon 
Angilmarie Rivera Sanchez, Political Science 
TENNESSEE 
Knoxville 
Alyssa Cuevas, Editing, Writing, & Media 
Maryville 
Mathias Bishop, Philosophy 
TEXAS 
Houston 
Kennedy Cross, International Affairs 
VIRGIN ISLANDS 
St. Thomas 
Amisha Mirchandani, Psychology 
COLOMBIA 
Paula Manosalva Ganem, Industrial Engineering
Daniel Zuniga Gamboa, Cell and Molecular Neuroscience 
JORDAN 
Bana Habash, Digital Media Production 
OTHER 
Maria Castro, Management
Alison Jones, Information Technology
Allison Keeling, Biological Science
Meagan Plannas, Management Information Systems
Adrianna Sabat, Music Therapy