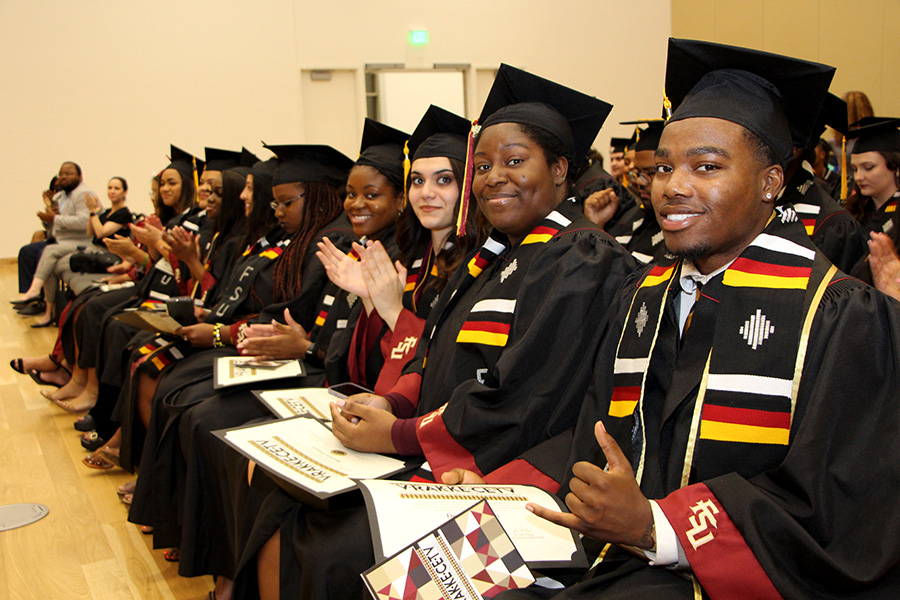 Sentiments of authenticity and belonging were at the forefront of Florida State University's cultural graduation ceremony, V-rak-ke-ce-tv, which took place Thursday, Dec. 8, in the FSU Student Union.
Sabrina Dickey, an associate professor in the College of Nursing, served as the keynote speaker and addressed 49 graduates, along with their friends and family, about the importance of being one's own authentic self.
"You are charged with walking on a higher path that others may not be able to follow, but that's okay," she said. "Everyone's journey in life is not the same."
The name "V-rak-ke-ce-tv" is the Seminole Creek phrase meaning "to honor." The ceremony celebrates students' accomplishments, honors their families and friends for their continued support, and recognizes what it truly means to be a Seminole.
V-rak-ke-ce-tv has served as a tradition to come together in celebration for more than 10 years. The participating graduates hail from all corners of campus and represent a variety of leadership roles, from orientation leaders to residence hall assistants to officers of numerous student organizations.
Distinguishing itself from other graduation ceremonies, V-rak-ke-ce-tv is an intimate gathering focused on fostering a sense of belonging and celebrating graduates' circles of success throughout their time at FSU. Graduates are called upon one by one, and their paths of study and achievements are displayed for all to see. Each student is then bestowed a stole that bears the the four colors of the flag of the Seminole Tribe of Florida. Participants then walk across the stage to share hugs and handshakes with professors, advisers, family and friends.
Dickey delivered a thoughtful speech about overcoming obstacles, the excitement of an unknown future and the value of vulnerability and authenticity. A three-time graduate of FSU, Dickey's work and passions revolve around educating, interacting with, and advocating for diversity, equity and inclusion.
She offered a mantra to guide the graduates through the next phase of their life: "I will do me, I will flourish, and I will find a place where, authentically, I can be me."
Ryan Rankine, a graduating senior earning degrees in psychology and in human development and family sciences, also addressed the crowd about appreciating the little things in life. The vice president of the Chi Phi fraternity and a university ambassador and Homecoming court candidate, Rankine will begin his next chapter as a behavioral analyst in Cincinnati, Ohio.
"Remember when we walk that stage tomorrow that this is only the beginning," he said. "Yes, you got the degree, yes, you kept pushing, but now you will give back to society, you will change the world, and you will use the degree and knowledge you have acquired to break barriers, change norms and save the world."
V-rak-ke-ce-tv ceremonies are hosted by the Office of Representation, Inclusion and Student Equity, in partnership with the Center for Academic Retention and Enhancement (CARE), Student Government Association, University Housing, and Fraternity and Sorority Life.
Support for the event is also provided by the university's cultural agencies and student organizations, including the Black Student Union, Hispanic and Latino Student Union, Pride Student Union, Women Student Union, American Indian Student Union, Veteran Student Union, and Asian American Student Union.
To learn more about V-rak-ke-ce-tv, visit thecenter.fsu.edu.