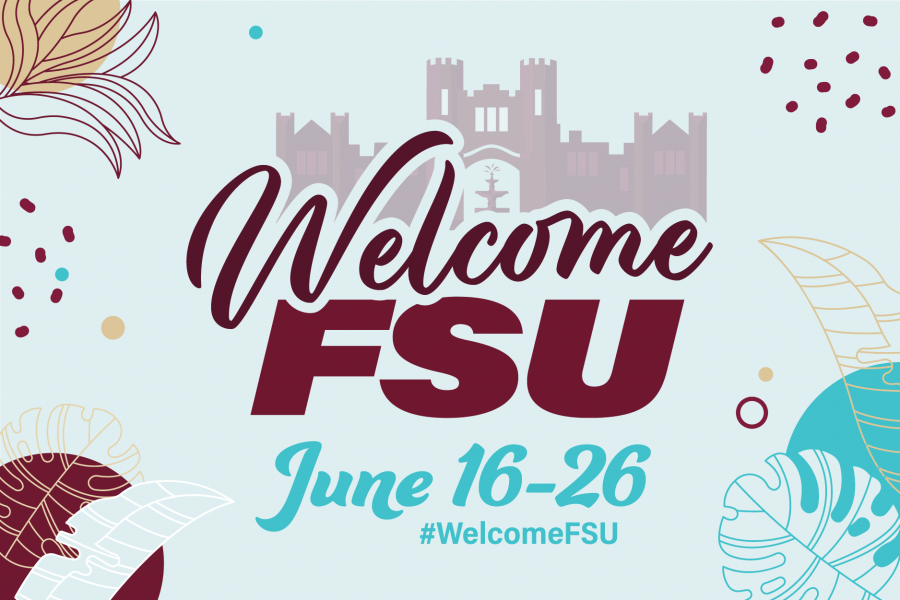 Welcome FSU has returned for the Summer B term and is offering an array of activities for students.
The university presents Welcome FSU each semester and provides a series of events and programs that serve as the official welcome for all Florida State students.
The program started on June 16 and will continue through June 26. Students can choose from a variety of social, spiritual, well-being, cultural and academic events and programs. They're encouraged to join in the fun to learn about campus resources, ways to get involved and connected and how to make FSU and Tallahassee their home.
"We hope that all of our students feel connected to and supported by Florida State University," said Amy Hecht, vice president for Student Affairs. "The FSU experience is one of the reasons why our students are so successful."
With more than 650 student organizations, seven student government agencies, 54 fraternities and sororities and more than 20 fitness classes, the university offers Welcome FSU as the perfect opportunity for students to find community and complement their academic experience at Florida State.
For more information and a full list of Welcome FSU events, visit welcome.fsu.edu.
FRIDAY, JUNE 17
"Scream" (2022) Screening
8:30 p.m. to 10:30 p.m., Askew Student Life Cinema
Join Askew Student Life Cinema (ASLC) for a screening of the fifth "Scream" movie, which was released earlier this year.
MONDAY, JUNE 20
First Day Photos
9 a.m. to 2 p.m., Landis Green
Students can celebrate their first day (or last first day) of classes at FSU with a First Day Photo using signature signs from the Division of Student Affairs.
First Day of Summer School Selfies
12 p.m., Strozier Library entrance
FSU Libraries will have a selfie wall set up near the entrance to Strozier Library where students can "check in" at the beginning of the semester.
Kickin' it Off with Campus Rec
8 p.m. to 10 p.m., Harkins Field
Join University Housing, Campus Recreation and CHAW to learn about sports, fitness and wellness resources on campus.
WEDNESDAY, JUNE 22
Suwannee Cookout
Noon to 3 p.m., Suwannee Dining
Join the Division of Student Affairs on the greenspace just outside of the Suwannee Dining Hall for fun activities and campus dining information.
Involvement Fair
11 a.m. to 2 p.m., Legacy Walk
This tabling fair is an opportunity for new students to meet with leaders and members of student organizations.
THURSDAY, JUNE 23
"Drive My Car" Screening
8 p.m. to 11:15 p.m., Askew Student Life Cinema
Join Askew Student Life Cinema (ASLC) for a screening of the film "Drive My Car," which won the Oscar award for Best International Feature at the 2022 Academy Awards ceremony. (Additional screenings will take place at 8 p.m. Friday, June 24 and Saturday, June 25).