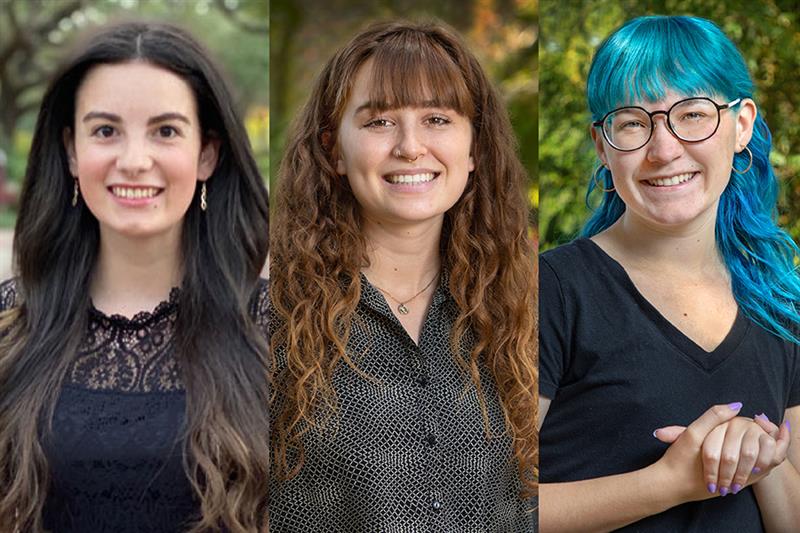 Three Florida State University students have earned Critical Language Scholarships through the U.S. Department of State's Bureau of Educational and Cultural Affairs to help further their study of foreign languages and cultures. 
According to the State Department, the CLS provides "rigorous academic instruction in 15 languages that are critical to America's national security and economic prosperity. CLS participants are citizen ambassadors, sharing American values and promoting American influence abroad."
Jesse Wieland, associate director of the Office of National Fellowships said the CLS gives students a multi-faceted experience that goes beyond language.
"The main purpose is to help provide students who are passionate about language with a greater understanding of how that language is crucial to their academic and career goals," he said. "The program provides classroom time, cultural excursions and conversation partners.
This year's winners are: 

Maelyn Zitzke
Zitzke, graduated in December from FSU with her bachelor's in international affairs. Zitzke, who is originally from Milwaukee, Wisconsin will travel to Morocco to study Arabic.
"I am just really interested in this part of the world and it's such an exciting opportunity," she said. "I am still deciding what I want to do next with graduate school. Maybe, Arabic studies, or middle eastern studies, or international affairs and urban development." 
 Zitzke said she started taking Arabic classes during her sophomore year which sparked an interest in the Middle East that she hopes will see her spend much time in the region in the future. 
"This experience will for sure help my language learning, help me make the improvement that I've been wanting to make and really solidify what I've learned so far," she said. "I am really excited about this as a cultural experience and getting a greater understanding of a region that I want to work in and see in the future."
Meagan McLaughlin
McLaughlin earned a CLS in 2021 but travel restrictions prevented her from travelling abroad and pivoted her to an online experience. This year, the Tampa native is excited to say that she is traveling to Amman, Jordan where she will continue to study Arabic. 
"Being named a recipient the first time was a dream come true but being named a second time and getting to go abroad, it's meant to be," she said. 
McLaughlin, who graduated from FSU with dual degrees in international affairs and political science, said she looks forward to immersing herself culturally.
"To go there and speak with people in person and really learn the mannerisms will really help me feel more confident in my Arabic proficiency," she said. "To see how people carry themselves, how they greet each other and see them living their life in this culture you get to understand a different perspective."
Lauren Thornberg
Thornberg, a master's student studying urban and regional planning from Lewes, Delaware, will use the CLS to continue her study of Mandarin Chinese.  
Thornberg's CLS will be completed online, a fact she said isn't necessarily a drawback given that she has already been to China two times, including a year spent working as an au pere. In China or from a computer in her parents' basement where she says she'll be working, Thornberg said she's happy to have earned the CLS.
"Since I've started graduate school I've lost some of my fluency," she said of her Chinese. "So I am looking forward to that level of intensive study and just the opportunity to continue my Chinese studies." 
"My specialty is environmental planning, which entails climate change and resilience," she said. "In China, there are a lot of successes and losses as far as climate change resilience. They are pioneering advanced solutions to flooding and concerns about heat. Those solutions could be brought over to us and it would be beneficial to help communicate that to Americans. This will help give me the tools to do that."