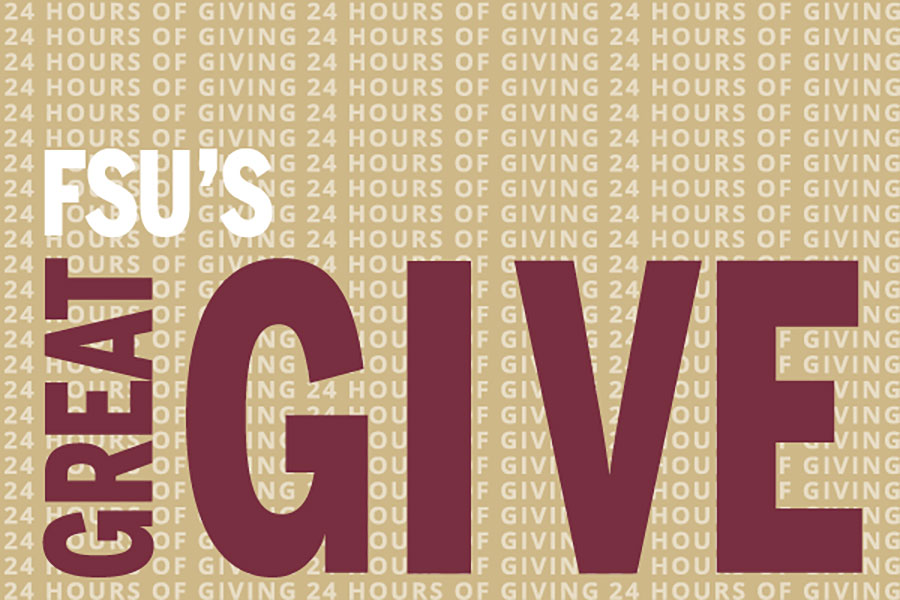 University's Annual Giving Day Set for March 9
The Florida State University community will join together on March 9 for FSU's Great Give, the university's 11th annual giving day. This year, the million-dollar day is shifting its focus to donors, setting a goal of reaching 4,500 in only 24 hours.
Sarishni Patel, director of annual giving for the Florida State University Foundation, shared why this new vision is essential for the event.
"We want to express that all donors can make a positive impact for our projects," Patel said. "Last year, over 4,100 donors contributed to our fundraising total of more than $1.5 million. This reaffirms that all of us coming together to make big things happen is truly the heart of FSU's Great Give. I want our donors to know that every gift counts. They are what makes the 24 hours truly great."
Supporters can give online at greatgive.fsu.edu to various initiatives throughout the university. FSU colleges and units have created more than 90 projects, which will be showcased using the sparkFSU crowdfunding platform. Projects also have the opportunity to win additional funds through the day's hourly and 24-hour incentives, sponsored by the FSU Foundation Board of Trustees.
Throughout FSU's Great Give, donors may receive project updates and announcements by liking FSU's Great Give on Facebook or by following FSU's Great Give on Twitter and Instagram.
Those unable to make a gift online can do so by check or phone in advance of FSU's Great Give. Please note that gifts should be earmarked for FSU's Great Give and checks must be received by the FSU Foundation by 5 p.m. EST, Wednesday, March 9. Donors may select any FSU Foundation fund for their contribution.
For more information, visit https://greatgive.fsu.edu/.