Florida State University will host Fresh Check Day — an event designed to unite the campus community around important mental health issues.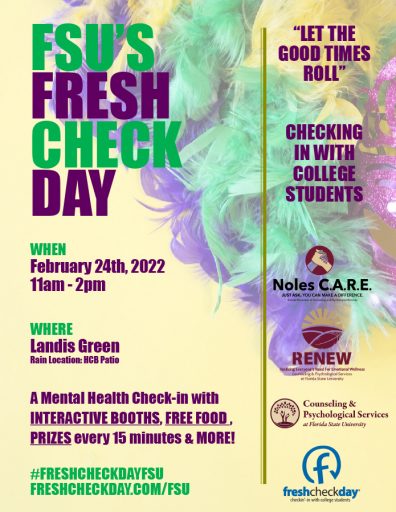 Fresh Check Day aims to create a positive learning environment where students come together and engage in meaningful dialogue. Students will learn the warning signs of students who may be in distress, what mental health resources are available to students in need of support and how to play a key role in FSU's suicide prevention initiatives.
"The beauty of Fresh Check Day is that we create a community of caring," said Susan Shapiro, coordinator of NOLES C.A.R.E. at FSU Counseling and Psychological Services. "Students learn the warning signs and how to assist those in crisis get help. This can save lives."
The event will take place from 11 a.m.-2 p.m. on Thursday, Feb. 24 on Landis Green.
Created by The Jordan Porco Foundation, the free event is organized by FSU Counseling and Psychological Services and the FSU Peer Educator Program, RENEW, in collaboration with other FSU departments, student volunteers and representatives of The Jordan Porco Foundation.
Fresh Check Day will feature interactive exhibits, food, prizes and giveaways. The HCB Classroom Building patio is the rain location for the event.
For more information, visit freshcheckday.com.