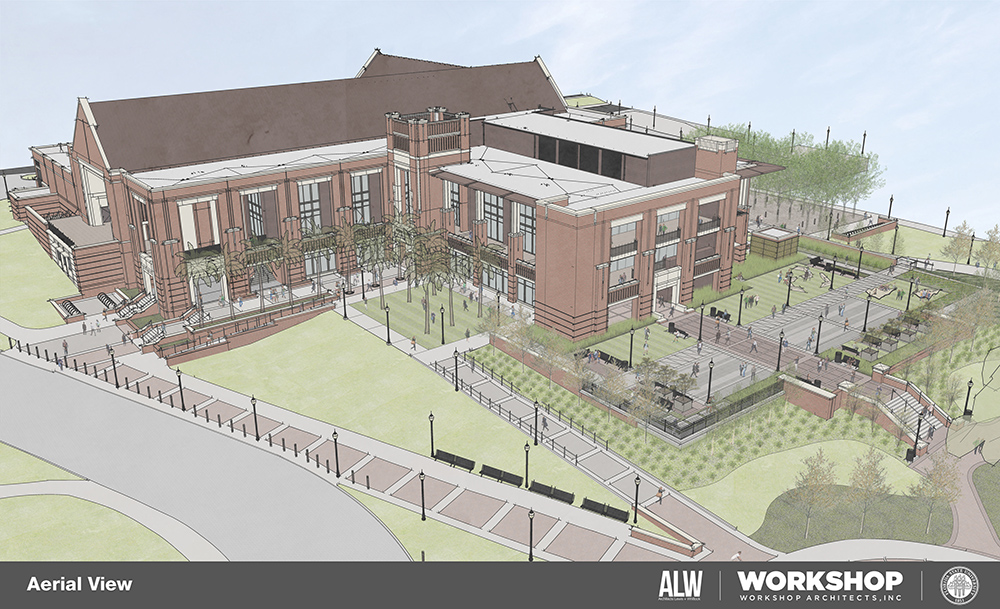 For more than a year, a chain-link fence fitted with a privacy tarp has blocked full view of the construction of Florida State University's new Student Union.
Beyond that fence is a scene of near-perpetual movement: a parade of machines — from massive dump trucks to pint-sized Bobcats — zipping across the site. The voices of dozens of workers accompany the warning beeps of trucks, and the occasional heavy thud punctuates the proceedings. 
It's a general cacophony of construction — and progress. 
The Union is currently an outline of its final form, a hulking framework of metal, concrete and bricks that rises 80 feet at its highest point. It is expected to open its doors next spring and when it does, students will be greeted with a facility designed to surpass its predecessor in stature, utility and aesthetic. 
The original University Union building opened in 1952 when enrollment at FSU was less than 5,000 students. An expansion followed 12 years later and while there was additional facility growth (the Union included dining and game rooms, barber and beauty shops, lounges, offices, meeting rooms and an Olympic-sized swimming pool), the increasing enrollment of FSU's student body outpaced the Union's ability to meet its needs long ago. 
"When the new Student Union project is completed, it will be an amazing asset to our students and a hub for collaboration and engagement on campus. I'm excited to see the progress and know our students will truly benefit from the space and amenities it will offer."

— Vice President for Student Affairs, Amy Hecht
"When the new Student Union project is completed, it will be an amazing asset to our students and a hub for collaboration and engagement on campus," said Amy Hecht, vice president for Student Affairs. "I'm excited to see the progress and know our students will truly benefit from the space and amenities it will offer."
Hecht said the new Union builds off holistic wellness initiatives undertaken by FSU in recent years. Those initiatives include ensuring students have positive social outlets, opportunities and environments.
"The Union will play a key role in our efforts to become a healthier campus community," she said.
Associate Vice President for Student Affairs Brandon Bowden is an alumnus who got to know FSU's old Union both as a student worker setting up events in the building's ballrooms and as a regular student just taking a break between classes.
Today, Bowden is helping to oversee the project, ensuring that the building matches the goals of the university. 
"We've always thought of the Union as the living room of campus, a place where students could come and meet, build communities and know they are always welcome," he said. "It was getting harder and harder to welcome people into the old Union because we were running out of space."
The notion of community is one Bowden said has served as a guiding principle of this project from its inception.
"The university has been very intentional in the design of the building to facilitate community building through features like lounge space, seating, to facilitate shared workspaces and bigger tables for more people to sit versus individual space," he said. "The idea is that the space helps facilitate engagement so that, as you pass through, you are surrounded by opportunities to engage with others."
Engagement, connection and community will be made easier too thanks to an abundance of wireless technology that will permeate the building, including plug and play between laptops and in-house screens and projectors.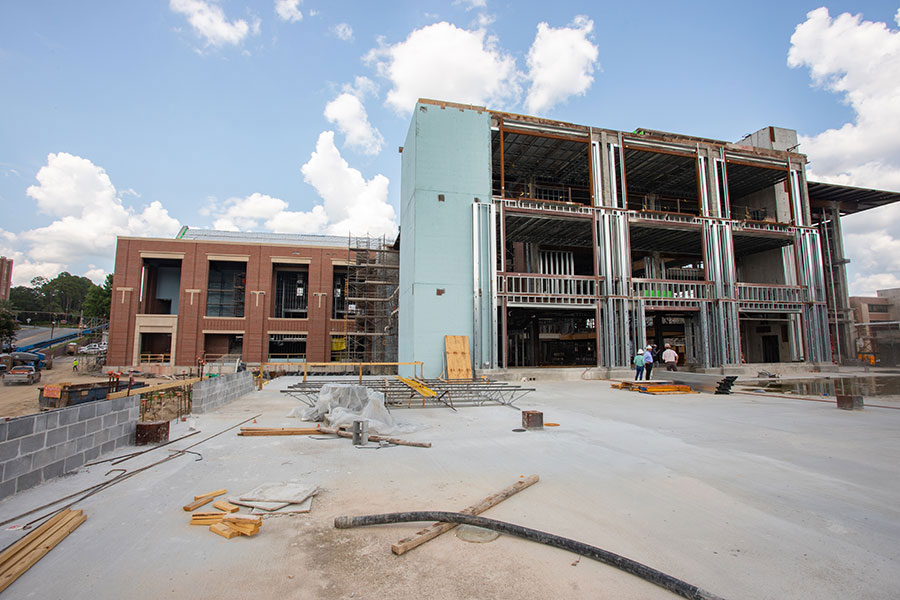 Natural ambience is a core principle of the building as designers let natural light pour in where design allowed. From the 48-foot atrium that greets visitors in the main entrance, to the bottom floor that will be home to the new Club Down Under, a 12-lane bowling alley, a sports grill and an art center, natural light will be present. Exposed staircases and a set of bridges will add to the building's capacious, open-air feel. 
There's also space most students won't ever see that houses the machinery, hardware and facilities that will run the building. 
"There are air-conditioning units that will be big enough to walk inside of, boiler pumps for hot and chilled water throughout the building and natural-gas-powered generators," said Dane Chrestensen, assistant project manager with Ajax Building Company. "There will be a kitchen that will be able to service events inside the Union and across campus." 
For his part, Bowden said he's especially impressed with the building's grand ballrooms. With a footprint of about one-third of an acre, the ballrooms are designed to host large-scale events like conferences and banquets but can be segmented with dividers for smaller affairs.
"The previous capacity of the ballrooms was 1,000 people on a good day," Bowden said with a laugh. "The new ballrooms will easily accommodate more than 1,500."
Adjacent to the ballrooms is a concourse, featuring massive floor-to-ceiling windows that will bathe the space in natural light. Doors off the concourse lead to balconies, each offering expansive views of campus, from the heart of the Legacy Walk to Doak Campbell Stadium in the distance.
The third floor was branded the Engagement floor. It houses space that will be used for meetings of large groups, including the student senate. Despite being located toward the building's center, designers ensured that the space also features natural light and views of campus. 
Also on the Engagement floor, Bowden said about 30 FSU student groups will have permanent space in the Union. He was quick to add that FSU is home to about 700 registered student organizations and clubs, and each can access Union facilities.
The FSU Bookstore will be located on the main floor. Student Business support staff will occupy space nearby as will a Starbucks coffee shop. Students will have five restaurants to choose from: Pollo Tropical, Panera Bread, Seminole Pies, Panda Express and Sports Grill. 
The FSU Computer Store is an Apple Authorized campus store while the Trading Post convenience store will offer students everything from fresh produce to sushi. 
The interior décor of the building will include art contributions from students. Bowden said details are being finalized but an art contest will be held to determine which student pieces will be displayed inside the Union. 
FSU also conducted a "call for artist" to commission art that honors the Seminole Tribe of Florida and the relationship between the Tribe and FSU. 
"We're excited to honor the Seminole Tribe of Florida through original artwork and showcase it in a prime location on campus," Bowden said. "We plan to make a selection of the winning piece soon."  
The exterior of the Union was designed with the campus' existing architecture in mind and uses materials and design elements drawn from the prevailing aesthetic of FSU, including the iconic red bricks found throughout campus. The Union will use 607,910 of the bricks. 
The building's western end will feature a colonnade and Market Plaza, which will host concerts and performances. The uniquely FSU tradition, Market Wednesday will return and be held on the terrace located off the building's south side.
"One of the things that sets Florida State apart is its welcoming campus," Hecht said. "I think the Union will be a beautiful new center of campus that brings us together and strengthens our traditions and community." 
For more information, visit https://new.union.fsu.edu/.