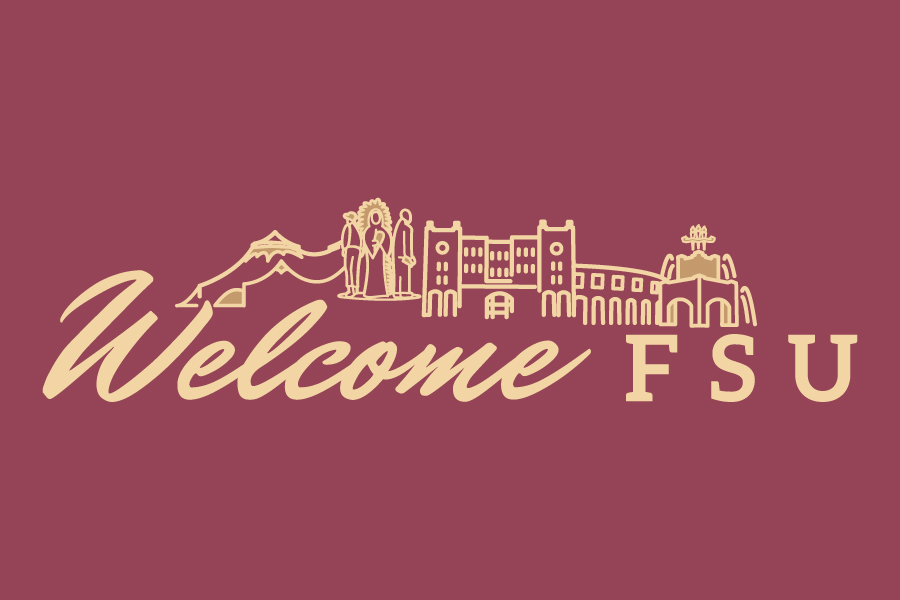 Each semester, Florida State University presents "Welcome FSU," a series of events and programs that serve as the official welcome for all Florida State students.
This fall, Welcome FSU will begin Monday, Aug. 16, and offer an array of activities through Friday, Aug. 27.
Florida State is returning to in-person instruction and following the State University System of Florida health policies. Similarly, Welcome FSU will offer in-person events while following precautions to help ensure a safe and low-risk recruitment, move-in process and fall semester.
"We hope that all of our students feel connected to and supported by Florida State University," said Amy Hecht, vice president for Student Affairs. "The FSU experience is one of the reasons why our students are so successful. After the past year, all of us are looking forward to being in the community together again, and Welcome Week will be the beginning of a much more 'normal' on-campus experience. While we return to our robust campus life, we strongly recommend all students get vaccinated to help keep themselves and others safe."
The university offers on-campus COVID-19 testing and vaccination clinics, and students are expected to wear a face covering or mask when inside any FSU facility to mitigate the spread of COVID-19, even if they are fully vaccinated.
Now through Oct. 1, fully vaccinated students can register to win tuition and fee assistance or other valuable prizes through the Stay Healthy FSU: Your Shot to Win drawing. Students who are not already fully vaccinated can still walk in to one of FSU's free COVID-19 vaccination clinics or make an appointment at vaccine.fsu.edu.
Student Government Association Student Body Vice President Colbi Thykadavil said she looks forward to seeing her peers in person this semester.
"Florida State University welcomes everyone with open arms, and despite the challenges we have faced within the past year, we look forward to the return to normalcy and the journey which will reignite the unconquered spirit within us all," Thykadavil said.
With more than 700 student organizations, seven student government agencies, 54 fraternities and sororities and more than 20 fitness classes, Welcome FSU is the perfect opportunity for students to find community and complement their academic experience at Florida State.
For more information and a full list of events, visit welcome.fsu.edu. Events include:
TUESDAY, AUG. 17
Social Hour
10 a.m. – 12:30 p.m., Seminole Organic Garden
Join Seminole Dining and Sustainable Campus at the Seminole Organic Garden for games, swag giveaways, meal plan informative tabling and information on the "Fuel your fellow 'Nole" meal swipe donation program. Drinks and snacks will be provided.
THURSDAY, AUG. 19
Tune into Yourself
3 – 5 p.m., Student Services Building (SSB), Room 208
Join University Housing and PeaceJam for an event that explores identities through music. Food will be provided.
Tech Takeover: Scavenger Hunt
4 p.m., Landis Green
Hosted by ITS, this interactive cross-campus scavenger hunt features iconic buildings and landmarks on FSU's campus. Competitors will be sorted into groups of three to five, and teams will be given a clue sheet with riddles to guide them to each of the hunt's locations. Participants on the first team to complete the hunt will each win their own basket of FSU merchandise.
Taste of FSU
5 – 10 p.m., The Suwannee Room
Students can get a taste of traditional favorites from Seminole Dining, like Tuscan Eatery and Argo Tea, while also trying new offerings, like sushi bowls from Seminole Café, before Seminole Dining fully reopens on Aug. 23.
SAA Traditions BBQ
6 – 8 p.m., FSU Alumni Association Courtyard
Kick off the semester with the Student Alumni Association (SAA) at this annual celebration featuring food, games, entertainment and FSU spirit.
FRIDAY, AUG. 20
Ice Cream Social & Engage 100 Info Fair
3 – 4:30 p.m., Landis Green
Join Engage 100, an immersive program that fosters unique experiences for first-year FSU students, for ice cream and popsicles and an opportunity to learn about experiences available this semester.
"Rep Your State at State" Out-of-State Student Welcome Mixer
3:30 – 5 p.m., Landis Green
An opportunity for out-of-state students to get to know other students from their state or region. There will be free ice cream from Lofty Pursuits, and attendees will receive an exclusive "Rep Your State at State" vinyl sticker and button.
SUNDAY, AUG. 22

Take Me Out to the Movies
8 p.m., Dick Howser Stadium
Join University Housing and the Student Government Association for a feature film at Dick Howser Stadium.
MONDAY, AUG. 23 – TUESDAY, AUG. 24
Ask a 'Nole
7:30 a.m. – 2 p.m.
Current students and staff will be available across campus to answer questions, provide insight and help first-year and transfer students have a successful first day of classes at FSU.
First Day Photos
9 a.m. – 2 p.m.
Students can celebrate their first day (or last first day) of classes at FSU with a First Day Photo. Take a picture using one of Student Affairs' signature signs and share the photo on social media using the hashtags #WelcomeFSU and #FSUFirstDayPhoto. Students can also tag @FSUNSFP for a chance to win an "I bleed garnet and gold" t-shirt.
TUESDAY, AUG. 24
Involvement Fair
5 – 9 p.m., Landis Green
An opportunity for new students to meet with student organization leaders and members and find new ways to get involved at FSU.
THURSDAY, AUG. 26
Virtual Part-Time Job Fair
10 a.m. – 2 p.m., Virtual Event
An opportunity for students to meet virtually with representatives from local employers and on-campus departments and discuss part-time employment opportunities.
FSUnite
11 a.m. – 2 p.m., Landis Green
A celebration of culture through food, art, and music. Live DJs will spin Latin, AfroBeats, Pop, Hip-Hop and more while students explore food from around the world along with Coke's refreshing drinks.