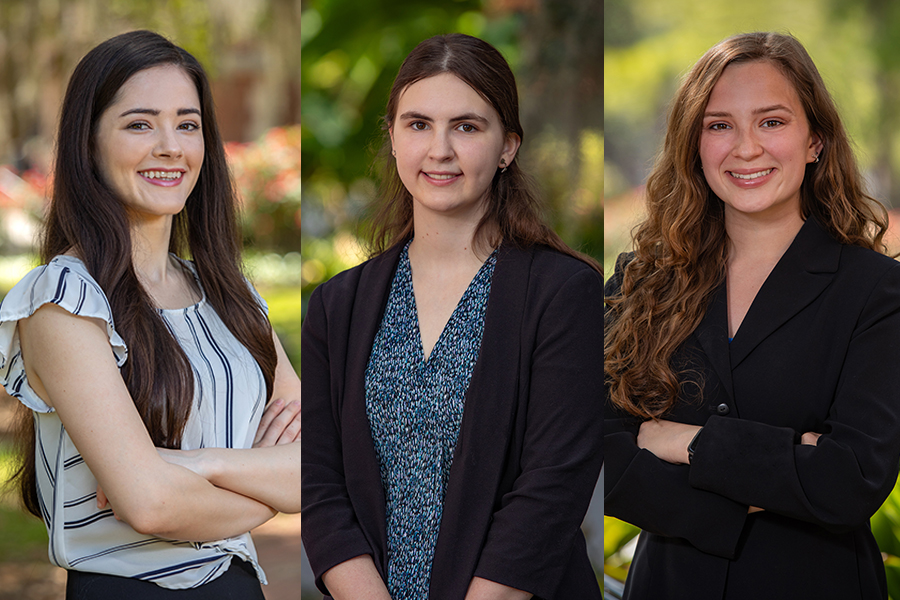 A school-record three Florida State University students have received the  Barry Goldwater Scholarship, a prestigious national award that annually recognizes the brightest mathematics, science and engineering college sophomores and juniors.
Jessica Moser, a behavioral neuroscience major from St. Petersburg, Florida, Trystan Loustau, a psychology major from Jacksonville, Florida, and Kylee Hillman, a biological science major from Tallahassee, will receive up to $7,500 their junior and senior years from the Barry Goldwater Scholarship and Excellence in Education Foundation to be put toward tuition, fees, books and room and board. 
The Goldwater Foundation's mission is to ensure that the United States produces highly qualified professionals in the STEM fields.
Jesse Wieland, assistant director of the Office of National Fellowships at FSU, said having three Goldwater Scholars in the same year speaks volumes about the university. 
"To have three Goldwater Scholars is not only a testament to the merit and resiliency of our applicants but the outstanding resources and faculty mentors at FSU who are invested in the success of their students," he said. "My hope is this unprecedented achievement will continue to inspire the undergraduate STEM community and showcase what Florida State students are capable of achieving inside and outside of the classroom."
Wieland noted that constraints caused by the pandemic showed the students' ability to stay productive under challenging circumstances.
"Our applicants this year had to show extreme flexibility when in-person labs were shut down and research projects were postponed or canceled," he said. "All of them found creative ways to remain actively engaged with their research and future endeavors." 
Moser, whose current research focuses on the location of dopamine receptors in the olfactory bulb, said the scholarship funds will be put to good use in defraying future costs associated with her research.
She hopes to one day research a cure for hydrocephalus, a condition in which fluid builds up and puts pressure on the brain. Moser is passionate about the condition as she's had it since shortly after her birth and it's since required her to undergo multiple rounds of brain surgery.
"I'm just really honored that my health has been stable so I can do this," she said. "To be in college and to research and pursue this path to hopefully find a better treatment or hopefully a cure for this condition, others with hydrocephalus are not as fortunate as I am. I am very grateful."
Loustau, who is also a Presidential Scholar, said her hands started shaking when she opened her email with the results of her Goldwater application, and she saw the word "congratulations." She credited her mentors and advisers with encouraging her to apply for the scholarship and helping her navigate the application process.
Her most recent research has included the study of the social psychological effects of the pandemic.
"We investigated how psychological processes triggered by pandemic circumstances influence the way we perceive others, specifically, people who are displaying signs of disease," she said. "We found that, while we do have sympathy for people displaying signs of disease, we are motivated to view them as threatening and to avoid them and even aggress against them in certain circumstances."
Loustau said she'll be pursuing a doctorate in social psychology to help satisfy her curiosity about how people interact. Having a Goldwater Scholarship will help that pursuit, she said.
"I am incredibly, incredibly excited," she said. "It's just a huge honor." 
In addition to being a full-time student, Hillman has been working two jobs while she researches the difference in chorus frog hybrid zones. Among other goals, the work will help researchers understand speciation and its role in biodiversity. 
"Speciation is central to our understanding of evolution, and hybrid zones offer an opportunity to understand what processes are important in maintaining species boundaries," she said. "We all know that biodiversity is important to our environment. When we know these outcomes of speciation, we can help conserve biodiversity."
Hillman said she wouldn't be where she is without help from faculty and advisors in the biology department. It's because of their guidance, she said, that she will pursue her doctorate in plant molecular biology. 
Loustau, Hillman and Moser are among 410 college students from across the U.S. chosen as Goldwater Scholarship recipients this year. The winners were selected from a field of about 5,000 applicants. 
For more information on national awards and fellowships, visit the Office of National Fellowships website at onf.fsu.edu. For more information about the Goldwater Scholarship, visit https://goldwater.scholarsapply.org/.