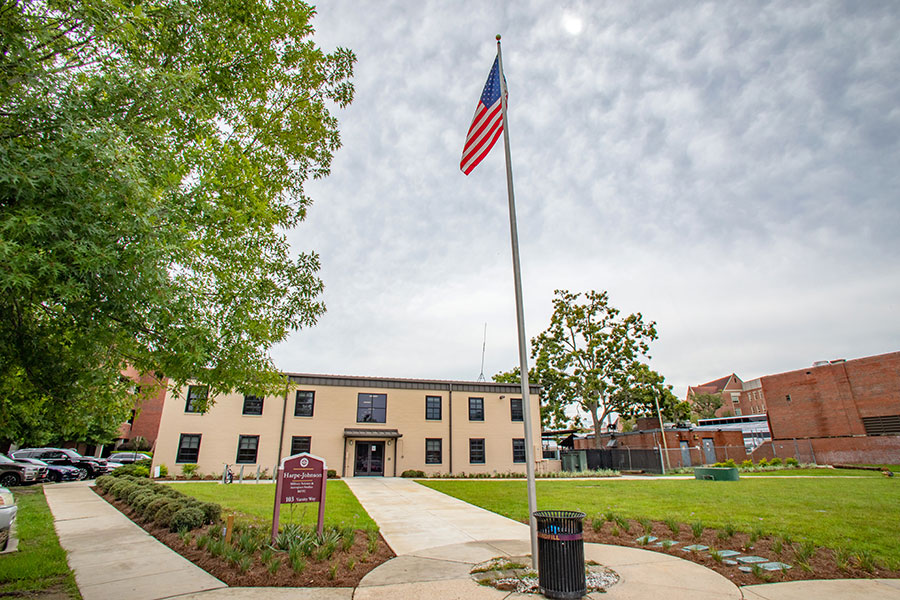 It's been nearly 70 years since Florida State University's Air Force and Army ROTC programs first called the Harpe-Johnson building home and since that time the building hadn't changed much.
That was the case until a year ago when the building began a massive renovation that was completed earlier this month. 
Lt. Col. Keith Pruett, who directs FSU's Army ROTC program, said the revamped building is a source of pride. 
"The Harpe-Johnson Building has been home to our ROTC cadets for generations," he said. "It has served as the enduring link that ties our past to our present and future cadets. With the investment that Florida State University has made in our facility, we know future generations will be excited to follow the paths of those before them."
Passersby will notice totally redesigned landscaping, including new sidewalks, privacy fencing and the removal of overgrown vegetation. New exterior lighting and security cameras also are among the outdoor upgrades.
Inside, visitors will be greeted with new floors, new carpeting, freshly painted walls, updated light fixtures and new ceilings. Windows have been reconditioned and sealed for increased energy efficiency and all the furniture is new.
The office infrastructure has been updated to meet the separate, unique demands of Army and Air Force staffs, including breakrooms on opposite ends of the building.
Technological upgrades include an energy efficient HVAC system with climate-controlled zones, 75-inch monitor displays in classrooms and 65-inch televisions for cadet lounges and a redesigned wireless internet infrastructure. 
USAF Col. Robert Frederiksen, who is also the chair of aerospace studies at FSU, credited FSU President John Thrasher and Sam Huckaba, the dean of the College of Arts and Sciences, for the upgrades. 
"The renovation of the Harpe-Johnson Building has greatly enhanced the academic and training environment while improving the quality of life for both cadets and cadre at Detachment 145," he said. "We are very grateful to President Thrasher and Dean Huckaba for their support and funding of the project."