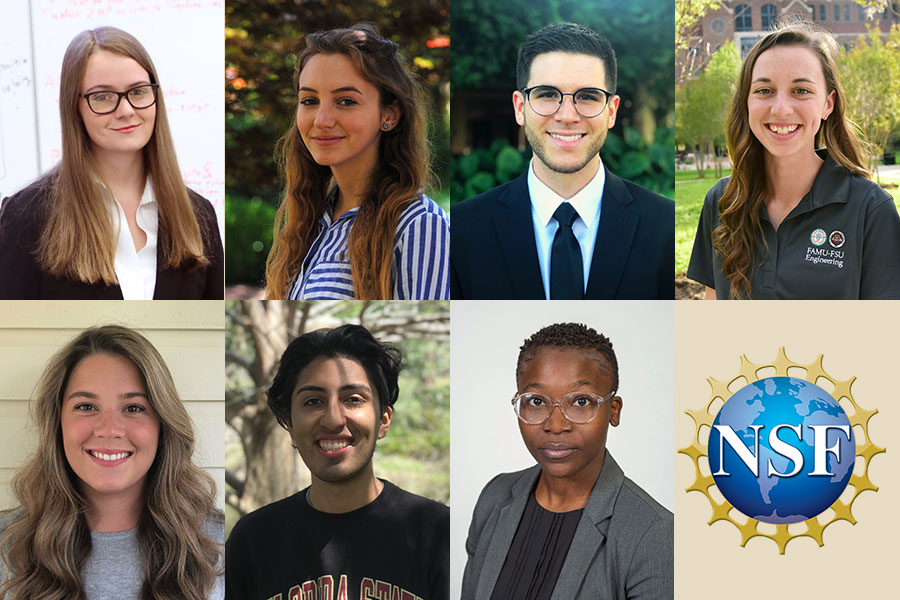 Seven Florida State University students have received the highly competitive Graduate Research Fellowship from the National Science Foundation.  
The fellowship program recognizes and supports outstanding graduate students in NSF-supported science, technology, engineering and mathematics disciplines who are pursuing research-based master's and doctoral degrees.  
"Florida State has extraordinary students who are the next generation of faculty and industry researchers," said Adrienne Stephenson, assistant dean of the Graduate School and director of the Office of Graduate Fellowships and Awards. "The NSF Graduate Research Fellowship supports these students as they build their academic and professional portfolios. We are very happy for the students who have won this award and are excited to see how it propels them to the next step in their academic journeys." 
Fellows receive an annual stipend of $34,000 over three years, which allows them to conduct their own research at any accredited U.S. institution of graduate education. The stipend includes a $12,000 cost of education allowance for tuition and fees, and opportunities for international research and development.  
The group of seven students includes five from the FAMU-FSU College of Engineering, a record for the college.  
"Being selected for the very prestigious and highly competitive NSF Graduate Research Fellowship is a tremendous achievement for any student," Farrukh Alvi, associate dean for Research and Graduate Studies said. "That five students from the FAMU-FSU College of Engineering are selected for this honor is remarkable and speaks to the hard work of our students."  
To learn more about the National Science Foundation Graduate Research Fellowship Program or similar awards, contact the Office of National Fellowships or the Office of Graduate Fellowships & Awards.
The award recipients are:  
Jonathan Albo 
Albo is a senior from Plantation, Florida, and is studying chemical engineering. After graduation, he plans to pursue his doctorate in biomedical engineering at Cornell University. He hopes to focus his research on patient-centric approaches for fighting terminal diseases.   
Albo said he was grateful for the education he received through the FAMU-FSU College of Engineering and that he will be able to use that experience moving forward. 
"I'm excited about the overwhelming opportunities to target something bigger than myself and to make a distinct clinical impact on the lives of people around the world," he said. "Being able to apply engineering principles to medical problems allows me to bridge the gap between the medical field (physicians who know the problems) and engineers (people who focus on providing solutions). The ability to work with groups that have a focus on solving challenging life-threatening problems through innovation is the key component that fuels my drive." 
Hannah Alderson 
Alderson is a senior from Amelia Island, Florida, studying chemical and biomedical engineering. After graduation, she plans to pursue her doctorate in biomedical engineering at Vanderbilt University. Her undergraduate work utilized magnetic resonance imaging (MRI) to focus on how blood flow within the brain changes during the onset of a migraine. She evaluated how various medications affected these changes. For her graduate studies, she plans to continue her research, focusing on neurological disorders and potentially shifting her focus to investigating various regions of the brain in epilepsy patients.   
"There are many diseases that are hard to treat simply because a fundamental understanding of what's going on in the body is lacking," she said. "By progressing this fundamental knowledge, we can increase our ability to treat people and improve quality of life. Biomedical engineering truly saves and improves millions of lives, and I am just really drawn to the magnitude of people you can affect."  
Stacy Ashlyn 
Ashlyn is a doctoral student in the FAMU-FSU College of Engineering. The Philadelphia native initially started doctoral work in biomathematics but switched to mechanical engineering and is in her first semester. She plans to develop a mathematical model based on penguin locomotion that can be applied to the Tallahassee Cassie bipedal robot to allow it to maneuver across slippery surfaces. Ultimately, she wants to combine mathematics, engineering and biology to design prosthetics for people with disabilities.   
"My desire to help others and my love for mathematics drew me into engineering," Ashlyn said. "I have seen some pretty amazing devices that have changed lives and I want to help create things like that. Spoons that make it easier for people with tremors to eat, prosthetics that give amputees the freedom to get around on their own, surgical devices that reduce risks for permanent brain damage during neurological procedures … all of these things have inspired me to pursue engineering."  
Stephanie Damas 
Damas, a senior electrical engineering major, is from Fort Lauderdale, Florida. After graduation, she will intern in Houston with the Bechtel Corporation and then pursue her doctorate in engineering and science education at Clemson University. Damas, a Haitian native, wants to study how minority faculty representation affects the persistence and identity of minority students in engineering and how creating more engineering programs supports the success of minority students.  
"In my official letter from NSF, they reminded me who was in the community that I would be a part of," Damas said. "Nobel prize winners and successful researchers. Being an NSF Fellow gives me an added sense of purpose and it comforts me to know that my research and my story is important."  
Jose Martinez 
Martinez, a senior from Mexico City, Mexico, is majoring in psychology and plans to pursue a doctorate at FSU in social psychology. The NSF award will allow him to focus on research from the beginning of his graduate school career, he said. Conducting research that could have a greater impact is a motivating factor for him, he added.  
"I conducted my first project in community college – it was a small but promising study that opened many doors for me," he said. "When I was choosing where to transfer, I selected FSU because of all of the research opportunities available. I joined the Evolutionary Psychology Laboratory during my first semester and have been a member ever since. My passion for research and desire to impact the world have only grown since becoming a Seminole." 
Kylie Van Meter 
Van Meter, a Tampa native, earned her undergraduate degree in mechanical and aerospace engineering from the University of Florida. She plans to pursue her doctorate in mechanical engineering at the FAMU-FSU College of Engineering. Her research is on the mechanics, friction and wear of complex surfaces, ranging from cells and soft matter to hard materials for extreme environmental applications. With her NSF Fellowship, she plans to create a research tool that can probe biological interfaces and use it to advance the understanding of how cells and tissues interact. She will be conducting her research in the Surface Interfaces and Materials Tribology Laboratory at the college. 
"I am incredibly grateful for this NSF fellowship," Van Meter said. "This will enable me to pursue research in a field I am truly passionate about." 
Anna Wuest 
Wuest, a senior studying biomathematics, is from Port Orange, Florida. She currently is deciding between master's programs at FSU and Harvard University after spending the past few years looking at how mathematics can explain the environment. Last year, she was named a Hollings Scholar by the National Oceanic and Atmospheric Administration and has worked with FSU Assistant Professor Andrew Rassweiler to model fish populations in French Polynesia.