Florida State University students are serving as a model for the world as they inspire a new generation of leaders through their work with PeaceJam.
PeaceJam, an international education program built around Nobel Peace Prize laureates who work personally with youth, awarded Florida State the organization's inaugural Innovative Leadership Award for the university's outstanding PeaceJam student leadership program.
Provost Sally McRorie accepted the award from Nobel Peace Prize laureate Tawakkol Karman during PeaceJam Southeast's annual conference April 5.
"On behalf of President Thrasher, and the entire Florida State University community, I'm so grateful to accept this award," McRorie said. "You are the people who have made this happen, and I'm so appreciative. It's a real honor to receive this very first award. Leadership is something we take a lot of pride in here — leadership for the right causes. I'm so proud of everybody who's been involved in PeaceJam, both now and over the past 10 or so years."
The Center for Leadership & Social Change at Florida State University serves as the headquarters for PeaceJam's Southeast affiliate. McRorie also acknowledged the center and its director Laura Osteen for bringing the program to FSU's campus 11 years ago.
Kate Cumbo, the executive director of the PeaceJam Foundation, said the students participating in PeaceJam at FSU are the most outstanding servant leaders that the organization has seen in its 23-year history.
"It is the FSU PeaceJam students and alumni who we invite to lead our conferences across the world, to train our other campuses and intern at our Nobel Peace Prize laureates' offices," Cumbo said. "They embody a truly remarkable spirit of innovation, commitment to inclusion and compassion."
Brigid Shannon, who serves as community engagement coordinator for PeaceJam Southeast at the Center for Leadership & Social Change, credits Rody Thompson, who served in the same position during the first decade of PeaceJam at FSU.
"She laid this foundation of love that I think everything is built around," said Shannon, who was a teacher in Sarasota and an area coordinator for PeaceJam before arriving at FSU in August. "She helped create passion and energy and a sense of hope in a time when people are finding it harder to locate that."
Shannon also credits Osteen and former Vice President for Student Affairs Mary Coburn for allowing the collaboration between FSU and PeaceJam to thrive.
"Those people coming together in that time and space created an opportunity — both systemically and institutionally — where value was embraced," Shannon said. "That gave the affiliate based here at FSU the opportunity to flourish."
PeaceJam at FSU works with students in Tallahassee — elementary through college — during the school year and holds conferences in fall and spring for youth throughout the Southeast. Student leaders at Florida State have helped transform the lives of more than 10,000 students over the past 11 PeaceJam Southeast conferences.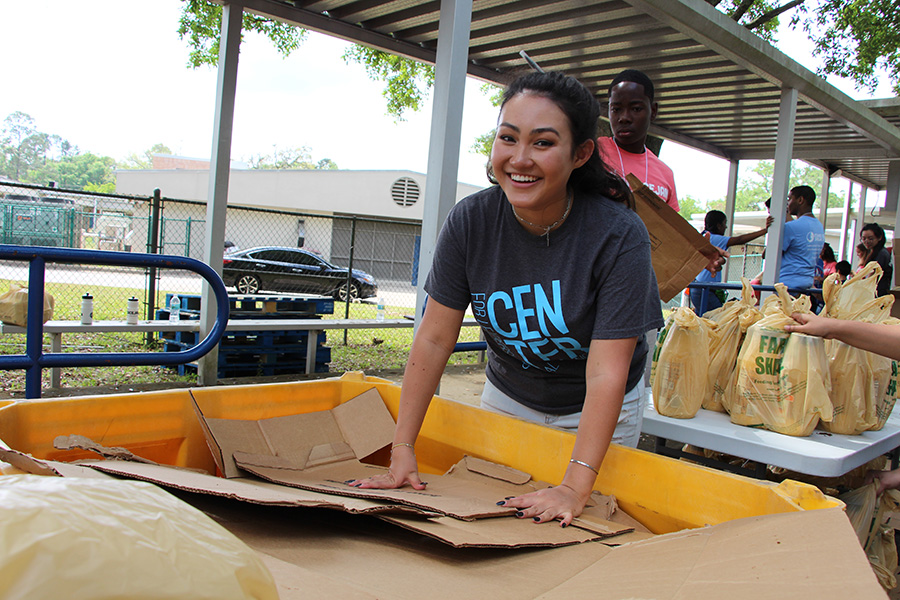 PeaceJam gives young people the tools to work to create sustainable change in their own communities.
"If meaningful and sustainable change is going to happen in the world, it's going to happen with the youth," Shannon said.
Throughout the school year, PeaceJam at FSU serves local area schools and community programs that use the PeaceJam curriculum. FSU students "coach" groups of young people and educate them about the Nobel Peace laureates and help them develop a service project.
Yohandra Polanco, a senior criminology major from Miami, is interested in pursuing a career in social justice focusing on incarcerated populations. She's part of a three-person "coaching staff," who develops curriculum and workshops for the college student "coaches" on how to facilitate conversations and open and hold a safe space.
"Then, they are able to take that into the community at different schools and programs where they talk about social justice, open conversations and get students inspired to start creating change," Polanco said.
During the annual PeaceJam Southeast conference, FSU students also serve as mentors and small group facilitators for middle and high school students who attend workshops, engage in a community initiative with local nonprofits and present their school service projects.
Lucia Sicius, a senior biology major from Miami, has been involved with PeaceJam since her freshman year. She said PeaceJam allows students to have conversations they don't get to have on a regular basis.
"That opens your mind and makes you realize so many things about yourself," said Sicius, who serves as the mentor leader intern for PeaceJam at FSU. "It's completely impacted the way I see myself."
Sicius said that meeting and working with Nobel Peace Prize laureates allows youth to realize they also can be a force for change in the world.
"They're a person who chose to make a positive impact in the world, and they show you that you can do that, too," she said.
Polanco agreed.
"I've never really had a role model, so meeting these people has helped me realize I can do what they are doing in my own way," she said.
In addition to their work on campus and in local schools, PeaceJam at FSU student leaders have also traveled to support conferences and summits in Florida, Colorado, Costa Rica and the United Kingdom this year.
"If everyone participated in PeaceJam, the world would be such a beautiful place," Sicius said. "You realize we're all just human and want the same things."
For more information, visit https://thecenter.fsu.edu/peacejam.