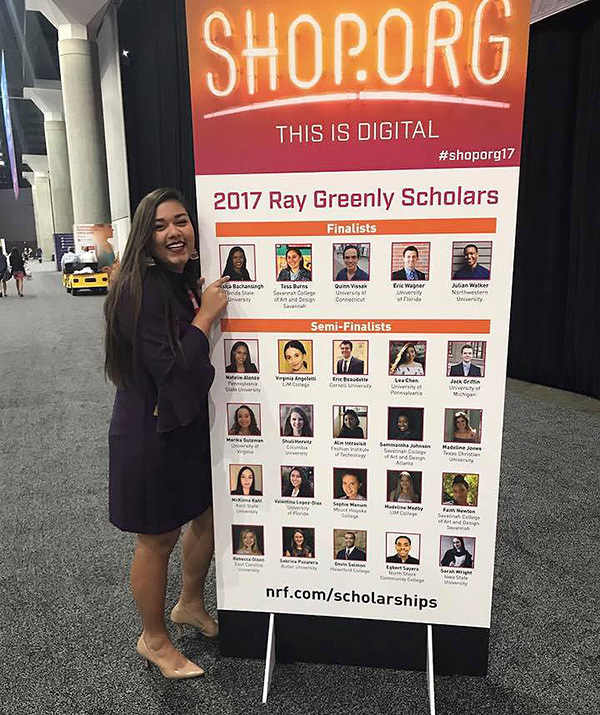 Florida State University junior Jessica Bachansingh has dedicated herself to empowering girls globally by teaching them a marketable skill — sewing.
Three years ago, Bachansingh founded Gifts for Confidence, a nonprofit organization that gives girls in Ethiopia the chance to learn how to sew infinity scarves. They are sold locally in Ethiopian communities and globally on the organization's website.
The project has continued to grow thanks to scholarship monies the native of Jacksonville, Fla., has won in recent months.
Bachansingh, a retail merchandising and product development major, was named a finalist for the Ray Greenly scholarship, given annually by the National Retail Federation. This scholarship was established to cultivate the next generation of tech talent planning careers in retail.
The two-phase scholarship is a partnership with the home goods store, West Elm. Phase one required applicants to submit a personal brand video and innovation essay. Phase two required applicants to present a unique case study detailing an innovative digital prototype that could enhance the shopping experience for West Elm customers.
As a finalist, Bachansingh received a $10,000 scholarship and attended the National Retail Federation's annual conference in Los Angeles this past September. The event, called Shop.org, offered lessons about digital retailing and e-commerce.
"The Shop.org conference gave me the opportunity to meet other international nonprofit business owners who taught me different strategies on how to share my business globally," Bachansingh said.
Last summer, Bachansingh was one of five FSU students to receive a $4,000 scholarship from the Moellership program, coordinated by the university's Center for Leadership and Social Change. The Moellership program provides undergraduate and graduate students at FSU the opportunity to focus 8 to 12 weeks of their summer on service at a nonprofit agency.
Through the Moellership program, Bachansingh interned with the Gifts for Confidence's main partner, Elpis International. She spent the first part of the summer at Elpis International's headquarters in Jacksonville, where she created a sewing curriculum and established Gifts for Confidence as a federally acknowledged nonprofit organization. For the second half of her summer, Bachansingh spent time in Ethiopia teaching the sewing curriculum to students and teachers involved in the organization.
"I'm thankful to have received this scholarship because this internship helped me realize that I'm not ready to give up the organization that has taught me so much about myself," Bachansingh said. "My goal is to continue Gifts for Confidence in Ethiopia, as well as start nonprofits that support needs in other countries."
After graduation, Bachansingh hopes to work in the philanthropic and ethical side of the fashion industry and bring her sewing curriculum to schools around the world.
Bachansingh believes it is important to take advantage of all learning opportunities because you never know how they might inspire you.
"I learned so much about who I am as a person by applying for these different scholarships," she said. "I was pushed out of my comfort zone to learn how to use software, register a nonprofit organization and create a sewing curriculum. If you set your mind to something, you can accomplish anything."