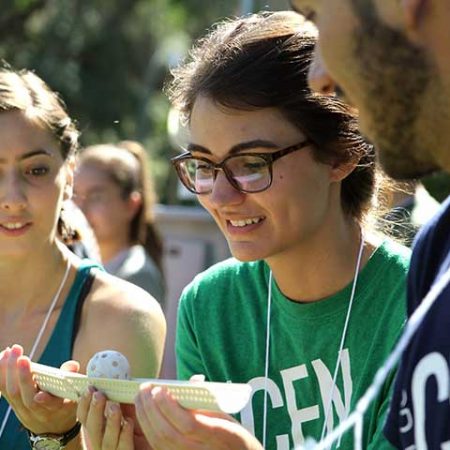 Nearly 50 students will kick off their college careers at Florida State University a week early to learn about community issues in Tallahassee and how to be socially responsible leaders.
The first-year students will participate in the five-day Service Leadership Seminar hosted by the university's Center for Leadership & Social Change. During the week of Aug. 22-26, the students will be given the opportunity to learn about community service, identity and leadership.
The seminar includes community service projects, workshops, speakers and interaction with current campus leaders. Throughout the week there will be a variety of activities that will enable participants to discover how they can help create positive, sustainable change on Florida State's campus.
"They learn about social issues and social justice," said Erica Wiborg, a program coordinator with the Center for Leadership & Social Change. "They also learn about social issues contextually within the Tallahassee community, and then they visit and do service with local and regional nonprofit agencies that are creating change within the community. That's coupled with leadership workshops about how to be a socially responsible leader."
For these students, the seminar is an opportunity to form friendships and other connections before the start of the semester.
"We see this program as a chance to facilitate learning about being a socially responsible leader, and it also assists them with their transition to Florida State," Wiborg said. "Having the opportunity to meet other students before classes begin helps make the community smaller and provides connections to potential service opportunities through interactions with current campus leaders, faculty, staff and community representatives in Tallahassee."
Students will participate in a team building activity at the FSU Reservation Challenge Course as well as community service projects at the Dick Howser Center for Childhood Services and Elder Care Services throughout the week. 
The mission of the Center for Leadership & Social Change is to transform lives through leadership education, identity development and community engagement. The center runs more than 40 programs for students, faculty and staff to develop skills to create positive, sustainable change in their communities.