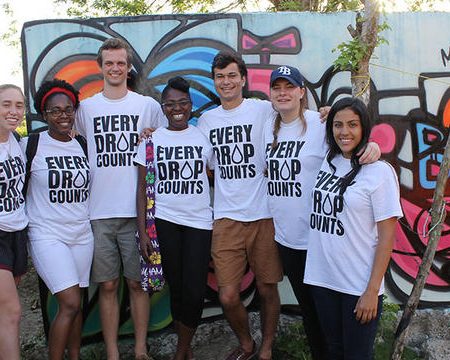 Six groups of Florida State University students will embark on trips across the country and internationally to spend their spring break serving others as a part of the university's Alternative Breaks program, coordinated by the Center for Leadership and Social Change.
The annual trips — which are in their 20th year at Florida State — are not meant to be one-time experiences, but something students learn from and will carry with them when they return, said program director Jillian White.
This year, students will spend their weeks working on six projects: in the Dominican Republic with BLUE Missions, which works to improve water rights and sanitation; in Selma, Ala., being trained about non-violence and other social issues; in Boulder Creek, Calif., volunteering as counselors for a week-long YMCA science camp; in Atlanta, Ga., working with the Interaction Rescue Committee to help resettle refugees; in Raleigh, N.C., working with huger relief organization Interfaith Food Shuttle; and in Dayton, Tenn., with the Cumberland Trail Conference to help maintain trails and build amenities such as foot bridges and water stations.
Before the students depart on these service journeys, staff provides education and preparation, particularly about the social issues related to the projects. Students also are required reflect daily on their experiences and what they've learned. The ultimate outcome for students should be to learn to become "agents of social change" once they've returned to campus and their communities.
The trips, part of the national movement Break Away, are all alcohol free.
At Florida State, there is an emphasis on finding agencies and programs that are in need of groups of volunteers who can work for a short period.
That way, White said, "We are not imposing short-term unsustainable change on them."
Florida State also looks for important qualities in partner organizations with folks who can be co-educators for the students and help them learn about the meaning of the work they're doing.
For Bianca Jyotishi, a trip last year to build houses in New Orleans aligned with her passion for working on the issue of homelessness. Not only was she helping to build homes for people, she was able to see the faces of the homeless in the city.
The 21-year-old from Deland, now a student coordinator for the program, said her experience highlighted the intersectionality of social issues and identity.
"People of color were disproportionally affected by (Hurricane) Katrina," she said.
Ruth Leon, 21, said the work of tiling rooms and other building projects on that trip was daunting but inspiring. She's back again this year, headed to Tennessee to work on trail maintenance.
She'll be working with Leila Ayad, the site leader for the trip. Ayad is a student employee for Campus Recreation whose Outdoor Pursuits program is a partner for trails restoration trip.
"I get to see how beautiful this Earth is," she said. "It really inspires you to be a good steward."
Many students who have been on an Alternative Breaks trip say unlike other group trips, these service trips seem to form lasting friendships, possibly because so many like-minded people come together to serve others.
"A lot of people want to go to party events on spring break," said Kevin Thomas, a site leader for this year's water project in the Dominican Republic. "Instead, with Alternative Breaks, you're thrown into a group of people who are sacrificing their time and their week off to serve an organization and a community of people, and I think anybody who does that is going to be a pretty cool person."