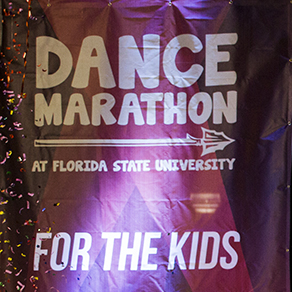 For the second consecutive year, Dance Marathon at FSU has raised more than $1 million in funds for sick children at Shand's Children's Hospital and the Children's Miracle Network.
Dance Marathon — Florida State University's largest student-run philanthropy — shattered last year's record by raising $1,435,120.32 at its 21st annual event Feb. 26-28 at the Donald L. Tucker Civic Center.
Dance Marathon is an annual event organized solely by students where thousands of volunteers and dancers stay on their feet for 20 hours straight, in two shifts for a total of 40 hours, to symbolize the struggle of sick children everywhere.
About 1,800 students, along with hundreds of student volunteers, participated in the event to raise more than $335,000 than last year's grand total.
For more information on Dance Marathon at FSU, visit http://www.dmfsu.org.