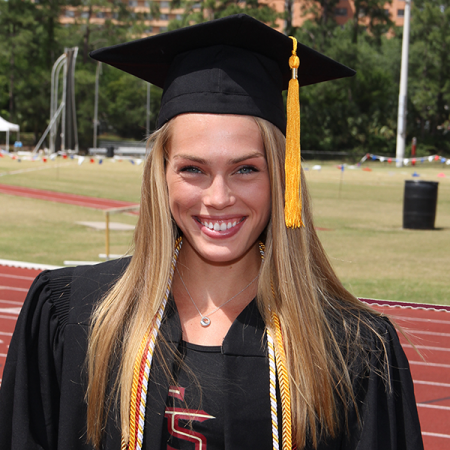 Colleen Quigley has spent the six weeks since capping her distinguished Florida State career with an NCAA title in the steeplechase living out of a suitcase as a professional track field athlete — and collecting honors at a world-class pace — for all she accomplished as a Seminole.
Quigley's latest honor came Thursday as the NCAA announced that she is one of 57 Division I female student-athletes to be named 2015 Woman of the Year, an honor bestowed on her by the Atlantic Coast Conference. That distinction positions the St. Louis, Mo. native as a candidate for the NCAA Woman of the Year award.
From a record 480 school nominees from all three NCAA divisions, Quigley is one of 147 who were recognized by the NCAA for excelling academically, athletically and through service and leadership at the conclusion of their careers.
"Colleen's inclusion for this most prestigious award is well-deserved," said FSU Director of Athletics Stan Wilcox. "She is a remarkable student-athlete, leader and citizen, and an outstanding ambassador for not only Florida State University but women's athletics in general. She has profoundly impacted our athletics department and our university. Needless to say, we are very proud of her."
By her inclusion, Quigley moves forward in the selection process as the Woman of the Year selection committee pares the nominees to 10 from each division in early September. Those 30 will be honored and the 2015 NCAA Woman of the Year will be named at the annual ceremony in Indianapolis on Oct. 18.
"I always wanted to be more than an athlete at Florida State," Quigley said. "Doing more and being more is something coach Sue (Semrau) encourages the FSU women's basketball team to do and I love that. I wanted to go beyond the stereotypes and do more to represent myself, my family, and my school well, even on a national level.
"Getting involved on campus in honor societies and leadership groups, both within and outside of athletics, made my time at FSU even more meaningful. After my sophomore year I decided to make a point to have a life beyond the track. Even when things weren't going the way I wanted them to with running, I always had other interests that took up my time and made me happy. The NCAA Woman of the Year award recognizes that we are more than just athletes and I am honored to be mentioned among this list of powerful, talented, driven, and successful women. I didn't get involved and work hard in the classroom to get awards or be recognized in this way, but it does feel good to come to the end of this road and look back on everything I accomplished and have that experience validated."
Among previous FSU honorees, Quigley joins former teammate and 2013 Woman of the Year honoree Amanda Winslow.
Quigley's sparkling career in all facets as a Seminole needs no validation in the form of an award. A nine-time first-team All-American – three each in cross country, indoor and outdoor track field – she is also a two-time Capital One Academic All-American. Last week she was selected as the USTFCCCA's 2015 Outdoor Track Scholar Athlete of the Year, which neatly ties a career which included ACC Scholar-Athlete of the Year in cross country, indoor and outdoor track field.
She was a two-year cross country captain and also captained the 2014 track field team, which culminated with the program claiming the ACC's Triple Crown of titles during the 2013-14 school year. Quigley was also a two-time recipient of both the Golden Nole and Golden Torch Awards during her career.
A May graduate with a degree in dietetics – she finished with a 3.87 grade point average – Quigley's list of endeavors beyond the athletic and academic arena as a Seminole is equally impressive. A two-year member of the Student-Athlete Advisory Committee, she coordinated the Soles for Souls shoe drive, which collected 366 pairs of used shoes from student-athletes and administrators, for those in need. On campus, Quigley was active in the Garnet and Gold Key Leadership Honorarium, the Women In Leadership Development (WILD), the Garnet and Gold Scholar Society, Meals on Wheels and the FSU cross country team's annual Across the State Relay, which raised $20,000 during her four years. She also served a summer internship with the National Eating Disorders Association in New York City.
From serving as a camp counselor at the Harlem Lacrosse and Leadership Summer Camp, to aiding the United Way of the Big Bend, Tallahassee Youth Services and the Leon County Humane Society just begins to scratch the surface of Quigley's many community service efforts.
"This is a great honor for Colleen, FSU Athletics, and our entire university," said Florida State track field coach Bob Braman. "National Champion, Academic All-American, and a leader in community service; Colleen represents all that is great about being a Seminole and she's done it as good as any we've ever had."
Since capturing her NCAA title, Quigley launched her professional career as a member of the Bowerman Track Club under coach Jerry Schumacher by earning a spot on Team USA for the IAAF World Championships next month in Beijing, China, placing third in the steeplechase at the USA Championships. She has already competed abroad and is currently training at altitude with her team in Park City, Utah in preparation for Beijing.
"Ever since I left Tallahassee for NCAAs I have been living in hotels or in my teammates' basement," Quigley said. "I feel a bit like a feather in the wind at the moment, without my own place, but I've been having a blast. But I have had a chance – with the massive amounts of free time I have all of a sudden – to reflect a bit on the last four years, and I have so many great memories to be thankful for.
"The number of people at FSU who have supported me along the way is too massive to list, but I recognize fully that it took the help of not only coaches but so many support staff in the athletic department and beyond to get me where I am today. And it is so nice to keep getting recognized by the ACC and the USTFCCCA as well as the NCAA, even after my collegiate career has come to a close. I feel like many years from now I will be telling my grandchildren the stories of all the great things that I got to experience as a Seminole. I wouldn't change a thing about the last four years there."