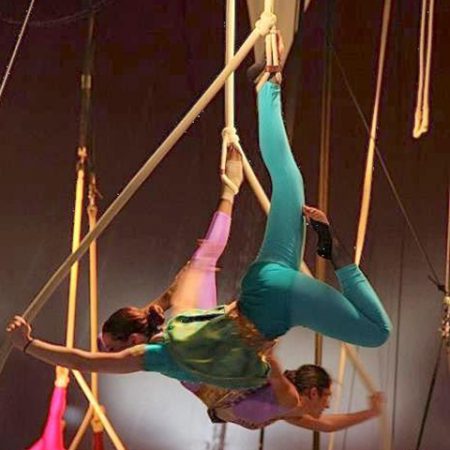 The Florida State University Flying High Circus has announced the schedule for its Annual Home Show Seriesin April 2015.
For almost 70 years, the FSU Circus has been dazzling its audiences during its spring showcase. This year's performance —"Action!" —will be inspired by movie genres and will incorporate the glamour, showmanship and acrobatic excellence for which the Flying High Circus is known.
The FSU Flying High Circus was founded in 1947 by Jack Haskin as a means to integrate men and women on the newly coed Florida State campus. After 68 years, the organization continues to thrive because of the hard work and dedication of students and staff and support from the Tallahassee community.
The circus is a self-funded organization on the Florida State University campus and is an extracurricular activity under the Division of Student Affairs. The organization has more than 125 members; all are degree-seeking students at FSU who volunteer with the circus in their free time. More than 20 acts are taught, practiced and developed throughout the school year, all in anticipation of the Annual Home Show Series in the spring.
The 2015 Home Show Series Schedule is:
Thursday, April 2, 7 p.m.*
Friday, April 3, 8 p.m.
Saturday, April 4, 2 p.m.
Friday, April 10, 8 p.m.
Saturday, April 11, 8 p.m.
Sunday, April 12, 2 p.m.
Friday, April 17, 8 p.m.
Saturday, April 18, 2 p.m.
Saturday, April 18, 8 p.m.
*FSU Night for FSU faculty, students and staff.
Doors open one hour prior to the performance. Tickets can be purchased at the gate or in advance from the FSU Fine Arts Ticket Office at (850) 644-0828 or online at tickets.fsu.edu.
For more information, visit http://circus.fsu.edu/.