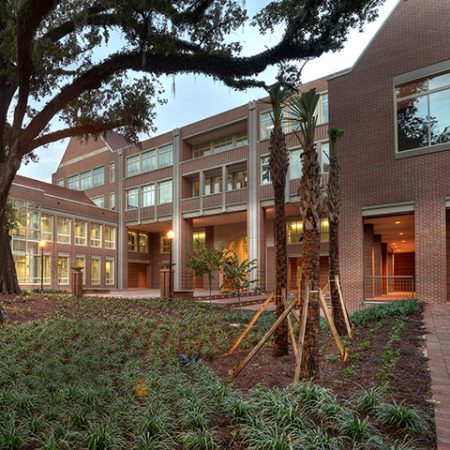 University Health Services at Florida State University has achieved re-accreditation by the Accreditation Association for Ambulatory Health Care (AAAHC). Accreditation distinguishes University Health Services from many other outpatient primary care facilities by providing the highest quality of care to its patients as determined by an independent, external process of evaluation.
"We believe our students deserve the best," said Lesley Sacher, director of University Health Services. "We place our students at the center of the service wheel, and we want to support them as they work toward academic and personal goals."
This is the fifth time University Health Services has achieved the maximum 3-year accreditation from the AAAHC and the first full-scale assessment for accreditation to take place in the Health & Wellness Center since the building opened in 2012.
"When you see our certificate of accreditation, you will know that the American Association for Ambulatory Health Care has closely examined our facility and procedures," Sacher said. "It means we as an organization care enough about our students to strive for the highest level of care possible."
Status as an accredited organization means University Health Services has met nationally recognized standards for the provision of quality health care set by AAAHC. More than 5,000 ambulatory health care organizations across the United States are accredited by AAAHC. Not all ambulatory health care organizations seek accreditation; not all that undergo the rigorous on-site survey process are granted accreditation.
Ambulatory health care organizations seeking accreditation by AAAHC undergo an extensive self-assessment and on-site survey by AAAHC expert surveyors — physicians, nurses, and administrators who are actively involved in ambulatory health care.
The Health & Wellness Center, designed with students in mind, includes expanded clinic space, additional fitness space that incorporates physical therapy and athletic training, and new classrooms and program spaces. Lab, ultrasound, digital radiology services and digital x-rays are available on site. The Health & Wellness Center also houses the student-run FSU Medical Response Unit.
UHS services include:
Allergy
Dental
Diagnostic Imaging
Health Promotion
Nutrition Counseling
Primary Care
Women's Care
Physical Therapy
Psychiatry
Specialty Clinic
InstyMeds
For more information on University Health Services, visit http://uhs.fsu.edu/.