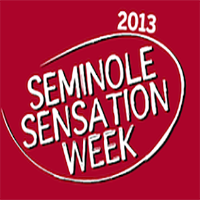 Before Florida State University's fall classes begin Monday, Aug. 26, students are encouraged to participate in Seminole Sensation Week from Wednesday, Aug. 21, to Sunday, Aug. 25 — five days filled with dozens of fun activities designed to show them the many ways to get involved on campus and meet other students who share common interests.
"There are so many great opportunities for new students to get to know their new home," said David Rañon, student program coordinator for the Oglesby Union and Seminole Sensation Week coordinator. "Everyone across campus has done a phenomenal job offering an engaging and fun schedule of events to give our students a great reason to come back to FSU early."
During Seminole Sensation Week, students can enjoy a comedy and magic show by hypnotist David Hall; an outdoor concert featuring Dr. Dog and American Royalty; a concert by '90s rock cover band Jainway; a show featuring comedian Sean O'Connor; outdoor movies on the Oglesby Union Green; indoor movies in the Askew Student Life Center and the Health and Wellness Center; bowling at Crenshaw Lanes, Oglesby Union; a group bike ride and safety talk; karaoke at the Club Downunder, Oglesby Union; campus ghost tours; a Glow-in-the-Dark Sports Fest; and much more.
Other activities are intended to be on the more informational and orientational side of the spectrum, such as guided tours of Strozier Library, the Health and Wellness Center, the Oglesby Union and the Leach Student Recreation Center; and presentations about the Garnet and Gold Scholar Society and campus resources available to enhance academic success.
The week culminates on Aug. 25 with two signature events, the New Student Convocation from 1:30 to 3 p.m. at the Donald L. Tucker Civic Center at Florida State University, 505 W. Pensacola St., followed by the President's Backyard Barbecue from 3 to 5 p.m. at the President's House, 1030 W. Tennessee St.
For a complete schedule, click here.