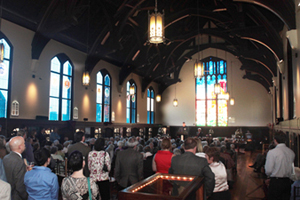 A packed house of more than 250 proud Florida State University alumni, faculty and staff members were present to witness the unveiling and dedication of 16 commemorative stained-glass windows during a special sneak preview of the university's new Heritage Museum on the evening of April 8 in Dodd Hall's Werkmeister Humanities Reading Room.
What's more, because of the stained-glass windows and the university's overall restoration and renovation of the Werkmeister Humanities Reading Room in order to transform it into a university museum, President Eric J. Barron announced that Florida State soon will receive an Outstanding Achievement Award from the Tallahassee-Leon County Trust for Historic Preservation.
"Can you imagine a better way to celebrate 50 years as alumni than with the unveiling of these breathtaking windows?" said Barron to a crowd largely composed of alumni who graduated at least 50 years ago.
The 16 stained-glass windows, which were created on campus by the artists and students of the university's Master Craftsman Program over a period of 12 years, are the result of the private gifts and donations of individuals, classes or other groups.
"About five or six entirely different groups of students have worked on these windows," said Bob Bischoff, director of the university's Master Craftsman Studio. "And yet, there is a continuity that goes through them."
Bob Bischoff and artist Jo Ann Bischoff guided each group in determining each window's final design. Bob Bischoff reckoned that perhaps no other U.S. university offers its students the opportunity to create pieces of an institution's history.
"These windows have a 500-year lifespan," Bob Bischoff said. "Imagine being a student and getting to put this experience on your résumé."
The 16 windows depict the Heritage Tower, the Tarpon Club, the Women's F Club, Montgomery Gym, the Emeritus Alumni Society, the Westcott Legacy, intercollegiate athletics, Osceola and Renegade, President Emeritus T.K. Wetherell, The President's House: A Tribute to the First Ladies of Florida State University, President Emeritus Doak S. Campbell, the Seminole Tribe of Florida, the Longmire Building: The Original Home of the Alumni Association, Art Education and Constructive Design, the Women for Florida State University, and the Class of 1948, which was the "First Graduating Class of Florida State University." The commemorative windows are panels that comprise larger vertical windows lining the north and south walls of the room.
Alumna Katheryn Goodbread spearheaded the window for the Class of 1948, which was Florida State's first graduating class. The window depicts a diploma with the legible signatures of then-President Doak S. Campbell and then-Florida Gov. Millard Caldwell.
"From the first time that I came into this hall when they started to imagine these windows — I think one window had been installed — I said, 'That's what we need for the Class of '48,'" Goodbread said. "Now that our window is finished and installed, I think it is just beautiful. To me, I just feel so lucky that we could do it with the help of about 30 of our classmates."
"The Master Craftsman Program was wonderful," said Class of 1948 alumna Bridget Chandler. "They did everything we asked, and did it better than we could have imagined."
In taped messages played during the formal unveiling ceremony, President Emeritus Talbot "Sandy" D'Alemberte and President Emeritus T.K. Wetherell discussed the importance of the room throughout the institution's history, including its former use as the library of the Florida State College for Women, and its current incarnation as the Heritage Museum.
"This project says that we are a state university that cares enough about its history to put it into stained glass," D'Alemberte said.
Betty Lou Joanos (B.S. '57, Ph.D. '85), former assistant director of the Alumni Association, shared memories of the room as a great place to study and socialize during her days as a Florida State student.
"One evening just as I was leaving this room, a Sigma Chi named Jim Joanos (B.S. '56) asked if he could take me to Homecoming later that semester," Betty Lou Joanos said of the first time her husband asked her out on a date. "Fifty-four years later, it's been the longest date on record."
Vice President for University Advancement Tom Jennings expressed praise for the culture at Florida State that so highly values its history.
"My previous job was working for the University of Virginia, a school that takes its traditions very seriously," Jennings said. "It's nice to come to Florida State where traditions are taken just as seriously."
The final four stained-glass windows are being planned. They will commemorate the Class of 1946, the late President Emeritus Bernard "Bernie" Sliger, the Flying High Circus and the Student Government Association.
Even though the Heritage Museum is not set to open until fall 2011, some displays already have been installed. They feature images and artifacts that depict the institution's history from its earliest roots.
"This will be a museum that evolves over time, not a static collection," McHugh said. "As our history continues to move forward, the museum will continue to focus on different aspects of that history. This museum will be something that people will want to come back to with some frequency."
During its history, this room in Dodd Hall also has been used as a television studio for WFSU-TV and as a library honoring Florida Sen. Claude and Mildred Pepper. Beginning in late 2009, the university began renovating it to serve as a museum.