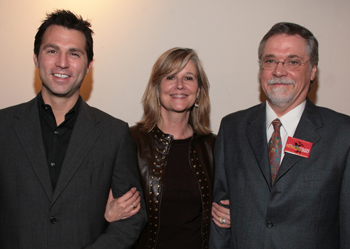 As alumni returned to Florida State University from around the nation to reconnect with their alma mater during Homecoming 2008: "Unconquered Legacy," President Emeritus Talbot "Sandy" D'Alemberte, former Florida State sprinter turned Olympic medalist Walter Dix, and nationally syndicated columnist Kathleen Parker were among those honored at the FSU Alumni Association Homecoming Awards Breakfast.
Talbot "Sandy" D'Alemberte, the FSU Alumni Association's Bernard F. Sliger Award winner
Named for Florida State's 10th president, the Bernard F. Sliger Award recognizes a member of the FSU community who has made a major contribution toward the fulfillment of its mission. D'Alemberte's contributions are legion. A renowned attorney and international champion of human rights and equal justice for all, D'Alemberte, the former president of the American Bar Association (ABA) served as FSU president from 1994 to 2003. He now is a professor in the FSU College of Law, where he served as dean from 1984 to 1989.
"I am very honored to receive an award named after Bernie Sliger," D'Alemberte said. "I had the great pleasure to serve as dean of the College of Law during Bernie's term as FSU president and the great privilege, shared with so many others, of being his friend. Everyone loved Bernie, and he deserved that affection. Just to think of him brings a smile to my face."
As FSU president, D'Alemberte brought funding and, ultimately, accreditation for the new College of Medicine. He completed the university's first major capital campaign and through it, established the Center for the Advancement of Human Rights and other academic improvements. In 2000, the Florida Legislature transferred the governance of the John and Mable Ringling Museum to FSU. His tenure also saw the establishment of a campus office that promotes public service among all students. While serving as the College of Law's fourth dean, he established a pro bono publico requirement for all students, then only the second such program in the nation. His interest in campus architecture was first demonstrated with the Village Green at the College of Law and continued throughout his term.
"It is fitting that we bestow the Alumni Association's most distinguished honor on Sandy D'Alemberte, because, as president of FSU, he taught all of us the importance of public service," Atwell said. "He not only strongly supported the idea of service activities as part of every FSU student's transcript but he also practiced what he preached. Due in large part to Sandy's efforts, public service today is ingrained in the FSU culture and integral to our Seminole spirit."
In 1990, D'Alemberte was the lead lawyer in what has become known as the "D'Alemberte Petition," which urged the Florida Supreme Court to clarify that all members of The Florida Bar have a duty to provide legal services to indigents when ordered by a court.
With the fall of the Berlin Wall, D'Alemberte became the co-founder of what is now known as the "Central European and Euro Asian and Eastern European Law Institute." The program is the ABA's largest pro bono program and possibly the largest of its kind in the history of American law. His efforts were honored in 2006 with the International Bar Association's Rule of Law Award, which honors those who have made a significant, lasting contribution to the rule of law worldwide.
D'Alemberte also has won myriad national awards for his legal advocacy. Among them are the 2007 Tobias Simon Pro Bono Service Award, which was named for the late Miami civil rights lawyer and recognizes extraordinary contributions by Florida lawyers in making legal services available to persons who otherwise couldn't afford them; the 2003 ABA Medal, the association's highest honor, for his work in organizing the technical assistance work in Central and Eastern Europe; the 1986 National Sigma Delta Chi First Amendment Award; and a 1985 "Emmy" for his work in support of open government that led to the first rule allowing camera access to courtrooms.
Walter Dix, the FSU Alumni Association's 2008 Homecoming Parade Grand Marshal
The Parade Grand Marshal title honors someone who has shown exceptional commitment, leadership and service to Florida State University. A legendary former FSU sprinter and a double bronze medalist at the 2008 Summer Olympics, Dix epitomizes "Strength, Skill and Character."
The Coral Springs native became the nation's top high-school sprinter during the 2004 track season. During his four years as a student-athlete at Florida State University, Dix earned a degree in Social Science (Bachelor of Science, 2008) while also becoming a seven-time NCAA champion, 15-time All-American, nine-time ACC Champion and nine-time All-ACC Champion. He set the all-time 200-meter collegiate record of 19.69 — a time that broke a 20-year-old record at the 2007 NCAA East Regional final to establish what was then the world's fastest time.
Dix led FSU to three consecutive track-and-field team titles at the NCAA National Championship outdoor meets from 2006 to 2008. Then, as a proud alumnus ambassador of Florida State University, Dix won two Olympic bronze medals (in the 100-meter and 200-meter events) at the 2008 Summer Olympics in Beijing.
Grads Made Good, chosen by FSU's Circle of ODK National Leadership Honor Society
Grads Made Good are Florida State University alumni who have achieved outstanding success in their fields. This year, three such alumni have been chosen.
1. Grad Made Good Martha "Kathleen" Connor Parker is a Phi Kappa Phi graduate of FSU, where she earned both a Bachelor of Arts degree (1973) and a Master of Arts degree (1976) in Spanish. A celebrated journalist and nationally syndicated columnist, Parker started her twice-weekly commentary column in 1987 as a staff writer for The Orlando Sentinel. The column, in which she writes on politics, gender and culture in America, has been syndicated by the Washington Post Writers Group since 1995, and appears in more than 400 newspapers and about a dozen Web sites. She also has contributed to magazines such as Time, The Weekly Standard and National Review, and is a member of USA Today's Board of Contributors, writing frequently for the paper's op-ed page. She has won numerous professional honors, including the 1993 H.L. Mencken Writing Award from The Baltimore Sun, which praised her for "attacking ignorance and stupidity with vividness and originality." Parker has begun work on a new project aimed at teaching journalism and advancing free speech for women in the Middle East.
2. Grad Made Good Neill Howard McKee received his Master of Science degree from the FSU College of Communication in 1988. He now serves as the regional director for Asia and Russia at the Center for Communication Programs at Johns Hopkins University's Bloomberg School of Public Health. There, he provides technical assistance to HIV/AIDS, reproductive health and safe motherhood programs in six countries. McKee worked for the United Nations in the United Nations Children's Fund (UNICEF) from 1990 to 2000, serving as Chief of Basic Education and Adolescent Development, Uganda (1999-2000), and as Regional Communication Advisor and HIV/AIDS Network Coordinator in Eastern and Southern Africa (1994-1999). While in Africa, he helped develop and implement regional and country-based programs for HIV/AIDS prevention and care and other health and development issues crucial to youth, children, and women's social and health rights. One such program, the "Sara Communication Initiative," focuses on the rights of African adolescent girls.
3. Grad Made Good Jonathan King, earned his Master of Fine Arts degree from the FSU College of Motion Picture, Television and Recording Arts (best known as "The Film School") in 1992. King oversees the production of feature films as executive vice president of Participant Media, a leading provider of socially conscious documentaries that have included "The Kite Runner" (2007) and 2006 Academy Award winner "An Inconvenient Truth," and major motion pictures such as "Syriana" and "Charlie Wilson's War." King served for eight years as president of Laurence Mark Productions, where he worked on "Dreamgirls" and "Finding Forrester," among other films. He also has worked as a production and acquisitions executive for Focus Features, Miramax Films and MGM. King is a mentor for "Project:Involve," which promotes professional development for minorities in the film industry, and serves on the Dean's Advisory Board of the FSU Film School.