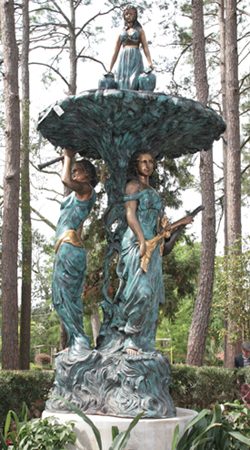 Members of the Chi Omega sorority have presented a gift to Florida State University that will be the catalyst for renovation and beautification of the green space between Landis Hall and Jefferson Street.
"Three Sisters" is a 15-foot-high, multiple-patina bronze statue of classic elegance, sited in a historically significant area of the campus.
Several hundred Florida State University Chi Omega alumnae dating back to 1936 have donated more than $40,000 to commemorate their time in the sorority through the beautification of what will now be known as "Greek Park."
Greek Park is located just up the street from the building that has been home to the Chi Omegas since 1958.
"We are most appreciative of the contributions that Chi Omega has made to support the creation of this plaza and our Greek Park," said FSU President T.K. Wetherell. "The park will be a beautiful milepost along our Legacy Walk."
All Greek organizations will be encouraged to follow in the footsteps of Chi Omega and expand Greek Park with their own beautification projects.
The unveiling was part of Chi Omega's celebration of its centennial on campus in Tallahassee. About 400 alumnae from across the nation attended the centennial weekend's activities.
Chi Omega's Gamma Chapter at FSU includes 155 members, 38 living at the Chi Omega House on Jefferson Street. In 2007, the Gamma Chapter received the Award of Excellence from Chi Omega National Fraternity, the highest honor given to outstanding chapters.