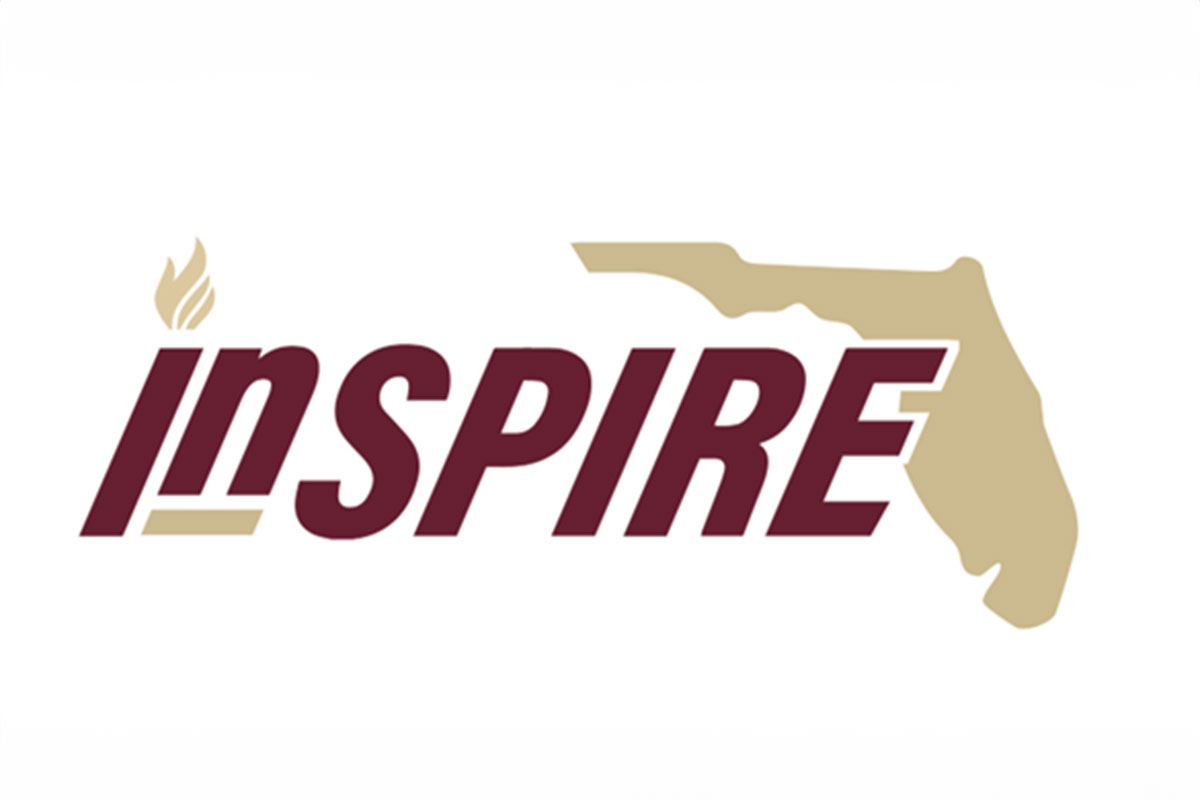 The Triumph Gulf Coast Board voted this week to support a $98.4 million Florida State University project that would build aerospace and advanced manufacturing facilities in Panama City.  
The Institute for Strategic Partnerships, Innovation, Research, and Education (InSPIRE) will include operations within or near the Northwest Florida Beaches Airport and the adjacent Venture Crossings technology park. The facilities constructed as part of the institute will be designed to accommodate both secure and open contract and grant work for the aerospace and defense industries.  
On Tuesday, Nov. 7, a delegation from FSU that included President Richard McCullough and Vice President for Research Stacey Patterson presented the proposal to the board, which voted unanimously to forward the project. The university and board will now negotiate the terms and contract.   
"We are so appreciative of the Triumph Board for their support of this project and seeing the vision we have for the institute," McCullough said. "FSU is invested, not just in Tallahassee, but in the entire Florida Panhandle and beyond. We believe when we work together with industry to promote economic development and partner closely with the community, it expands opportunities for everyone in the region. This project takes advantage of FSU's expertise and resources, and it is designed specifically to serve the Panhandle's needs and have a generational impact on the region." 
Triumph will provide $98.4 million, and the university will invest another $65 million over the next 10 years. The university has also committed to securing more than $230 million in contract and grant activity.
Initial economic projections suggest that for every $1 spent on the project, there will be $10 in economic activity generated.  
"Florida State has been an incredible partner in proposing and executing projects that can create meaningful change in the eight-county region," said David Bear, chairman of Triumph Gulf Coast. "The InSPIRE project holds so much potential and excitement for the area. Northwest Florida is booming and already has a great foundation in defense and manufacturing that we can build upon, and the InSPIRE project does just that. I'm looking forward to working with our partners at FSU in the coming months and years to see where this project takes us."  
The project, as initially approved by Triumph, includes not only applied research facilities but also funds to grow the number of engineering graduates in Panama City. In addition, funds will be dedicated to STEM outreach activities in the eight-county area served by Triumph.  
Triumph Gulf Coast Inc. is a nonprofit corporation that oversees the majority of the funds recovered by the Florida attorney general for economic damages to the state from the 2010 Deepwater Horizon oil spill. Triumph is required to administer the funds to projects in the eight counties that were disproportionately affected by the oil spill — Escambia, Santa Rosa, Okaloosa, Walton, Bay, Gulf, Franklin and Wakulla.  
"When I was in the Legislature, I was proud to have helped create Triumph, and it's projects like these that are so important to this region's growth and sustainability," said Jimmy Patronis, chief financial officer of Florida. "Through my appointment authority, we wanted to ensure only the best projects made it through, and I'm thrilled to see the university develop and promote new projects and economic development in the Panhandle. Universities are home to great innovators, and Florida State University is no exception. This project will take those innovative minds and put them to work building greater aerospace and manufacturing research and development efforts in the Panhandle." 
FSU has previously worked with Triumph on projects at FSU-Panama City and FSU Coastal and Marine Laboratory.  
"This is a monumental initiative that will transform research and development activities in Northwest Florida," said FSU Vice President for Research Stacey Patterson. "This area is experiencing incredible growth, and there are tremendous opportunities for collaboration in manufacturing, aerospace and defense. We are excited to get started on this initiative and to work with all our partners in Northwest Florida to ensure its enduring impact." 
---
Here's what others are saying about the project:  
U.S. Sen. Marco Rubio 
"Investment and innovation are essential for future success and Florida's commitment to the future is second to none. FSU is a fantastic institution, and I am confident it will use this grant to super-charge aerospace manufacturing in our state."  
U.S. Rep. Neal Dunn  
"This is outstanding news for Florida's Second Congressional District! I'm grateful to the Triumph Gulf Coast Board for seeing this vision for Florida's Panhandle. Panama City is now home to the F-35 Lightning II and many other big names in aerospace and defense. This is an excellent location and I'm looking forward to seeing the growth to come from Florida State University's investment in the region." 
State Sen. Jay Trumbull 
"Northwest Florida is filled with so many dedicated individuals and institutions that want to see this area thrive. The work by Florida State University and Triumph Gulf Coast on this project is the perfect example of that. InSPIRE offers incredible opportunities for the area to grow its manufacturing and aerospace capabilities while providing high-paying jobs and educational opportunities for its residents. I am excited to see this project move forward and to work with FSU, Triumph and the residents and businesses in the area to ensure its success."  
State Rep. Griff Griffitts 
"As a lawmaker and small business owner, I've had the honor to work with so many wonderful individuals who are excited to see the Panama City-area grow and become a destination for top notch companies and employees. FSU and Triumph Gulf Coast understand the potential for this region and the InSPIRE project gives us an unparalleled opportunity to boost our aerospace and manufacturing workforce. I am so pleased by FSU and TGC's commitment to this project and to the economic development of Bay County and the greater Northwest Florida region."